5 Standout Metrics From Costco's Latest Earnings Report
Costco (NASDAQ: COST) just closed out the first half of its fiscal year by reporting the same type of strong results that investors have come to expect from the warehouse retailer. Sales were lifted by pandemic demand through mid-February and by the chain's gathering market-share momentum in categories like home furnishings and consumer electronics.
Let's look at a few of the standout metrics from the fiscal Q2 report.
1. Market share
Revenue gains were robust, with comparable-store sales rising 13% after adjusting for gas price swings. That result stacked up well against most of Costco's national peers.
Walmart (NYSE: WMT) recently announced a 9% comps increase, and Kroger (NYSE: KR) notched an 11% boost to end fiscal 2020. Target (NYSE: TGT) set the pace for all major chains by logging a 21% sales spike over the holiday quarter, but Costco still enjoyed market-beating growth.
2. Customer traffic
Costco's growth came mostly from rising spending, with average shopper transactions jumping 9% in the core U.S. market. People continued to prioritize their warehouse trips over visits to other retailers, too. Customer traffic was up 3% while it fell at places like Walmart. But Target led the industry here again, with traffic jumping 13% in the holiday period.
3. Bacon sales
Management likes to highlight some unusual sales trends in its earnings breakdown, and this time around it was bacon that got the shout-out. Demand for the product is up 45% in recent weeks, causing shortages in some parts of the country.
Costco also had trouble meeting the demand for exercise equipment, bikes, and lawn and garden furnishings. Yet the chain for the most part kept aisles full through surging volumes. "Our buying teams have done a great job keeping our buildings in stock despite outsized demand and some supply chain challenges," CFO Richard Galanti told investors.
4. Renewal rates
Along with customer traffic, Costco's renewal rate reflects shoppers' loyalty to the retailer. There's no issue in this arena. In fact, the renewal rate ticked up to a near-record 91%, compared to 90.9% three months earlier. For context, BJ's Wholesale (NYSE: BJ) attracts an 87% renewal rate.
The shopper loyalty translated directly into higher earnings, with membership fee income rising to $1.7 billion over the past six months, compared to $1.6 billion a year earlier. This increase boosted earnings even though Costco routinely books the lowest gross profit margin of its retailing cohort.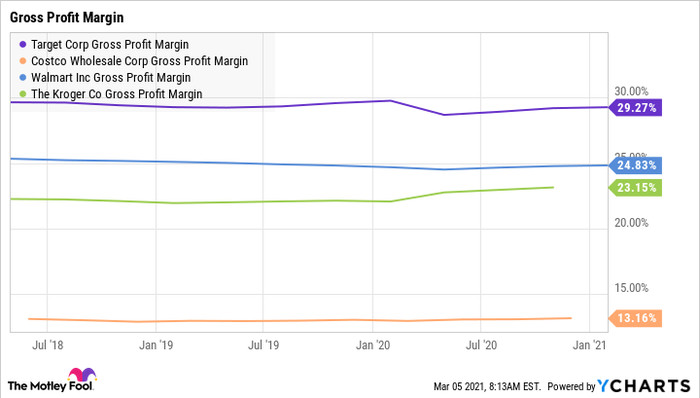 Gross Profit Margin data by YCharts.
5. February sales
The final week of February showed declining sales in comparison with the demand surge that struck a year ago during the early days of the COVID-19 pandemic lockdowns. But Costco's revenue and customer traffic still grew last month, year over year.
This time around, the categories that are selling strong aren't consumer staples like cleaning supplies and tissue paper, as was the case at the start of the pandemic. Instead, Costco fans last month spent freely on home furnishings, small appliances, liquor, toys, and sporting goods. It's a great sign for the health of the business that shoppers have been turning to the warehouse giant to meet these daily needs through every phase of the pandemic to date.
10 stocks we like better than Costco Wholesale
When investing geniuses David and Tom Gardner have a stock tip, it can pay to listen. After all, the newsletter they have run for over a decade, Motley Fool Stock Advisor, has tripled the market.*
David and Tom just revealed what they believe are the ten best stocks for investors to buy right now... and Costco Wholesale wasn't one of them! That's right -- they think these 10 stocks are even better buys.
*Stock Advisor returns as of February 24, 2021
Demitri Kalogeropoulos owns shares of Costco Wholesale. The Motley Fool owns shares of and recommends Costco Wholesale. The Motley Fool has a disclosure policy.
Source