Are Solar Energy Stocks a Buy Today?
Solar energy stocks have fallen hard over the past few months as investors have questioned the growth trajectory and profitability of the industry while interest rates rise and the economy recovers from the pandemic.
Manufacturers like First Solar have been impacted, as have component suppliers like Enphase Energy and SolarEdge Technologies, along with installers like Sunrun and SunPower.
Here's a look at why solar energy stocks are down and what to think about the industry long term.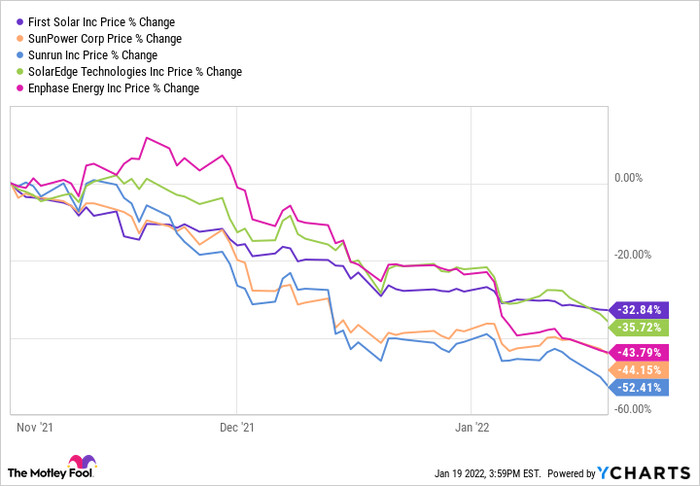 Interest rates are the biggest headwind
I think it's important to start with how solar projects are built and financed. Most solar installations are financed through a large percentage of debt, so when interest rates rise, it's a headwind for the industry. Not because today's installation costs change with interest rates, but because future cash flows 20 or 30 years in the future become less valuable for investors. I'll note that terms of a project can change with escalators being higher or variable rates if higher rates are sustained, but the baseline point that interest rates are important is still true because it's a headwind.
This chart illustrates how important interest rates are to development projects, showing expected annual cash flows, various interest rates, and what 30 years of cash flows would be worth if we discount them back to today's dollar value (as investors do). If rates rise, the profitability of project developers can plunge very quickly.
| Item | Low-Rate Scenario | Medium-Rate Scenario | High-Rate Scenario |
| --- | --- | --- | --- |
| Interest rate | 4% | 6% | 8% |
| Annual cash flows | $1 million | $1 million | $1 million |
| Number of years | 30 | 30 | 30 |
| Present value of cash flows (i.e., what investors will pay) | $17.3 million | $13.8 million | $11.3 million |
| Construction cost | $13 million | $13 million | $13 million |
| Developer profit | $4.3 million | $800,000 | ($1.7 million) |
Data source: Calculations by author.
You can see that a project can quickly go from being highly profitable in a low-rate scenario to very unprofitable in a high-rate scenario. Since interest rates are generally locked in by developers and finance companies before installations begin, rising rates simply means that fewer projects will be started. Fewer projects means lower solar panel, component, and installation sales. And rates are rising fast, which is a big worry for investors.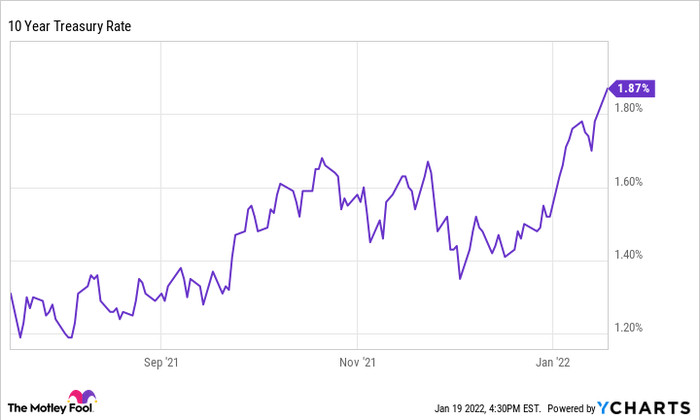 10 Year Treasury Rate data by YCharts
Of course, this bearish sentiment should be put into context. Interest rates are still extremely low overall, and a small increase won't kill the industry overnight. Green bonds have at times even commanded lower rates than treasuries. But if rates are rising overall, it's a headwind nonetheless.
Installation costs could be rising across the board
To make matters worse, there are cost pressures across the economy. As demonstrated by the chart, raw material costs are up, and labor is both in short supply and getting more expensive in the U.S.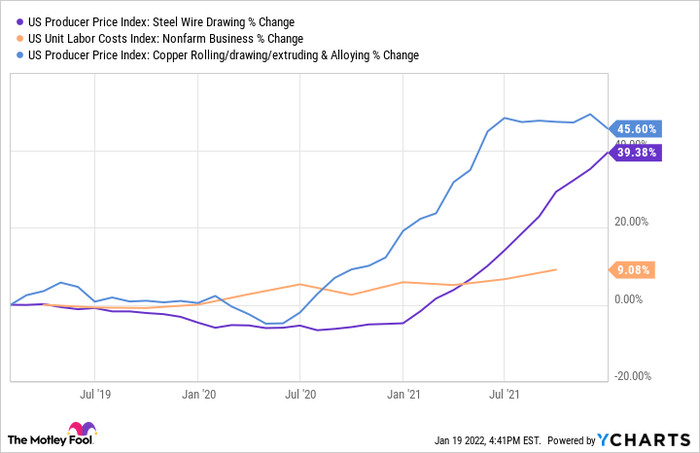 US Producer Price Index: Steel Wire Drawing data by YCharts
We may see these higher costs persist for years, which will push up the cost of building solar projects. This, too, will make the economics for solar development more difficult.
Good news for solar stocks
There is some good news in the market for solar energy stocks. Commodity prices are also rising and face some of the same cost pressures as solar projects. You can see here that oil is near a multiyear high, natural gas is above historic levels, and coal prices are up as well.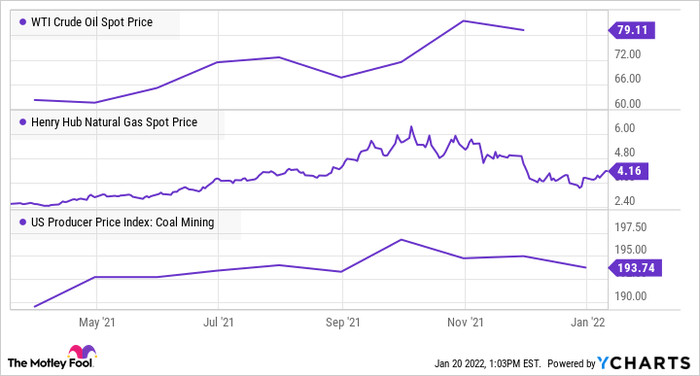 WTI Crude Oil Spot Price data by YCharts
Commodity prices go into the cost of electricity for homeowners as well as the decisions utilities make about what fuel source to use for future energy generation. Higher fossil fuel costs make the interest rate and cost pressure solar energy is feeling a little less impactful.
Are solar energy stocks a buy now?
The solar industry has gone through a number of ups and downs over the last decade and has managed to grow consistently despite the volatility. Individual projects may come under pressure, and margins may shrink temporarily if rates rise, but long term I think this is an industry with a bright future. The dip in solar stocks is a buying opportunity for long-term investors, but don't expect it to be a straight ride up as energy markets shake out over the next few years.
10 stocks we like better than Walmart
When our award-winning analyst team has an investing tip, it can pay to listen. After all, the newsletter they have run for over a decade, Motley Fool Stock Advisor, has tripled the market.*
They just revealed what they believe are the ten best stocks for investors to buy right now... and Walmart wasn't one of them! That's right -- they think these 10 stocks are even better buys.
Stock Advisor returns as of 6/15/21
Travis Hoium owns First Solar and SunPower. The Motley Fool recommends First Solar and SolarEdge Technologies. The Motley Fool has a disclosure policy.
Source