Why Teladoc Stock Lost 16% in the First Half of the Year
What happened
Shares of Teladoc Health (NYSE: TDOC) slumped through the first half of 2021, losing 16% according to data from S&P Global Market Intelligence. After a brief surge in the beginning of the year, investors sold the healthcare stock in a broader movement away from pandemic winners and as concerns grew about increasing competition and the company's mounting losses.
The chart below shows the stock's trajectory through the first six months of 2021.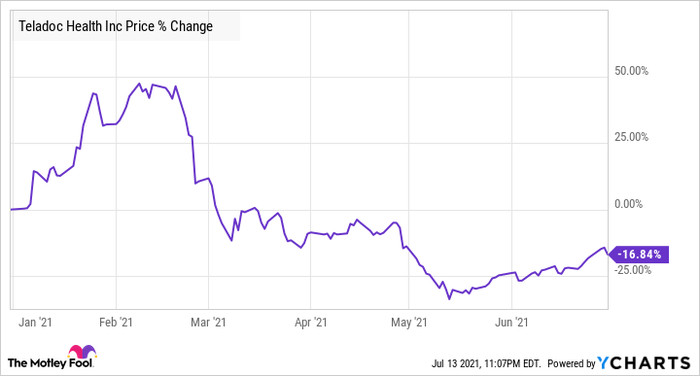 So what
Teladoc shares soared in the beginning of the year as growth stocks gained on optimism for an infrastructure package from then-incoming President Biden as well as another round of stimulus checks. However, Teladoc peaked around the same time as the Nasdaq and other growth stocks, and then succumbed to pressure from rising interest rates.
Additionally, the stock sold off after its fourth-quarter earnings report in late February as investors looked past the company's 145% revenue growth, which was helped by its acquisition of Livongo Health last year. They focused on a wide bottom-line loss as it posted a generally accepted accounting principles (GAAP) loss of $3.07, much of it due to stock awards related to the Livongo acquisition. On an adjusted EBITDA basis, the company reported a profit of $50.4 million, compared to $15.2 million for the fourth quarter of 2019. The stock fell 14% on the report.
In March, Teladoc slumped again on news that Amazon (NASDAQ: AMZN) was expanding its Amazon Care telehealth pilot program, saying it will be open to Amazon employees and companies in all 50 states, competing more directly with Teladoc.
Finally, Teladoc fell again after its first-quarter earnings report in late April as the company posted a wide GAAP loss per share of $1.31, which was worse than the consensus at a loss of $0.62.
Now what
Teladoc was an early pandemic winner as the health crisis created a need for telehealth services, but the stock has struggled over the past year and is down sharply even as the market has churned higher.
While the company is putting up phenomenal top-line growth numbers, much of that growth is from acquisitions, and consistent profitability still remains a challenge. Given that and the intensifying competition in the industry, it's not a surprise that the stock has underperformed.
10 stocks we like better than Teladoc Health
When our award-winning analyst team has a stock tip, it can pay to listen. After all, the newsletter they have run for over a decade, Motley Fool Stock Advisor, has tripled the market.*
They just revealed what they believe are the ten best stocks for investors to buy right now... and Teladoc Health wasn't one of them! That's right -- they think these 10 stocks are even better buys.
*Stock Advisor returns as of June 7, 2021
John Mackey, CEO of Whole Foods Market, an Amazon subsidiary, is a member of The Motley Fool's board of directors. Jeremy Bowman owns shares of Amazon and Teladoc Health. The Motley Fool owns shares of and recommends Amazon and Teladoc Health. The Motley Fool recommends the following options: long January 2022 $1,920 calls on Amazon and short January 2022 $1,940 calls on Amazon. The Motley Fool has a disclosure policy.
Source