2 Top 5G Stocks to Buy Right Now
Apple (NASDAQ: AAPL) recently sent shockwaves through its supply chain ecosystem when it revealed that its fiscal second-quarter revenue will fall short of expectations in light of the coronavirus outbreak in China. The iPhone maker pointed out that the outbreak has led to store closures and a slower-than-anticipated manufacturing ramp-up.
Not surprisingly, key Apple suppliers such as Cirrus Logic (NASDAQ: CRUS) and Qorvo (NASDAQ: QRVO) have fallen by double digits of late.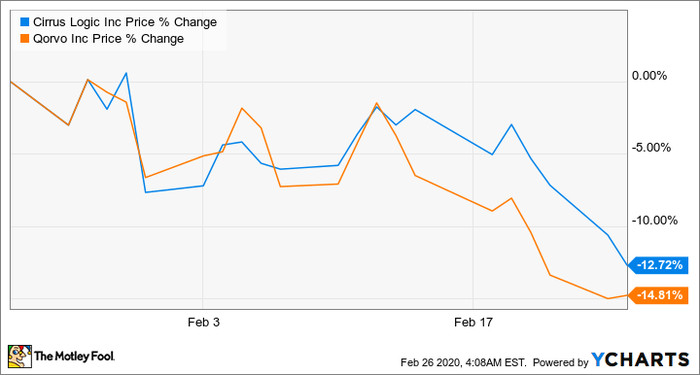 However, savvy investors should treat the recent pullback in the stocks of these suppliers as a chance to buy. Both are sitting on a secular growth opportunity that could make the latest downturn look like a short-term blip.
Cirrus Logic could ride Apple's 5G domination
Of the two suppliers discussed here, Cirrus Logic has the most riding on the iPhone maker. It gets over 80% of its total revenue from Apple, and while such over-reliance on a single customer is not always a good idea, it's working for Cirrus as Apple's fortunes are changing for the better.
The chipmaker enjoyed impressive top- and bottom-line growth last quarter after Apple ordered its suppliers to boost iPhone production to meet strong customer demand. Of course, the coronavirus outbreak will weigh on Apple's ability to meet its near-term production targets since close to half of its suppliers are located in China.
But Cirrus investors shouldn't miss the bigger picture. A major generational shift is about to take place in the smartphone space thanks to the deployment of fifth-generation (5G) wireless networks. The rollout of 5G will eventually lead to an increase in sales of devices that support the new telecom standard. As a result, sales of 5G smartphones are expected to jump to 221 million units this year, according to Gartner.
More importantly, 5G smartphone sales could more than double in 2021 to 489 million units, per Gartner's estimate. Given that Apple is expected to make a major dent in the 5G smartphone market thanks to its massive installed base, a big upgrade cycle, and a new strategy of making its devices more accessible, Cirrus' recent financial resurgence could continue in the long run.
Wall Street seems to concur -- 10 out of 11 analysts covering Cirrus, per Yahoo! Finance, have raised their earnings estimates for the current fiscal year and the next one. This makes the stock an enticing bet as it trades at just 20 times forward earnings, compared to its trailing price-to-earnings (P/E) ratio of nearly 29.
Investors looking for an Apple derivative play to take advantage of the boom in 5G smartphones can consider further pullbacks in Cirrus stock as an opportunity to snap up a company set for growth in the long run.
Qorvo is a diversified bet
Like Cirrus, Qorvo is also a key part of the Apple supply chain. It got nearly a third of its revenue from the iPhone maker last fiscal year. However, Qorvo is a much bigger play on the 5G smartphone revolution as its mobile business accounted for 76% of total revenue last quarter.
The company has reportedly scored multiple design wins for 5G smartphones and expects original equipment manufacturers (OEMs) to ship 300 million 5G devices this year. Qorvo thinks that this could add $2 billion to its total addressable market in the mobile division.
Qorvo also stands to gain from 5G infrastructure. The company's infrastructure and defense products (IDP) segment is getting a shot in the arm thanks to the increasing demand for gallium nitride (GaN), a compound used in 5G base stations to boost the efficiency and reliability of the network.
Demand for GaN semiconductor devices is expected to reach a compound annual growth rate of 23.2% from 2019 through 2025, according to Mordor Intelligence. GaN revenue is expected to jump to $1.96 billion at the end of the forecast period as it is going to be widely used in the deployment of 5G networks. So, Qorvo could win from multiple facets of 5G deployment as it is reportedly a key player in the GaN market.
And with a forward earnings multiple of just 14, it makes sense to go long Qorvo. Its latest guidance indicates that its top-line growth is going to be in the double digits this quarter. That would be much better than what the chipmaker has managed in the past, and the faster pace of growth could be sustainable in the long run as 5G technology takes off.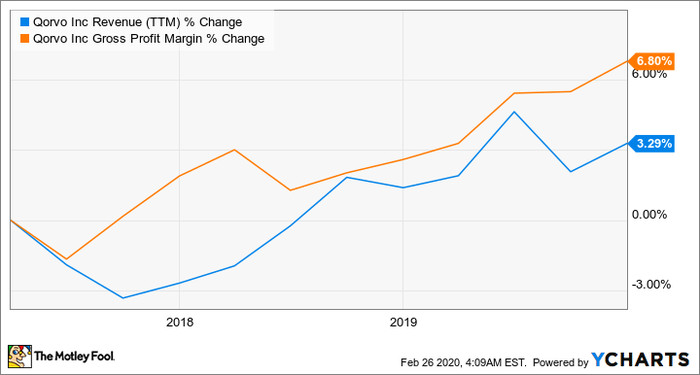 QRVO Revenue (TTM) data by YCharts.
The Foolish takeaway
There is no doubt that the coronavirus outbreak will have a short-term impact on Apple and its suppliers. But investors need to note that the epidemic may have already peaked in China, according to the World Health Organization, and things could return to normal in due course.
Once that happens, the likes of Qorvo and Cirrus Logic could regain their mojo and become hot growth stocks once again.
10 stocks we like better than Cirrus Logic
When investing geniuses David and Tom Gardner have a stock tip, it can pay to listen. After all, the newsletter they have run for over a decade, Motley Fool Stock Advisor, has tripled the market.*
David and Tom just revealed what they believe are the ten best stocks for investors to buy right now... and Cirrus Logic wasn't one of them! That's right -- they think these 10 stocks are even better buys.
*Stock Advisor returns as of December 1, 2019
Harsh Chauhan has no position in any of the stocks mentioned. The Motley Fool owns shares of and recommends Apple. The Motley Fool recommends Cirrus Logic and Gartner. The Motley Fool has a disclosure policy.
Source