Is This Stock January's Best Buy After Its CEO Added Shares?
It often grabs investors' attention when a high-level company employee buys or sells the stock. Insiders are the most connected to a business, and many people assume it must mean something important if they are trading their stock (although it doesn't always mean something).
Dan Springer, the CEO of e-signature technology company DocuSign (NASDAQ: DOCU), bought shares recently, and investors have taken that as a buying signal. Here are three reasons why the CEO's recent buying is justified, and why DocuSign could be the best stock you buy this month.
The COVID-19 "bump" has sold off
DocuSign's primary technology enables people to electronically and securely sign documents. Lockdowns during the COVID-19 pandemic, which closed offices and forced people to work from home, accelerated the company's growth in 2020. The stock price tracked this growth, pushing shares as high as $314 per share, while the price-to-sales ratio jumped to 42.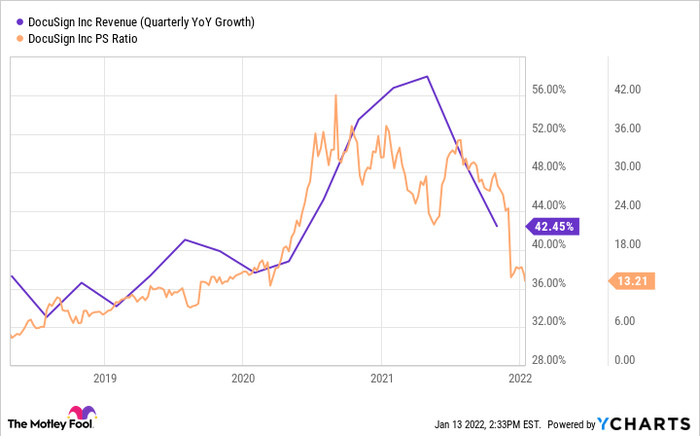 Data by YCharts.
Revenue growth has slowed since peaking in early 2021 but remains strong; revenue was up 42% year over year in the fiscal 2022 third quarter to $545 million. Analysts expect growth to slow further in fiscal 2023 to 25%.
This has added selling pressure during the broad market's technology stock correction, and DocuSign's P/S ratio has declined to 13. The growth rate moving forward is still solid, considering it comes on the back of a major COVID-19 "bump." Investors will want to see if the company's growth rate picks up in future quarters once it's no longer trying to clear tough comparisons from 2020 and 2021.
Tracking toward profits
Investors also need to consider the company's financials when evaluating the stock's valuation, and DocuSign's financial picture continues to get brighter. DocuSign generated $974 million of revenue in fiscal 2020 (ended Jan. 31, 2020), while its net loss totaled $208 million.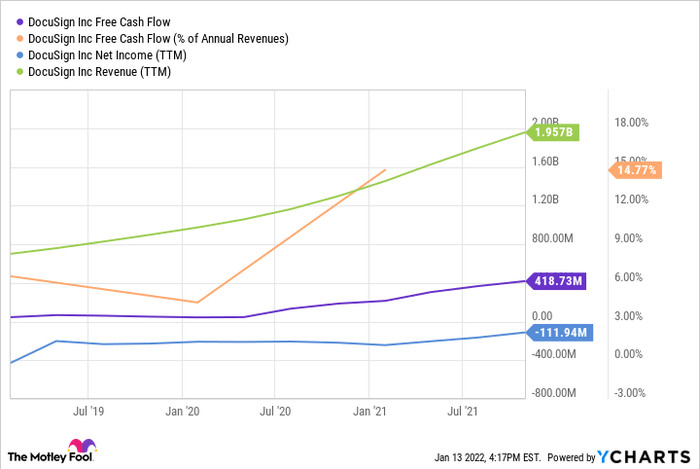 Data by YCharts.
Trailing 12-month revenue was $1.96 billion, while the net loss shrunk to $112 million. In other words, revenue is growing, and losses are shrinking.
That becomes clear when looking at DocuSign's free cash flow, which has grown to $418 million and increased as a percentage of revenue. All of this signals that DocuSign is on a path to profitability. As revenue rises in the coming quarters, investors should be looking for the bottom line to turn positive.
Dominant market leader with growth tailwinds
DocuSign needs continued revenue growth, and there are a lot of areas where this could come from. The company is the de facto leader in the e-signature market -- it holds an estimated 60% market share over competitors like Xink and Adobe. The e-signature market itself could grow to $6.9 billion in 2025, averaging 27% growth per year.
If the company can maintain its market share, investors could see revenue matching this industry growth. DocuSign's innovation in the future could unlock more opportunities, such as its ongoing expansion into digital agreement signing and management, a $50 billion potential market, according to management. With strong leadership in e-signatures, the cross-selling opportunities seem to make a lot of sense.
January's best buy?
Is DocuSign the best stock you could buy in January? That depends on your risk tolerance, investing goals, and time horizon. However, it looks like many good things are happening at the company. Its growth runway is clear, and the financials are improving as revenue increases.
The CEO has seen the value that DocuSign presents today, and while you shouldn't base your investments on the actions of others, he might be on to something.
Find out why DocuSign is one of the 10 best stocks to buy now
Our award-winning analyst team has spent more than a decade beating the market. After all, the newsletter they have run for over a decade, Motley Fool Stock Advisor, has tripled the market.*
They just revealed their ten top stock picks for investors to buy right now. DocuSign is on the list -- but there are nine others you may be overlooking.
Click here to get access to the full list!
*Stock Advisor returns as of January 10, 2022
Justin Pope has no position in any of the stocks mentioned. The Motley Fool owns and recommends DocuSign. The Motley Fool recommends Adobe Inc. The Motley Fool has a disclosure policy.
Source