Why AMD Stock Jumped Today
What happened
Shares of Advanced Micro Devices (NASDAQ: AMD) climbed 5.3% on Monday, following a new hardware usage report from the online game platform Steam.
So what
Each month, Steam asks its users what computer hardware they use. Its most recent survey showed that AMD continues to wrestle away market share from Intel (NASDAQ: INTC).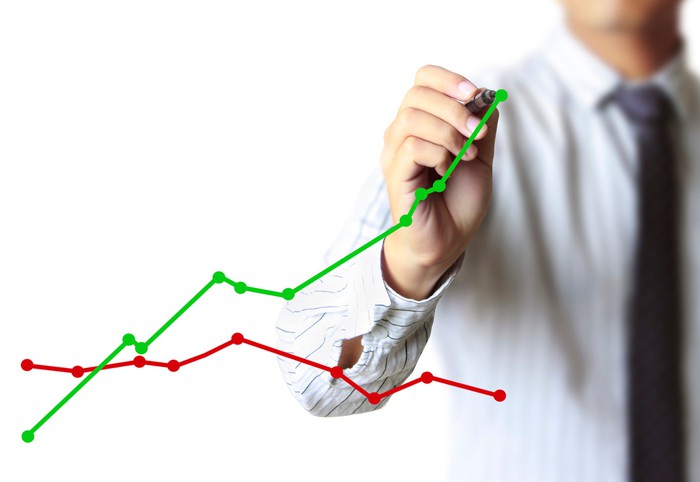 Advanced Micro Devices' stock rose on Monday as investors cheered its gaming market share gains. Image source: Getty Images.
AMD's central processing units (CPUs) powered 25.75% of the Windows PCs used by Steam's customers in September, up from 22.45% in May. Intel's market share declined from 77.54% to 74.24% during this same time.
Now what
Steam's report showed AMD gaining ground on Intel each of the last four months -- a trend that bodes well for its upcoming third-quarter earnings report, which is expected to be released by early November.
AMD is benefiting from Intel's struggles. The semiconductor giant is dealing with costly production delays for its next-generation chips. AMD, in turn, is gaining share in the fast-growing server processor market, as cloud giants like Amazon increasingly switch to its chips.
If AMD's gaming-related sales are also growing rapidly, as Steam's survey suggests, much more gains could lie ahead for its investors.
10 stocks we like better than Advanced Micro Devices
When investing geniuses David and Tom Gardner have a stock tip, it can pay to listen. After all, the newsletter they have run for over a decade, Motley Fool Stock Advisor, has tripled the market.*
David and Tom just revealed what they believe are the ten best stocks for investors to buy right now... and Advanced Micro Devices wasn't one of them! That's right -- they think these 10 stocks are even better buys.
*Stock Advisor returns as of September 24, 2020
John Mackey, CEO of Whole Foods Market, an Amazon subsidiary, is a member of The Motley Fool's board of directors. Joe Tenebruso has no position in any of the stocks mentioned. The Motley Fool owns shares of and recommends Amazon. The Motley Fool recommends Intel and recommends the following options: short January 2022 $1940 calls on Amazon and long January 2022 $1920 calls on Amazon. The Motley Fool has a disclosure policy.
Source