The Worst Mistake China Stock Investors Can Make Right Now
It's a tricky time for China stock investors, and there's a big reason why.
The coronavirus has put much of the country on lockdown. Schools are closed. Many restaurants have temporarily shuttered their locations, and employees who can are working from home. In Wuhan, where the outbreak started, Chinese authorities are rounding up sick people and putting them in quarantine centers to prevent the disease's spread.
Globally, the coronavirus has killed more than 1,000 people and infected more than 40,000, and the World Health Organization has called the outbreak a global emergency. On a humanitarian level, the coronavirus is a crisis and a tragedy. But for investors it presents a different set of challenges.
To sell or not to sell
The initial impulse in a situation like this is to sell stocks most at risk of being affected by the outbreak, namely Chinese stocks and others that do business in China. Starbucks (NASDAQ: SBUX), for example, said that it had closed about half of its stores in China, which would have a material impact on its results. Nike and Apple issued similar statements.
However, the market's response has been anything but predictable so far.
The S&P 500 sold off over the last week of January, but has since recovered those losses as the market now seems to believe that the coronavirus threat is under control. The index is back at all-time highs. China-related investments like the iShares MSCI China ETF (NASDAQ: MCHI), which holds popular China stocks like Alibaba (NYSE: BABA), Tencent (NasdaqOTH: TCEHY), Baidu (NASDAQ: BIDU), and JD.com (NASDAQ: JD), has moved similarly, though the ETF fell significantly further and hasn't recovered its losses since the outbreak gained attention.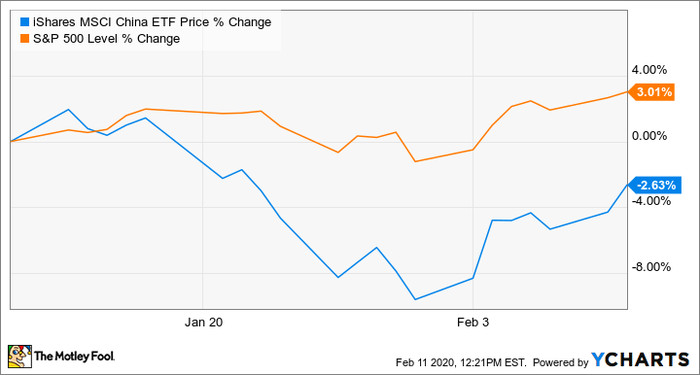 According to the chart above, it looks like the worst of the outbreak's impact on the market may have passed, though the news could change quickly.
The law of unintended consequences
Though the coronavirus is hampering the Chinese economy, not all Chinese companies are suffering. In fact, some are seeing a boom in business from the outbreak. Demand for online grocery and e-commerce has surged as homebound Chinese consumers rely on online delivery to get the things they need. According to CNBC, JD.com has seen deliveries to the average apartment complex in Beijing rise from 140-150 before the outbreak to more than 200. The company also said its grocery delivery unit, Dada, which partners with Walmart, saw deliveries more than quadruple over the Lunar New Year holiday. Alibaba's Hema supermarket business has seen a similar spike in online orders. For both companies, those shopping habits could persist even after coronavirus fears taper.
Similarly, shares of Youdao (NYSE: DAO), the Chinese online education service, spiked 80% in just two days recently on hopes that school closures across China would encourage enrollment in its online courses. There was no hard news driving that jump, which seemed to be entirely trader-driven, but nonetheless, Youdao and other Chinese online education companies like New Oriental Education and TAL Education Group could benefit from schools being closed.
The worst mistake China stock investors can make
Given the general unpredictability when it comes to the coronavirus, how difficult it is to gauge the market's response to the outbreak, and the fact that some Chinese stocks seem to be benefiting in some ways from the lockdown situation, the worst thing China stock investors can do right now is to panic and sell.
While the disease remains a threat, the initial headline risk that came when the outbreak first made news seems to have passed. Since investing in China carries certain risks that U.S. stocks do not, investors in the country are likely more risk-tolerant than the average investor, and are used to macro issues like the trade war and economic data buffeting Chinese stocks. Investors in China should continue to monitor the news concerning the virus and its spread, but it also seems like the market has mostly priced in the impact so far. For now, there's no reason to panic. Unless it directly impacts your investing thesis for a given stock, the coronavirus alone is not enough of a reason to sell.
10 stocks we like better than Starbucks
When investing geniuses David and Tom Gardner have a stock tip, it can pay to listen. After all, the newsletter they have run for over a decade, Motley Fool Stock Advisor, has tripled the market.*
David and Tom just revealed what they believe are the ten best stocks for investors to buy right now... and Starbucks wasn't one of them! That's right -- they think these 10 stocks are even better buys.
*Stock Advisor returns as of December 1, 2019
Jeremy Bowman owns shares of JD.com, Nike, and Starbucks. The Motley Fool owns shares of and recommends Apple, Baidu, JD.com, Nike, Starbucks, TAL Education Group, and Tencent Holdings. The Motley Fool recommends New Oriental Education & Technology Group. The Motley Fool has a disclosure policy.
Source