Why Camping World Skyrocketed 139% in May
What happened
Shares of Camping World Holdings (NYSE: CWH) were soaring last month as the company turned in a strong first-quarter earnings report, and interest in RVs surged amid concerns about social distancing and other pandemic-related issues. The trend lifted shares of Winnebago and Thor Industries as well, but Camping World, the country's largest seller of RVs and provider of RV services, was the big winner here.
According to data from S&P Global Market Intelligence, the stock jumped 139% in May. As you can see from the chart below, the stock gained steadily over the month after jumping on its earnings report.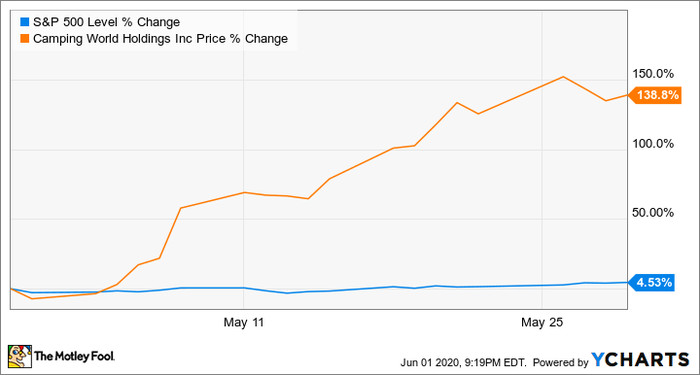 So what
After the stock gained momentum through the first few days of May on signs that RV sales were picking up due to the pandemic, shares jumped 30% on May 8 when Camping World reported a better-than-expected earnings report and confirmed that RV sales had surged in recent weeks.
In the first quarter, revenue actually fell 3.5% as the company closed or sold 60 locations that did not sell or service RVs as part of a strategic shift. Meanwhile, COVID-19 had an impact on performance toward the end of the quarter. Despite the decline in revenue, the change in strategy helped lift adjusted EBITDA by 68.5% to $36 million.
Even better, CEO Marcus Lemonis said on the earnings call that the first weekend in May was "the biggest weekend in the company's history -- period, end of story -- in all aspects, every part of our business, so we feel good about where those trends are going." The RV seller seems to be benefiting from a lack of traditional vacation options due to fears about the virus and social distancing protocols.
Shares continued to gain throughout the month as the economy reopened and showed signs of recovery and as enthusiasm built for the boom in RVs.
Now what
Despite shares more than doubling last month, the stock is still down significantly from its all-time high, which could justify more gains if EBITDA continues to ramp up and as the RV boom is likely to play out over the summer. Whether that trend can sustain itself over the longer term is an open question, however, as Camping World is still a cyclical company that competes in a slow-growth industry. In other words, don't expect last month to repeat itself.
10 stocks we like better than Camping World Holdings
When investing geniuses David and Tom Gardner have a stock tip, it can pay to listen. After all, the newsletter they have run for over a decade, Motley Fool Stock Advisor, has tripled the market.*
David and Tom just revealed what they believe are the ten best stocks for investors to buy right now... and Camping World Holdings wasn't one of them! That's right -- they think these 10 stocks are even better buys.
*Stock Advisor returns as of April 16, 2020
Jeremy Bowman has no position in any of the stocks mentioned. The Motley Fool recommends Camping World Holdings. The Motley Fool has a disclosure policy.
Source