Why Bloom Energy Caused Fuel Cell Stocks to Drop Today
What happened
Fuel cell energy stocks seem to move in unison these days, so when one falls, the entire industry goes with it. Today, Bloom Energy (NYSE: BE) was the cause of a sell-off after it reported first-quarter 2021 earnings. Shares dropped as much as 8.1% and were down 2.9% in late-morning trading.
Following Bloom Energy lower were Plug Power (NASDAQ: PLUG), falling as much as 11.2%; FuelCell Energy (NASDAQ: FCEL), down 7.7%; and Ballard Power Systems (NASDAQ: BLDP), falling 6.9%. The stocks were down 9.7%, 6.6%, and 4%, respectively, as of midday.
So what
Bloom Energy's first-quarter revenue rose 23.8% versus a year ago to $194 million on the back of a 40.2% increase in megawatts (MW) delivered. Gross margin increased a whopping 15.5% to 28.2% in the quarter, helping the company improve from a loss of $75.9 million a year ago to a $24.9 million loss, or $0.15 per share, in the first quarter.
Adjusted loss per share, which pulls out one-time items, was $0.07, which was in line with analyst estimates. But revenue fell below the $203.3 million that analysts were expecting. The market is taking a hard look at growth stocks right now given the sharp rise in share prices over the past year, so when a company even comes up a little short of expectations, it can cause stocks to drop.
One of the biggest reasons Plug Power, Ballard Power Systems, and FuelCell Energy all fell along with Bloom today is because Ballard's earnings report was also disappointing earlier this week. Its revenue declined, so the story is a little different than Bloom Energy's, but if expectations have gotten so high that companies aren't going to hit revenue expectations, it makes sense for all fuel cell stocks to fall.
Now what
Fuel cell stocks may be trading together today, but they're not all the same. I'll just point out two metrics that investors should keep an eye on, and that's price-to-sales multiples for fuel cell stocks and gross margins. Bloom Energy trades for a P/S ratio of 3.7, while the other three companies are at least a 27.8 multiple. On the margin front, Bloom Energy had a gross margin of 28.2% in the first quarter, and the closest competitor is Ballard at 14.9%. Operationally, Bloom Energy is a cut above the rest.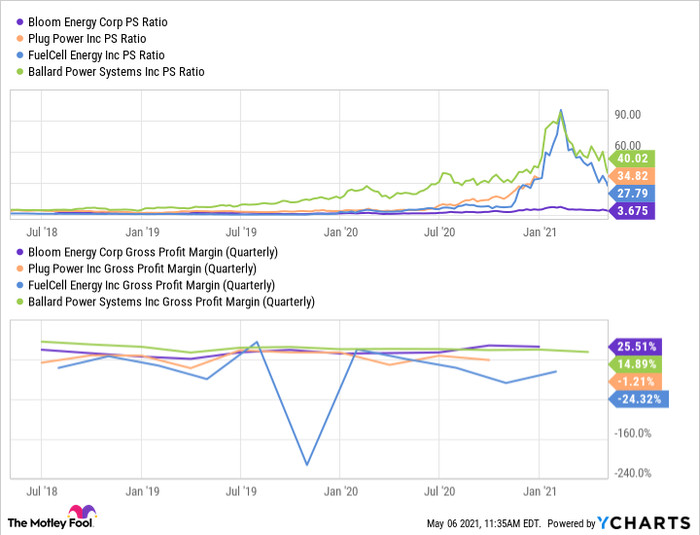 BE PS Ratio data by YCharts
Within Bloom Energy's numbers, there's a sharp improvement that investors should be cheering. Not only was revenue up 23.8%, gross margin improved from 12.7% a year ago to 28.2%. When you layer in the 40.2% increase in volume, Bloom Energy is increasing volumes and lowering prices (which should expand the market and has been able to expand margins). That's an incredible combination and should keep the company growing as hydrogen fuel cell sales pick up and electrolyzers move closer to launch.
Bloom Energy may have missed Wall Street's revenue guess today, but it's performing incredibly well and growing into a multitrillion-dollar market. With a price-to-sales multiple that's a fraction of the industry average, this is a stock that I think could be a big winner for investors long term.
10 stocks we like better than Bloom Energy Corp
When investing geniuses David and Tom Gardner have a stock tip, it can pay to listen. After all, the newsletter they have run for over a decade, Motley Fool Stock Advisor, has tripled the market.*
David and Tom just revealed what they believe are the ten best stocks for investors to buy right now... and Bloom Energy Corp wasn't one of them! That's right -- they think these 10 stocks are even better buys.
*Stock Advisor returns as of February 24, 2021
Travis Hoium owns shares of Bloom Energy Corp. The Motley Fool has no position in any of the stocks mentioned. The Motley Fool has a disclosure policy.
Source