Why CarMax Stock Fell 14% in September
What happened
Shares of CarMax (NYSE: KMX) fell 14% in September, according to data provided by S&P Global Market Intelligence. The stock was trending a little lower early in the month but its fall accelerated after the company reported earnings for the second quarter of its fiscal 2021 on Sept. 24.
So what
In Q2, CarMax had record sales. Not only were quarterly vehicle sales up 3.9% year over year, but the average gross profit per unit was also up. Used vehicle gross profit was up to $2,214, an increase of a little more than 1% from last year. Gross profit for wholesale vehicles hit a record at $1,086 per unit. These gains resulted in net earnings of $297 million, handily beating analyst expectations.
CarMax was also able to repair its finances after a brutal first quarter. Q1 sales plummeted 40% year over year with locations closed because of the coronavirus pandemic, causing the company to withdraw some of its credit as a precaution. After Q2 ended, it paid off the outstanding $576 million balance on its revolving credit facility with cash on hand.
This all sounds positive, but CarMax stock probably fell because management declined to give guidance for the upcoming third quarter. In the conference call to discuss Q2 results, CEO Bill Nash mentioned high unemployment, new coronavirus cases, the presidential election, and social unrest as issues clouding the near-term outlook. "We feel good about where we are, given all those uncertainties," Nash said. But it appears Nash is more comfortable with these uncertainties than Wall Street is.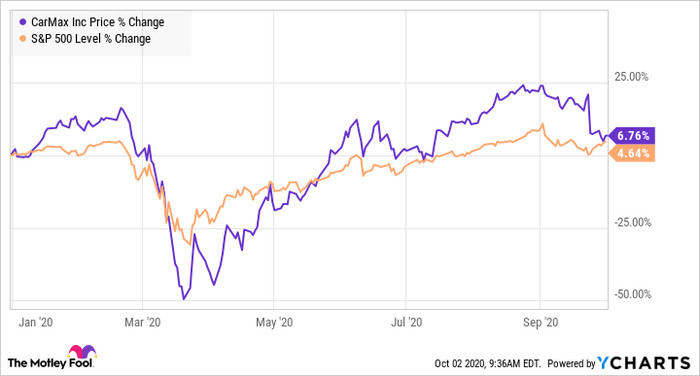 Despite falling in September, CarMax stock is up in 2020. KMX data by YCharts.
Now what
Two things are worth noting for CarMax shareholders. First, the company had paused opening new locations because of the coronavirus. Those are now back on track, and it expects to open between eight and 10 new stores in fiscal 2021.
Second, CarMax didn't buy back any stock in Q2. It still has $1.5 billion in authorization, but hasn't officially reinstated the repurchase program. However, many public companies are starting to resume this activity. Given the company's strong Q2, it wouldn't be surprising if this automotive retail stock soon announced it buying back shares again.
10 stocks we like better than CarMax
When investing geniuses David and Tom Gardner have a stock tip, it can pay to listen. After all, the newsletter they have run for over a decade, Motley Fool Stock Advisor, has tripled the market.*
David and Tom just revealed what they believe are the ten best stocks for investors to buy right now... and CarMax wasn't one of them! That's right -- they think these 10 stocks are even better buys.
*Stock Advisor returns as of September 24, 2020
Jon Quast has no position in any of the stocks mentioned. The Motley Fool recommends CarMax. The Motley Fool has a disclosure policy.
Source