Here's Why Beyond Meat Stock Was Falling Today
What happened
Shares of plant-based meat company Beyond Meat (NASDAQ: BYND) were down sharply on Friday morning, after an analyst downgraded the stock, slapping it with a sell rating. As of 11:15 a.m EDT, the stock was down just 4%. But it had dropped 7% lower earlier in the day.
Beyond Meat stock is crushing the market in 2020. But if its products are just a fleeting fad, then it would be a good time to sell.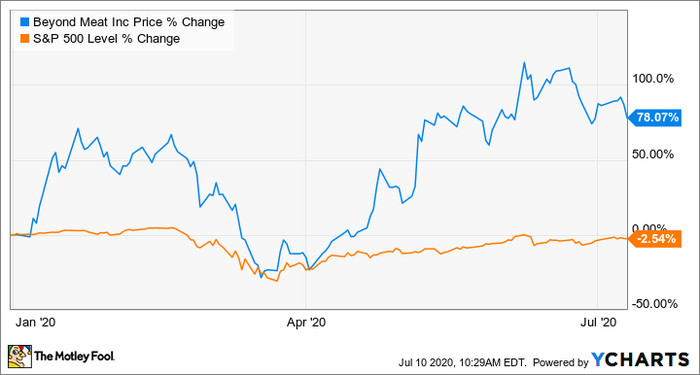 So what
Citigroup analyst Wendy Nicholson doesn't buy the long-term plant-based meat trend. She contends Beyond Meat's products aren't really any healthier for consumers than real meat. Therefore, one of the factors supposedly creating consumer demand could disappear.
To be sure, there's a lot of optimism baked into Beyond Meat stock. It trades at 24 times trailing sales, and over 200 times forward-earning estimates. Growth stocks do deserve lofty valuation multiples like this, and Beyond Meat is a growth stock. Its full-year 2019 revenue was up 239% from 2018, and it continues to sign new partnerships in 2020 that will propel top-line growth further.
That said, if Nicholson's assessment of plant-based meats is accurate, then Beyond Meat's growth could slow significantly. And when growth stocks report a significant drop in growth, their price per share gets hammered.
Now what
Prominent analysts like Nicholson will offer opinions and stocks will move accordingly -- in fact it happened to Beyond Meat yesterday too. Investors shouldn't dismiss what these analysts say, but they also aren't the end-all opinion.
There's reason to think plant-based meats are more than a fad. Consider grocery chain Kroger has invested in developing and marketing its own line of plant-based products. As a grocery store, it's more in tune to true consumer trends than most, and I doubt it would invest in the creation of its Simple Truth line of products if it wasn't sure it had staying power. And since launching, these products are selling quite well.
I don't mean to say there's no downside risk to Beyond Meat. There's risk with all stocks. However, nothing materially changed for Beyond Meat's business today.
10 stocks we like better than Beyond Meat, Inc.
When investing geniuses David and Tom Gardner have a stock tip, it can pay to listen. After all, the newsletter they have run for over a decade, Motley Fool Stock Advisor, has tripled the market.*
David and Tom just revealed what they believe are the ten best stocks for investors to buy right now... and Beyond Meat, Inc. wasn't one of them! That's right -- they think these 10 stocks are even better buys.
*Stock Advisor returns as of June 2, 2020
Jon Quast owns shares of Beyond Meat, Inc. The Motley Fool recommends Beyond Meat, Inc. The Motley Fool has a disclosure policy.
Source