Why NIO Stock Is Down Today
What happened
Shares of Chinese electric-vehicle maker NIO (NYSE: NIO) were trading lower on Wednesday. Although investors' concerns about U.S.-listed Chinese stocks have lingered since the Chinese government took action against DiDi Global (NYSE: DIDI) and other recently listed stocks last week, there was no immediately obvious trigger for Wednesday's decline.
As of 2 p.m. EDT, NIO's New York-traded shares were down about 4.6% from Tuesday's closing price.
So what
China's government said last week that it has launched cybersecurity reviews on DiDi and other app-centered Chinese companies that have listed on U.S. stock exchanges this year, including Kanzhun and Full Truck Alliance. Regulators appear to be concerned that the audits and oversight required of U.S.-listed companies could somehow compromise the security of Chinese consumers' personal information.
But it's not clear that those concerns should (or will) extend to NIO. While the company does provide an app for its customers, it's mostly a carmaker -- and its shares have been listed on the New York Stock Exchange since 2018.
Is that why NIO's shares are down today? It seems likely: NIO itself had no news (positive, negative, or otherwise) to share on Wednesday, and only minor news (a new director was appointed) earlier in the week.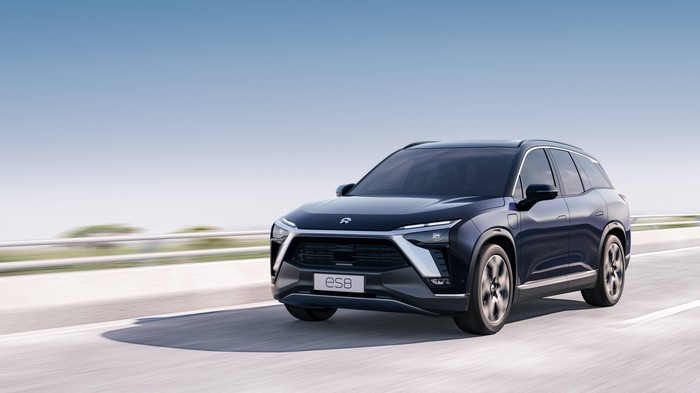 NIO's second-quarter sales were strong and the company expects more growth later in 2021. Image source: NIO.
Now what
If there is a concern raised by the DiDi situation, it's that future Chinese government actions could limit NIO's ability to raise cash from U.S. investors. That wouldn't be ideal, but the company has other avenues to raise cash, including a (likely) future listing on Hong Kong's exchange.
In the meantime, NIO has plenty of cash on hand, a strong order book, and two new models coming next year. For now at least, I don't think the action against DiDi is enough of a reason for auto investors to sell NIO.
10 stocks we like better than NIO Inc.
When our award-winning analyst team has a stock tip, it can pay to listen. After all, the newsletter they have run for over a decade, Motley Fool Stock Advisor, has tripled the market.*
They just revealed what they believe are the ten best stocks for investors to buy right now... and NIO Inc. wasn't one of them! That's right -- they think these 10 stocks are even better buys.
*Stock Advisor returns as of June 7, 2021
John Rosevear has no position in any of the stocks mentioned. The Motley Fool owns shares of and recommends NIO Inc. The Motley Fool has a disclosure policy.
Source