Why Silvergate Capital Stock Jumped 6.5% Today
What happened
Shares of Silvergate Capital (NYSE: SI) rose as much as 6.9% on Wednesday, due to a rosy review from analysts at Morgan Stanley. The stock closed the trading session with a 6.5% gain.
So what
The Federal Reserve, the Federal Deposit Insurance Corporation, and the Office of the Comptroller of the Currency released a joint statement on Tuesday regarding accelerated reviews of policies for cryptocurrency assets. This so-called "policy sprint" statement is widely seen as a big step toward a more mature regulatory framework for trading and owning cryptocurrency assets.
The three agencies hope to complete a wide-ranging policy collection by the end of 2022. By then, investors and businesses should have more clarity on important issues such as digital-asset safekeeping, crypto-backed loans, and the issuance of new cryptocurrency coins.
Morgan Stanley's Ken Zerbe reiterated his overweight ratings on Silvergate and Signature Bank (NASDAQ: SBNY), underscoring them as the two financial companies with the most to gain from regulatory progress in the cryptocurrency sector.
"We believe that well-crafted regulation will help to promote the adoption of crypto-assets and their related services, which is ultimately a positive for the crypto banks (specifically Silvergate and Signature within our coverage)," Zerba wrote.
Signature Bank took the bullish note in stride, closing Wednesday's trading 1% higher.
Now what
Silvergate provides banking services for more than 90 cryptocurrency exchanges. The company reported 1,305 digital-currency customers at the end of the third quarter, up from 1,224 three months earlier and 928 a year ago. Cryptocurrencies are the backbone of Silvergate's operations nowadays, as digital deposits worked out to 96% of the company's total deposits under management.
Yes, this company stands to benefit from regulatory certainty in the cryptocurrency space. I'm not surprised to see share prices jumping when a well-respected analyst firm points out this indisputable fact.
This bank looks like a great cryptocurrency investment for people who don't want to own actual cryptocurrencies directly. The stock has now posted a 523% return in 52 weeks, exceeding a 201% gain for Bitcoin, but lagging behind Ethereum, at 620%. Silvergate manages digital deposits in a wide variety of cryptocurrencies, so you shouldn't expect the stock chart to mirror Bitcoin prices at every turn.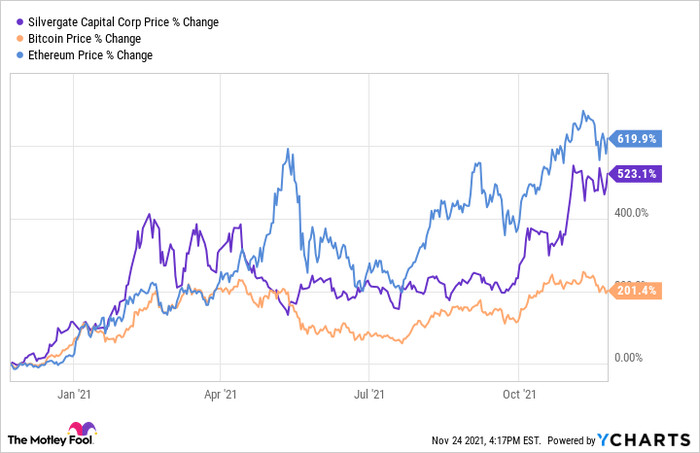 10 stocks we like better than Silvergate Capital Corporation
When our award-winning analyst team has a stock tip, it can pay to listen. After all, the newsletter they have run for over a decade, Motley Fool Stock Advisor, has tripled the market.*
They just revealed what they believe are the ten best stocks for investors to buy right now... and Silvergate Capital Corporation wasn't one of them! That's right -- they think these 10 stocks are even better buys.
*Stock Advisor returns as of November 10, 2021
Anders Bylund owns shares of Bitcoin and Ethereum. The Motley Fool owns shares of and recommends Bitcoin and Ethereum. The Motley Fool has a disclosure policy.
Source