How Lightning eMotors Plans to Power Past the Chip Shortage
Lightning eMotors (NYSE: ZEV) said on Aug. 16 that it lost more money in the second quarter than Wall Street had expected, and it withdrew its guidance for the full year citing uncertainty around the supply of commercial-vehicle chassis.
But, it said, its sales pipeline remains strong and it expects business to improve once its plan to solve supply chain issues is in place.
Key points of Lightning eMotors' second-quarter report
While Lightning's revenue was strong, its loss missed estimates. The company's net loss was $46.1 million in the second quarter, or $0.79 per share, on revenue of $5.9 million.

Wall Street analysts polled by Thomson Reuters had expected a loss of $0.14 per share on revenue of $5.37 million.

Much of Lightning's net loss was due to revaluations of warrants and other obligations linked to its stock price, which fell during the second quarter.
Lightning delivered 36 completed electric commercial vehicles and one powertrain system in the quarter, up from nine completed vehicles in the second quarter of 2020.
Those vehicles included cargo vans, shuttle buses, ambulances, and trucks, built on chassis supplied by Ford Motor Company

(NYSE: F)

, General Motors

(NYSE: GM)

, and others.

As of June 30, the company had an order backlog of about 1,600 units, worth about $168.4 million in revenue.

Lightning has had several important wins since the end of the first quarter, including deals to supply vehicles or powertrains to ambulance maker REV Group, shipping giant DHL Global, and Berkshire Hathaway-owned bus maker Forest River.

As of June 30, 2021, Lightning eMotors had $201.9 million in cash and equivalents.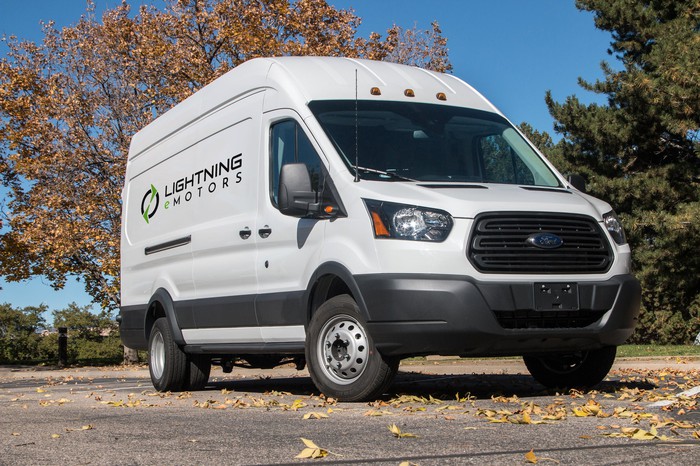 Lightning said that tight supplies of commercial-vehicle chassis from suppliers like Ford limited its ability to deliver completed EV conversions in the second quarter. Image source: Lightning eMotors.
What Lightning eMotors' CEO had to say
CEO Tim Reeser said that his team has been making progress in alleviating supply constraints around key components and will soon be able to build its own chassis:

Our Q2 revenue was constrained by supply chain challenges, which we are now working to remedy through the addition of new suppliers. Notably, we are in the final stages of negotiations and technical integration and validation with one of the largest worldwide battery suppliers, which we believe will mitigate our supply constraints in 2022. Further, with the design of our first purpose-built chassis, we have a path for addressing the industry chassis shortage with our own Lightning-branded stripped chassis and cab-chassis products.
What investors can expect in the third quarter
As noted above, Lightning withdrew its full-year guidance on concerns about automakers' ability to deliver chassis amid the global semiconductor shortage and the resurgence of COVID-19.
But it did give electric-vehicle investors an idea of what to expect when it reports its third-quarter results this fall:
Revenue of $4 million to $6 million.
Vehicle and powertrain sales of 28 units to 40 units.
Operating loss between $12.5 million and $13.6 million.
Adjusted operating loss between $12 million and $13 million.
The raw numbers
| Metric | Q2 2021 | Q2 2020 |
| --- | --- | --- |
| Revenue | $5.92 million | $871,000 |
| Operating profit (loss) | ($17.89 million) | ($2.73 million) |
| Adjusted operating profit (loss) | ($8.67 million) | ($2.73 million) |
| Net income (loss) | ($46.058 million) | ($2.73 million) |
| Net income (loss) per share | ($0.79) | ($0.10) |
Data source: Lightning eMotors. Adjusted operating figures exclude stock-based compensation of $128,000 and about $9 million in one-time expenses related to the company's merger with a special-purpose acquisition company. Lightning eMotors had no one-time charges and about $3,000 in stock-based compensation in the second quarter of 2020.
10 stocks we like better than Lightning eMotors, Inc
When our award-winning analyst team has a stock tip, it can pay to listen. After all, the newsletter they have run for over a decade, Motley Fool Stock Advisor, has tripled the market.*
They just revealed what they believe are the ten best stocks for investors to buy right now... and Lightning eMotors, Inc wasn't one of them! That's right -- they think these 10 stocks are even better buys.
*Stock Advisor returns as of August 9, 2021
John Rosevear owns shares of Ford and General Motors. The Motley Fool has no position in any of the stocks mentioned. The Motley Fool has a disclosure policy.
Source