Why GreenSky Stock Soared 53% Today
What happened
Shares of GreenSky (NASDAQ: GSKY) surged 53.2% on Wednesday after the specialty lender agreed to be acquired by Goldman Sachs (NYSE: GS).
So what
The all-stock deal values GreenSky at roughly $2.2 billion, or about $12.11 per share. That's a premium of nearly 56% from the stock's closing price on Tuesday.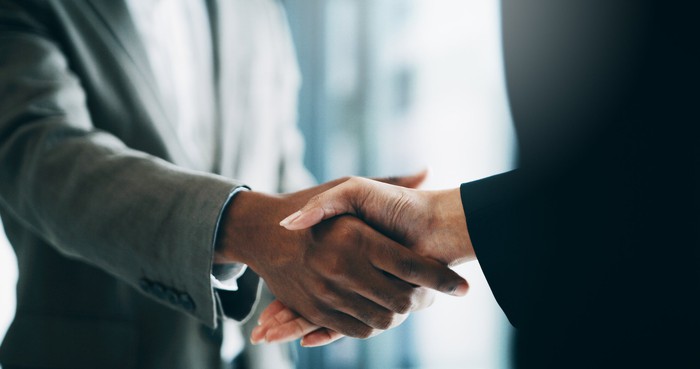 GreenSky struck a deal with financial services powerhouse Goldman Sachs. Image source: Getty Images.
Investors will receive 0.03 shares of Goldman Sachs' stock for each share of GreenSky they own. The transaction is expected to close by the first quarter of 2022, subject to shareholder and regulatory approval.
"In combination with Goldman Sachs, we're excited to continue delivering innovative point-of-sale payment solutions for our merchant partners and their customers on an accelerated basis," GreenSky CEO David Zalik said in a press release.
Now what
GreenSky provides home improvement financing solutions. More than 10,000 merchants use its platform to offer "apply and buy" promotional payment options to their customers.
By acquiring GreenSky, Goldman Sachs is making an aggressive move into the popular "buy now, pay later" space. Goldman has invested heavily in recent years to expand its Marcus consumer finance business, which the company views as a key complement to its core investment banking and wealth management operations.
"We have been clear in our aspiration for Marcus to become the consumer banking platform of the future, and the acquisition of GreenSky advances this goal," Goldman Sachs CEO David Solomon said. "GreenSky and its talented team have built an impressive, cloud-native platform that will allow Marcus to reach a new and active set of merchants and customers and provide them with an expanding set of solutions."
10 stocks we like better than Goldman Sachs
When our award-winning analyst team has a stock tip, it can pay to listen. After all, the newsletter they have run for over a decade, Motley Fool Stock Advisor, has tripled the market.*
They just revealed what they believe are the ten best stocks for investors to buy right now... and Goldman Sachs wasn't one of them! That's right -- they think these 10 stocks are even better buys.
*Stock Advisor returns as of August 9, 2021
Joe Tenebruso has no position in any of the stocks mentioned. The Motley Fool has no position in any of the stocks mentioned. The Motley Fool has a disclosure policy.
Source