Why Tortoise Acquisition Stock Was Down on Friday
What happened
Shares of Tortoise Acquisition (NYSE: SHLL) were trading lower on Friday amid a sectorwide sell-off of stocks of electric-vehicle companies following an analyst's post-earnings downgrade of Tesla (NASDAQ: TSLA).
As of 2:15 p.m. EDT, Tortoise's shares were down about 9.8% from Thursday's closing price.
So what
Auto investors will recall that Tortoise is the special-purpose acquisition company that announced an agreement last month to merge with Hyliion, a maker of electric and hybrid powertrains for heavy trucks. The two companies expect to complete the merger by the end of the current quarter after which the merged company will be known as Hyliion. Tortoise's former publicly traded shares will continue to trade under a new ticker, HYLN.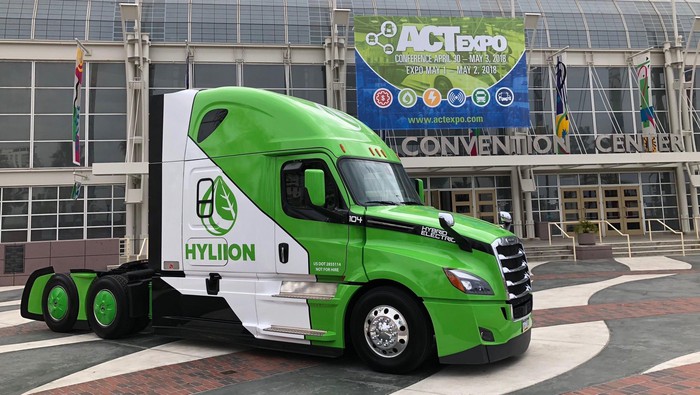 Hyliion makes hybrid (and soon, electric) powertrains that can be installed in semis made by established truck manufacturers. Image source: Hyliion.
Hyliion is an intriguing company with a realistic business plan, something that isn't always the case in the electric-vehicles space. It has the partnerships it needs to execute, and will have sufficient funding to get to profitability after the merger, assuming that all goes according to plan.
It's a real business, in other words, with real products -- some of which are already shipping. But given that its stock has run up wildly amid intense investor interest in everything related to electric vehicles, the correction that we've seen in recent days -- along with other electric-vehicle stocks -- isn't surprising.
Now what
Tortoise hasn't yet scheduled a date for its second-quarter earnings report. But Hyliion CEO Thomas Healy and Tortoise's CEO Vince Cubbage have both promised that the companies will provide auto investors with much more information before Tortoise shareholders vote on the merger, likely sometime in September.
10 stocks we like better than Tortoise Acquisition Corp.
When investing geniuses David and Tom Gardner have a stock tip, it can pay to listen. After all, the newsletter they have run for over a decade, Motley Fool Stock Advisor, has tripled the market.*
David and Tom just revealed what they believe are the ten best stocks for investors to buy right now... and Tortoise Acquisition Corp. wasn't one of them! That's right -- they think these 10 stocks are even better buys.
*Stock Advisor returns as of June 2, 2020
John Rosevear has no position in any of the stocks mentioned. The Motley Fool owns shares of and recommends Tesla. The Motley Fool has a disclosure policy.
Source