Bed Bath & Beyond Crushed After Quick Turnaround Hopes Vanish
Despite previous assurances from Bed Bath & Beyond (NASDAQ: BBBY) that its turnaround plan was on track, the home goods retailer released a holiday sales report showing there is still a very long road to travel.
With comparable store sales over the first two months of the fourth quarter tumbling 5.4%, recently appointed CEO Mark Tritton was forced to admit its "own executional challenges" were as much to blame for the shortfall as anything. Bed Bath & Beyond's stock plummeted 26% on the news.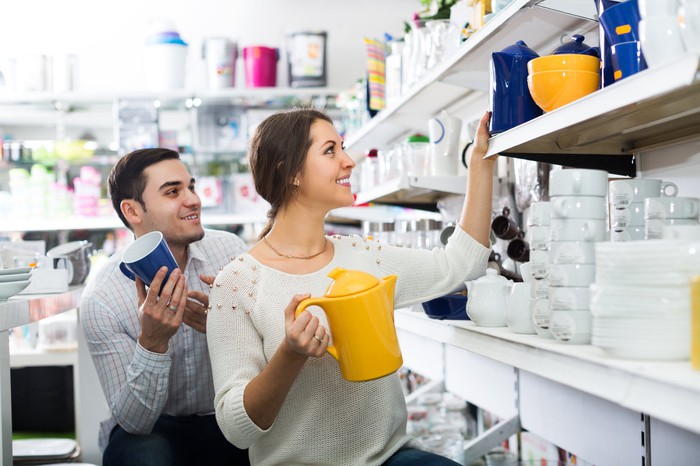 There were actually very few customers shopping Bed Bath & Beyond for housewares over the holidays. Image source: Getty Images.
Going from bad to worse
What makes it an even more disastrous result is this year's fourth quarter actually included sales from the so-called Cyber Monday holiday week whereas last year it appeared in the third quarter. When adjusted for the calendar shift, the retailer's comps for the first two months were down 13%. Clearly customers just don't want to shop its stores anymore.
In an understatement, Tritton said "We are experiencing short-term pain in our efforts to stabilize the business," but did note digital sales jumped 20% year over year. Since digital sales had been down in the third quarter, this was at least one improvement Bed Bath & Beyond could cling to for its turnaround plan.
Tritton has moved quickly to make his mark on the company, clearing out the executive offices of holdovers from the previous executive and announcing it sold half its real estate in a sale-leaseback arrangement. Investing in its digital assets will also be increasingly important if it wants to survive.
Whether the pain Bed Bath & Beyond feels is short-lived or long, it's clear the home goods store's turnaround won't be an easy one.
10 stocks we like better than Bed Bath & Beyond
When investing geniuses David and Tom Gardner have a stock tip, it can pay to listen. After all, the newsletter they have run for over a decade, Motley Fool Stock Advisor, has tripled the market.*
David and Tom just revealed what they believe are the ten best stocks for investors to buy right now... and Bed Bath & Beyond wasn't one of them! That's right -- they think these 10 stocks are even better buys.
*Stock Advisor returns as of December 1, 2019
Rich Duprey has no position in any of the stocks mentioned. The Motley Fool has no position in any of the stocks mentioned. The Motley Fool has a disclosure policy.
Source