If You Invested $10,000 in BioNTech in 2019, This Is How Much You Would Have Today
BioNTech (NASDAQ: BNTX) has almost become a household name. The German biotech company developed the Pfizer (NYSE: PFE) coronavirus vaccine. The two companies struck up a partnership and now are splitting vaccine revenue. This means billions of dollars in revenue for both. But it's a particularly big deal for BioNTech. That's because, only a year ago, the company didn't have any commercialized drugs or vaccines.
As you can probably guess, back then, BioNTech wasn't a stock market star. But, the company already was years into its work on mRNA technology. Today, BioNTech has more than two dozen candidates in its mRNA pipeline. And that doesn't happen overnight. Clearly, early believers in BioNTech have benefited since its partnership with Pfizer. Let's take a closer look to see exactly how much.
Trading at only $34
If you had invested $10,000 in BioNTech back in December 2019, you would have gotten about 294 shares. The stock was trading at about $34 a share on Dec. 31. Today, BioNTech is trading at about $217 a share. That means your investment would be worth $63,798 right now.
The shares have moved progressively higher since our imaginary $10,000 investment. But the movement intensified this spring. Why? BioNTech reported a billion-dollar quarterly profit thanks to COVID-19 vaccine sales.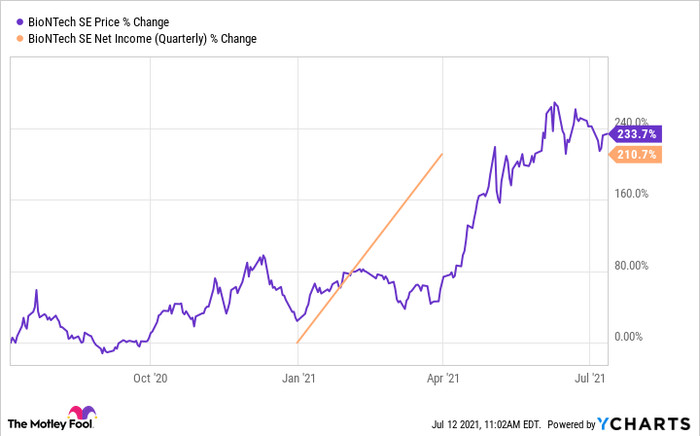 Now your question may be: Can BioNTech's share performance continue? We can gather some clues by looking at what's ahead for the Pfizer/BioNTech team.
The companies' vaccine is the U.S. market leader in terms of use. So far, it's fully vaccinated 84 million Americans. That's compared to 62 million by Moderna. It also has a strong position elsewhere in the world. For example, Israel has relied on it for its vaccination program. And the European Union recently ordered more vaccine from Pfizer and BioNTech -- 1.8 billion doses to be delivered later this year through 2023. That brings its total of vaccine doses for the EU to 2.4 billion.
Pfizer/BioNTech recently won the first authorization for a coronavirus vaccine to be used in adolescents as of age 12 in the U.S. and Europe. This doesn't result in new orders immediately. That's because this is just expanded use of the same vaccine used in adults. But eventually, if many teens opt for vaccination, countries will need to take this into account -- and that may result in larger orders so that there are enough doses for everyone.
Another first
Pfizer/BioNTech also may be first when it comes to providing a booster. Pfizer said recently the partners will apply for authorization of a third vaccine dose as a booster in the coming weeks. Again, this isn't a new product so won't result in new orders immediately. But if all vaccinated individuals go for the third dose, it may mean countries will have to order more vaccine supply sooner instead of later.
Pfizer/BioNTech have applied for full approval of their vaccine in the U.S. A full approval, backed up by strong six-month trial data, may convince more people to get vaccinated. The U.S. Food and Drug Administration granted Emergency Use Authorization based on two months of trial follow up data. The additional months of data could reassure some individuals about the vaccine's safety.
Even before some of this recent positive news, things were looking bright for BioNTech. The company in its first-quarter earnings report said it expects vaccine orders so far to bring in about $14.7 billion in revenue this year. And that figure is just for BioNTech.
The company also is moving forward on other pipeline programs. For instance, BioNTech last month dosed the first patient in a phase 2 vaccine trial for advanced melanoma.
The share price
Now, what about share price? Today, BioNTech is trading for less on a price-to-sales basis than rival Moderna.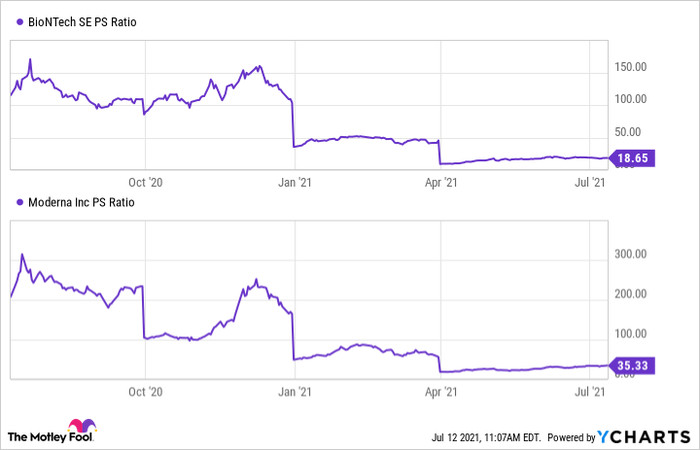 BNTX PS Ratio data by YCharts
So, in spite of gains, the stock isn't necessarily expensive. And, considering new orders and expanded use of the vaccine in teens and as a booster, it's reasonable to expect revenue growth. Finally, BioNTech has shown its mRNA technology works. That bodes well for other programs in the pipeline. Of course, that's farther down the road. But in the meantime, BioNTech is generating billions in revenue.
Early investors in BioNTech won big. But, if BioNTech's path remains smooth, rewards from this stock on the move aren't over.
Adria Cimino has no position in any of the stocks mentioned. The Motley Fool recommends Moderna Inc. The Motley Fool has a disclosure policy.
Source