Will Visa Raise Its Dividend in 2020?
The Dow Jones Industrials are a great place for dividend investors to look for promising stocks of well-established companies. All 30 Dow stocks pay dividends to their shareholders, but not all are equally generous. In particular, Visa (NYSE: V) has been somewhat of an embarrassment on the dividend front, as it's the only stock with a yield below 1% currently.
Visa has given investors a lot of growth over the years, however, and it's managed to put together a decent history of boosting its dividends as well. Those payouts could certainly be larger without putting any strain on the credit card giant, and a recent hike to its quarterly dividend raised hopes that further gains could lie ahead. Let's look more closely at Visa and whether it'll make another dividend increase in 2020.
Dividend stats on Visa
| Metric | Value |
| --- | --- |
| Current quarterly dividend per share | $0.30 |
| Current yield | 0.7% |
| Number of consecutive years with dividend increases | 12 years |
| Payout ratio | 23% |
| Last increase | November 2019 |
Source: Yahoo! Finance. Last increase refers to ex-dividend date.
The history of Visa's dividend stinginess
Dividends have never been a huge priority for Visa. Ever since the card giant's IPO in the late 2000s, Visa has routinely had its dividend yield below the 1% level. With the overall stock market yielding closer to 2%, that's left Visa off the radar for most dividend investors.
However, once you accept the company's low starting point, Visa has done a good job of pushing its dividend higher as its share price rose. Double-digit percentage increases in the dividend annually have become commonplace, including boosts of 18% in 2017, 28% in two steps in 2018, and 17% earlier this year.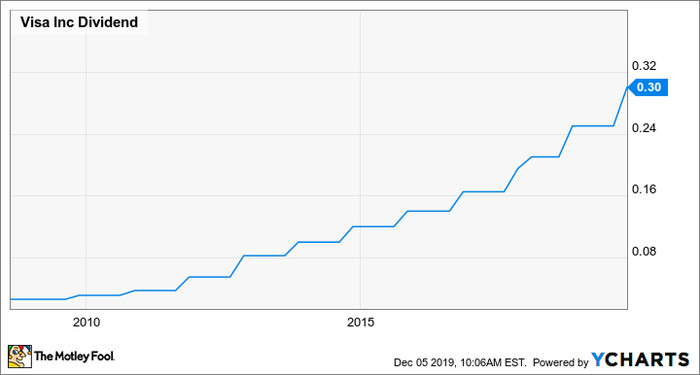 V Dividend data by YCharts.
Yet as good as this dividend history looks, Visa's stock has seen equally steep gains in its share price. As a result, going from $0.0263 per share to $0.30 per share with its dividend hasn't done anything to boost Visa's dividend yield.
Can Visa keep growing?
Visa still has plenty of upside. Despite the rapid adoption of electronic payment systems, a huge portion of transactions globally still take place using cash or checks, especially in fast-growing emerging markets. As payment volume grows, Visa's business model of collecting swipe fees without taking on any credit risk becomes increasingly profitable.
Competitive threats have arisen to disrupt the payments industry, but Visa hasn't stood still. Key partnerships with up-and-coming players in areas like mobile payments have ensured that Visa doesn't get left behind. The card giant has followed an acquisition-based strategy to stay at the cutting edge of financial technology, using its reputation and leadership in the industry as an asset to woo small upstarts with intriguing innovations. Meanwhile, Visa has also worked to keep its longtime core customers happy, renewing agreements with major card issuers to ensure that the billions of cardholders Visa counts in its network keep getting the service and support they need.
What's next for Visa's dividend?
Visa likes to use share repurchases for a large portion of its return of capital to shareholders, and so raising its dividends isn't likely to become a high priority for the credit and debit card network provider in the foreseeable future. With a rock-bottom payout ratio, though, Visa could easily pay out more money in dividends if it wants.
What seems most likely is for Visa to continue its streak by raising its quarterly payout another $0.05 to $0.06 per share. That won't get Visa out of the doghouse as far as its dividend status within the Dow Jones Industrials is concerned, but it will still reassure shareholders that they can continue to expect at least an attempt to pay higher dividends in the future.
10 stocks we like better than Visa
When investing geniuses David and Tom Gardner have a stock tip, it can pay to listen. After all, the newsletter they have run for over a decade, Motley Fool Stock Advisor, has quadrupled the market.*
David and Tom just revealed what they believe are the 10 best stocks for investors to buy right now... and Visa wasn't one of them! That's right -- they think these 10 stocks are even better buys.
*Stock Advisor returns as of June 1, 2019
Dan Caplinger has no position in any of the stocks mentioned. The Motley Fool owns shares of and recommends Visa. The Motley Fool has a disclosure policy.
Source