3 Stocks That Will Benefit From a Rebound in Holiday Travel
According to the American Automobile Association (AAA), 53.4 million people will travel for the Thanksgiving holiday. That's up 13% from 2020 and within 5% from its pre-pandemic level in 2019. Even more people will travel for the upcoming holidays over the next few weeks.
This rebound in travel bodes well for companies with ties to the travel sector. We asked three of our Motley Fool contributors which three stocks they see benefiting from a resurgence in holiday travel, The stocks they named are Magellan Midstream Partners (NYSE: MMP), TravelCenters of America (NASDAQ: TA), and Delta Air Lines (NYSE: DAL).
The right pipes
Reuben Gregg Brewer (Magellan Midstream Partners): Midstream companies generally get paid fees to move oil, natural gas, and the products into which they get turned. So demand is more important than commodity prices. As travel demand picks up, so will demand for oil and refined products like gasoline and jet fuel. About 30% of Magellan Midstream Partners' business comes from oil pipelines, with the rest coming from refined products assets. It is perfectly positioned to benefit here.
Magellan Midstream, a master limited partnership (MLP), has been muddling through the pandemic as best it can, noting that its refined products business had a strong third quarter thanks to increased demand. Management has high hopes for the future as well, explaining in the earnings release that it expects 10% higher gasoline, 17% higher distillate, and 40% higher aviation fuel shipments for the year compared to 2020 levels. That's only 4% higher than 2019 levels, which shows just how bad 2020 was. But these improvements basically bring demand back in line with historical trends.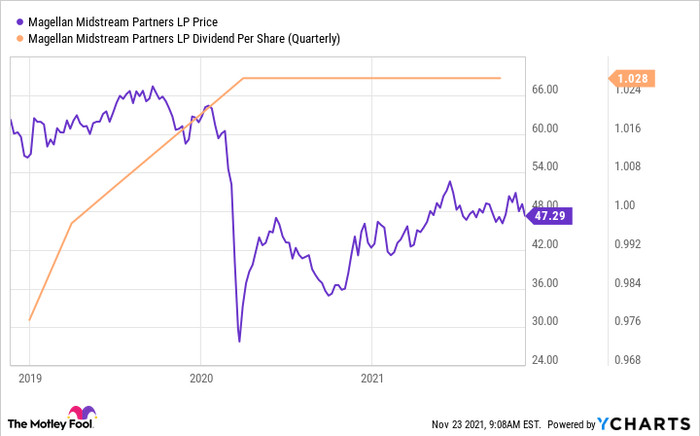 And this realignment helps explain why Magellan increased its distribution in the fourth quarter after holding it steady for seven consecutive quarters. The MLP has now increased its distribution every year since its initial public offering (IPO) in 2001. While there were legitimate fears about the risk of a distribution cut earlier in the pandemic, that issue seems to have passed at this point. And yet investors can still collect a huge 8.9% distribution yield. With its business getting "back to normal," thanks to a travel rebound, Magellan looks pretty tempting today for dividend-focused investors.
Packed pitstops
Matt DiLallo (TravelCenters of America): I was one of the millions of Americans who hit the open road this Thanksgiving to visit family. I couldn't help but notice how packed travel centers were as people stopped to fill up on gas and food.
That should benefit TravelCenters of America, the nation's largest publicly traded full-service travel center network. The company operates 275 easy-to-access off-highway locations under the TA, Petro Stopping Centers, and TA Express brands. These large travel centers offer fuel, food service, and convenience store items. TA operates 600 quick- and full-service restaurants, including nine proprietary brands like Iron Skillet and Country Pride. Meanwhile, its stores offer a variety of fresh food and premium coffee products. These travel centers enable travelers and truckers to refuel and refresh in one stop.
The company's network of well-located travel centers along the nation's highway system strategically positions it to benefit from increased holiday travel. It should sell higher fuel volumes while also capturing more non-fuel sales at its restaurants and retail stores. Those catalysts should drive strong sales growth, especially given this year's uptick in the inflation rate. While higher inflation will cut both ways since increasing labor and food costs will eat into its profit margin, TA should still be a big beneficiary as more people hit the road this holiday season.
Airlines are flying high this holiday season
Neha Chamaria (Delta Air Lines): With the holiday travel season entering its peak, trust airlines to try and make the most of the rebound in travel after having been hit hard by the COVID-19 pandemic. Delta Air Lines is one such airline that should see a busy season.
Just days ago, the Transportation Security Administration (TSA) predicted a surge in passenger volume and expected to screen nearly 20 million passengers around the Thanksgiving holiday. While that still pales in comparison to the record 26 million passengers screened during the same period in 2019, it's significantly higher than 2020 passenger-travel volumes.
In fact, in a recent interview with Bloomberg TV, Delta Air Lines' CEO Ed Bastian said he expects the airline company to fly close to full this holiday season. Barely days ago, the airline predicted handling 5.6 million passengers during the Thanksgiving period, an almost-threefold jump over its 2020 volume. More importantly, Delta Air Lines is seeing an uptick in business and international travel, especially after the U.S. reopened its borders to international travelers from all countries on Nov. 8. In the six weeks through Nov. 8, Delta reported a 450% jump in international point-of-sale bookings. Higher business and international travel means greater demand for premium and higher-margin seats, which is great news for Delta.
To be sure, a profit could still elude Delta Air Lines in the fourth quarter as jet fuel prices continue to rise, but its revenue is almost certain to grow strongly not just year over year but also sequentially given the strong holiday travel season. This holiday season could just be the beginning of a turnaround for Delta Air Lines.
10 stocks we like better than Magellan Midstream Partners
When our award-winning analyst team has a stock tip, it can pay to listen. After all, the newsletter they have run for over a decade, Motley Fool Stock Advisor, has tripled the market.*
They just revealed what they believe are the ten best stocks for investors to buy right now... and Magellan Midstream Partners wasn't one of them! That's right -- they think these 10 stocks are even better buys.
*Stock Advisor returns as of November 10, 2021
Matthew DiLallo has no position in any of the stocks mentioned. Neha Chamaria has no position in any of the stocks mentioned. Reuben Gregg Brewer has no position in any of the stocks mentioned. The Motley Fool recommends Delta Air Lines and Magellan Midstream Partners. The Motley Fool has a disclosure policy.
Source