Why Hotel and Vacation Stocks Popped on Monday
What happened
Shares of hotel and vacation stocks soared on Monday after Pfizer announced positive data from its COVID-19 study. Shares of Hyatt Hotels (NYSE: H) jumped as much as 26.8% and are up 20.7% at 3:30 p.m. EDT. Shares of competitor Hilton Worldwide Holdings (NYSE: HLT) were up 24.9% at their peak and are now up 12.7%.
Vail Resorts (NYSE: MTN) and Las Vegas Sands (NYSE: LVS) own hotels, as well, but they're much more concerned with overall travel spending recovering at their resorts. Investors pushed their shares higher by 23.5% and 14.8%, respectively, at their peaks. As of this writing, Vail is still up 11.3%, while Las Vegas Sands is up 9.7%.
So what
The travel industry has been absolutely hammered by COVID-19 because of local shutdowns, as well as the general reduction in travel. Consumers aren't flying as they did a year ago, and most companies have severely restricted travel. So it's no surprise that any hope about a vaccine for COVID-19 will send the market higher and consumer discretionary stocks like these will be some of the biggest beneficiaries.
Below is a chart that shows just how devastating COVID-19 has been for these companies. Revenue dropped over 90% versus a year ago at Las Vegas Sands, and Vail and was down over 75% -- the worst for all four companies. There's been some recovery in the second half of 2020, but they're all far from "normal" operating revenues.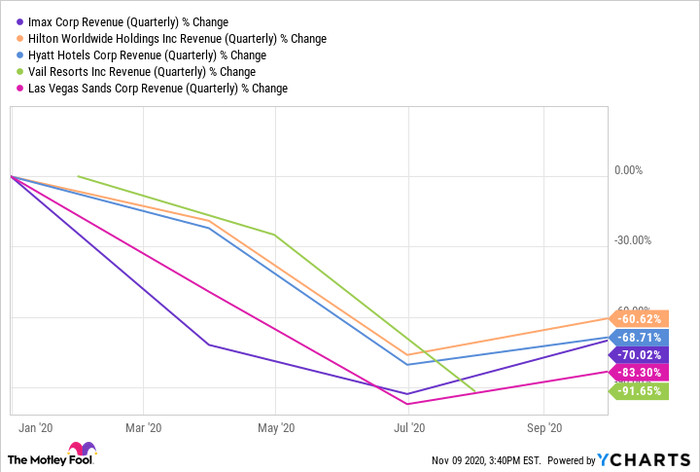 IMAX Revenue (Quarterly) data by YCharts.
The exact timing and magnitude of the impact of the vaccine on travel and hotel stocks aren't known, but having some prospects for the end of the pandemic is certainly welcome news for investors. As I mentioned, revenue was already starting to pick up over the last few months, so if the risk of COVID-19 declines as the vaccine is distributed, it could accelerate the recovery. That's the bullish case that investors are betting on today.
Now what
Is now the time to dive back into travel and hotel stocks? The vaccine may be good news, but we don't know much more about how quickly it will be administered or when the business will get back to "normal" than we did last week. And if any bad news comes out, we could see stocks reverse today's gains overnight.
I don't think this is a fundamental reason to change your investment thesis on these stocks because nothing has really changed today -- except for the market's sentiment. Bullish investors can breathe a little easier knowing that a vaccine appears to be on the way and enjoy the day's gains. But this pandemic is far from over, so don't get too excited just yet.
10 stocks we like better than Hyatt Hotels
When investing geniuses David and Tom Gardner have a stock tip, it can pay to listen. After all, the newsletter they have run for over a decade, Motley Fool Stock Advisor, has tripled the market.*
David and Tom just revealed what they believe are the ten best stocks for investors to buy right now... and Hyatt Hotels wasn't one of them! That's right -- they think these 10 stocks are even better buys.
*Stock Advisor returns as of October 20, 2020
Travis Hoium has no position in any of the stocks mentioned. The Motley Fool recommends Hyatt Hotels and Vail Resorts. The Motley Fool has a disclosure policy.
Source