2 Ways Pinterest Can Bounce Back After the Crash
Pinterest (NYSE: PINS) thrived during the initial stages of the pandemic, when folks were spending more time at home. The image-based social media app has plenty of creators who post material inspiring people to take on household tasks, including cooking, organizing, and gardening.
It's now experiencing the reversal of that trend as economic reopening attracts people to activities outside their homes. Unsurprisingly, user engagement has fallen since highs reached earlier in the pandemic. Pinterest's stock is down almost 79% while struggling to regain its footing. However, there are two ways Pinterest can bounce back after the crash.
1. Growing customers in its most lucrative region
Like other social media apps, Pinterest is free to join and use. The company makes money by showing advertisements to folks browsing the platform. Of course, marketers are willing to pay more to influence the buying decisions of folks with more purchasing power.
Pinterest reports monthly active user totals from three regions: Domestic (U.S. & Canada), Europe, and the rest of the world. Of those three, the most lucrative user base is from the U.S. & Canada. The average revenue per user from the U.S. and Canada was $4.98 in its first quarter, which ended on March 31. Unfortunately, Pinterest has lost monthly active users from that segment for four consecutive quarters.
As of March 31, it boasted 94 million monthly active users domestically, down from 109 million from the same time a year ago. Pinterest has 433 million monthly active users, which was 2 million higher than the previous quarter, stopping the three-quarter streak of overall user losses. However, if Pinterest can start adding users domestically, it will go a long way to boost the share price.
2. Increasing monetization of international users
That said, 339 million of Pinterest's 433 million monthly active users are from regions outside the U.S. and Canada. Despite the heavily skewed user geography, in Q1, Pinterest earned $470 million in revenue from the U.S. and Canada and $105 million from everywhere else. Therefore, if it wants to boost the share price, another method could be to enhance monetization from its majority segments.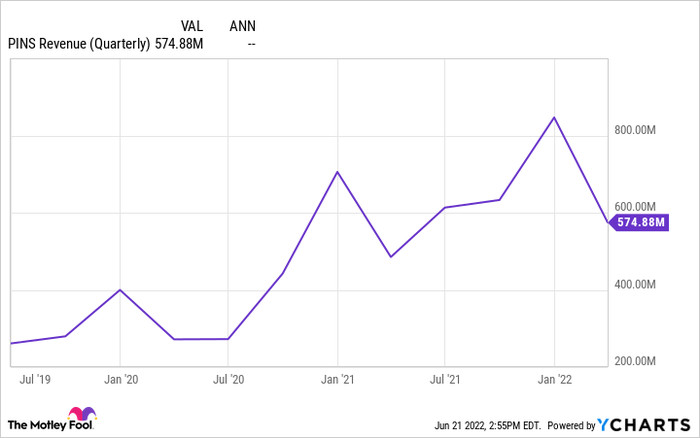 PINS Revenue (Quarterly) data by YCharts
Understandably, management focused first on monetizing its most lucrative segment, but it seems the time has come to expand the efforts internationally. Pinterest is already showing signs of success in that regard. Year-over-year revenue from the rest of the world segment increased by 152% in Q1. Additionally, the European segment grew by 27%. Meanwhile, the domestic revenue expanded by 15%.
At those rates, it will not be long before the other regions start totaling a more considerable percentage of overall revenue. Management discussed its efforts to boost the international areas in its first-quarter shareholder letter, saying, "We continue to build our sales coverage, expand our advertiser base, increase our shoppable content, and execute on our strategy to provide relevant ads to our users in regions outside of the U.S. and Canada."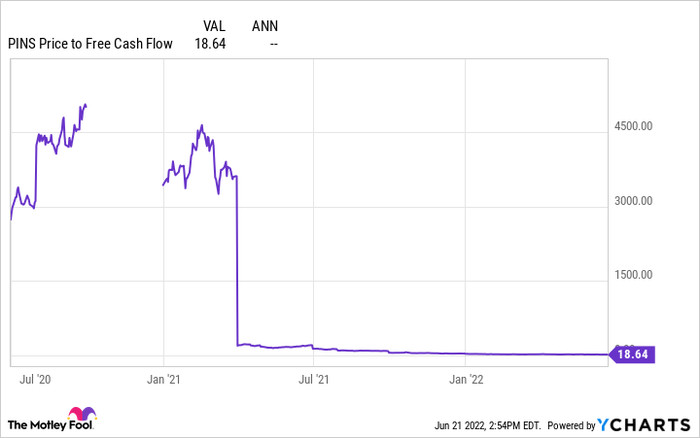 PINS Price to Free Cash Flow data by YCharts
Pinterest's stock is trading at a price-to-free cash flow ratio of 18.6, near its lowest in its young history as a publicly traded company. If it can achieve these two accomplishments, investors could quickly bid the stock higher from its inexpensive valuation.
10 stocks we like better than Pinterest
When our award-winning analyst team has a stock tip, it can pay to listen. After all, the newsletter they have run for over a decade, Motley Fool Stock Advisor, has tripled the market.*
They just revealed what they believe are the ten best stocks for investors to buy right now... and Pinterest wasn't one of them! That's right -- they think these 10 stocks are even better buys.
*Stock Advisor returns as of June 2, 2022
Parkev Tatevosian has no position in any of the stocks mentioned. The Motley Fool has positions in and recommends Pinterest. The Motley Fool has a disclosure policy.
Source