Why Nordic American Tanker Stock Popped 13.5% This Morning
What happened
Shares of oil carrier Nordic American Tanker (NYSE: NAT) closed 10.4% higher on Thursday -- and in contrast to the pop we saw earlier this week, today there's a clear reason for the optimism:
Nordic American Tanker is planning to raise its dividend.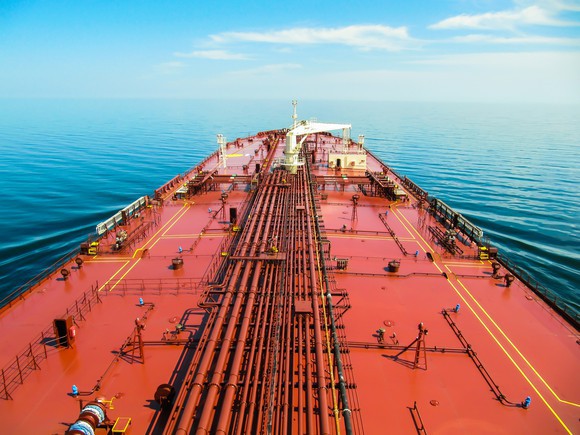 This tanker's deck is painted red -- but Nordic American Tanker stock is glowing green today. Image source: Getty Images.
So what
This morning, Nordic American Tanker published a letter to its shareholders outlining recent developments in the market for oil tankers. Specifically, Nordic explained how a suezmax tanker that cost $6,000 a day to charter back in January 2018 -- and that got as cheap as $4,100 a day to charter in March -- now costs a whopping $28,700 a day.
That's twice what the same tanker cost to charter at the beginning of October, four times what it cost at the beginning of the year, and six times what it cost at the market's nadir in March.
Now what
Obviously, this is good news for Nordic American Tanker in a general sense. What's really getting investors excited about the stock today, though, is this:
"The higher the tanker rates going forward, the better the ability for us to pay dividend," writes Nordic American in its letter to shareholders. Currently, Nordic is paying a dividend of just $0.01 per share, per quarter. However, "going forward, a stronger tanker market is forming the basis for higher dividend."
That's something short of an actual promise to raise the dividend, granted. But it's close enough to a promise to convince investors to swarm the decks at Nordic American.
10 stocks we like better than Nordic American Tankers
When investing geniuses David and Tom Gardner have a stock tip, it can pay to listen. After all, the newsletter they have run for over a decade, Motley Fool Stock Advisor, has quadrupled the market.*
David and Tom just revealed what they believe are the 10 best stocks for investors to buy right now... and Nordic American Tankers wasn't one of them! That's right -- they think these 10 stocks are even better buys.
Click here to learn about these picks!
*Stock Advisor returns as of August 6, 2018
Rich Smith has no position in any of the stocks mentioned. The Motley Fool has no position in any of the stocks mentioned. The Motley Fool has a disclosure policy.