Should You Buy Costco Stock Right Now?
Shares of Costco Wholesale (NASDAQ: COST) have been on a tear since the pandemic began in March 2020. The stock price tacked upward another 6.4% in just the last month following another strong earnings report.
After delivering a market-smashing return of 223% over the last five years, the stock's price-to-earnings (P/E) ratio stands at a high 40 times forward earnings estimates.
Let's see why investors are so bullish on Costco, and whether investors should buy this stock at these high valuations.
Costco has unrivaled sales efficiency
You can't go wrong investing in companies that sell everyday essentials, especially Costco that goes to great lengths to sell quality goods at very low prices. When a recession (or pandemic) hits, it helps to own these types of companies that sell things in large quantities to cash-strapped consumers.
Costco has always prioritized selling at volume over profit margin. It keeps prices on many items lower than competitors, including Amazon. Selling cheap starts with maintaining efficient distribution. It ships inventory to the warehouses directly from the manufacturer in some cases. Costco is also frugal in only selling the fast-selling colors and sizes of certain items to drive the highest turnover. The average Costco warehouse has only about 3,700 stock-keeping units (SKUs, or distinctive items for sale) available, which is significantly less than the average of leading retailers.
Even with lower inventory selection, Costco generates significantly greater sales per square foot than Walmart (NYSE: WMT). In fiscal 2020, Costco generated about $1,400 of sales per square feet of warehouse space, about double that of Walmart. Costco's sales efficiency is up there with high-margin retail businesses like Lululemon Athletica (NASDAQ: LULU), which is impressive for a discount warehouse operator.
Costco knows that the lowest prices will drive the highest amount of sales volume, which is all that matters. Membership fees make up most of Costco's operating income, which reveals the extent that Costco goes to keep prices low and deliver value to customers.
The stock is expensive
Customers expect that, when they walk into a Costco warehouse, the prices they see are the lowest prices anywhere. This promise has driven exceptionally high sales growth over the past year. Costco's comparable-store sales, excluding fuel and currency changes, increased by 13.4% year over year, up from 6.1% in fiscal 2019.
The acceleration in growth during the pandemic has investors placing a high value on the stock. The shares currently fetch a forward P/E of 40. That is much more expensive than Walmart's 23.7 or Target's (NYSE: TGT) 19.6 forward P/E.
It's not difficult to see why investors are rewarding Costco with a premium. Historically, Costco has delivered higher total sales and earnings growth than its top competitors.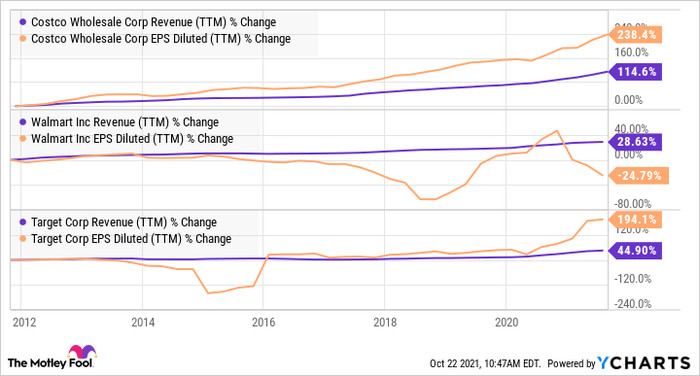 COST Revenue (TTM) data by YCharts
Moreover, Costco's lower SKUs per warehouse should make it easier to navigate around the supply bottlenecks at the ports and keep its warehouses stocked for the holidays. As a result, investors are probably discounting market-share gains in the near term.
Still, investors have to draw the line somewhere on what they are willing to pay to own the stock. At these highs, investors are betting that Costco will maintain its pandemic-driven growth, but I would be cautious about extrapolating that momentum too far. Costco's fiscal fourth-quarter sales growth decelerated to 17% in that quarter, down from 21% in the previous quarter, so it may already be starting to revert to its pre-pandemic growth in the high single-digit range. Analysts currently expect Costco to report 8.5% growth in total sales in fiscal 2022.
Paying a higher P/E in the face of slowing growth is a recipe for disappointment. I would keep Costco on a watch list and look to buy the stock during a recession or market correction to get a better deal.
10 stocks we like better than Costco Wholesale
When our award-winning analyst team has a stock tip, it can pay to listen. After all, the newsletter they have run for over a decade, Motley Fool Stock Advisor, has tripled the market.*
They just revealed what they believe are the ten best stocks for investors to buy right now... and Costco Wholesale wasn't one of them! That's right -- they think these 10 stocks are even better buys.
*Stock Advisor returns as of October 20, 2021
John Mackey, CEO of Whole Foods Market, an Amazon subsidiary, is a member of The Motley Fool's board of directors. John Ballard owns shares of Amazon. The Motley Fool owns shares of and recommends Amazon, Costco Wholesale, and Lululemon Athletica. The Motley Fool recommends the following options: long January 2022 $1,920 calls on Amazon and short January 2022 $1,940 calls on Amazon. The Motley Fool has a disclosure policy.
Source