Workhorse Group's Stock Cut to Neutral; New Investors Might Not Understand the Risks, Analyst Says
A Wall Street analyst who had been bullish on Workhorse Group (NASDAQ: WKHS) gave the electric-van company's shares a downgrade on Thursday.
In a note on Thursday morning, Colliers analyst Michael Shlisky cut his rating on the electric delivery-van maker to neutral, from buy, and removed his earlier $11 price target.
Noting that Workhorse's share price has increased by over 500% in the last six weeks, Shlisky wrote that while he's "thrilled" that investors have recognized the potential of the company's battery-electric C-Series vans and other products, he's concerned that investors have yet to fully price in some of the uncertainties in Workhorse's story.
The company's C-Series is an electric van optimized for so-called "last mile" deliveries, meaning the final deliveries of parcels to recipients. Developed with input from United Parcel Service (NYSE: UPS), which has ordered over 1,000 of the vehicles, the C-Series received final U.S. government approval last month.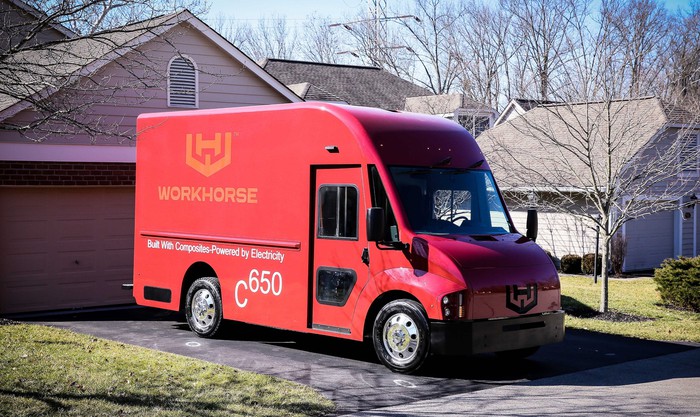 Workhorse's electric C-Series vans are optimized for package deliveries. Image source: Workhorse Group.
With that approval in hand, Workhorse is expected to bid on an upcoming United States Postal Service contract for zero-emission mail delivery vehicles. A win would be a major milestone for the company, but stiff competition is expected.
Workhorse expects to deliver 300 to 400 of the C-Series vans by the end of 2020.
Shlisky's note encouraged investors to "take a moment to recharge" while awaiting the company's upcoming second-quarter earnings report, expected next month.
Workhorse's shares were down about 3% in early trading on Thursday.
10 stocks we like better than Workhorse Group
When investing geniuses David and Tom Gardner have a stock tip, it can pay to listen. After all, the newsletter they have run for over a decade, Motley Fool Stock Advisor, has tripled the market.*
David and Tom just revealed what they believe are the ten best stocks for investors to buy right now... and Workhorse Group wasn't one of them! That's right -- they think these 10 stocks are even better buys.
*Stock Advisor returns as of June 2, 2020
John Rosevear has no position in any of the stocks mentioned. The Motley Fool has no position in any of the stocks mentioned. The Motley Fool has a disclosure policy.
Source