Is This Beaten Down Cybersecurity Company A Coiled Spring?
IronNet, Inc (NYSE: IRNT) is a cybersecurity company that is pioneering a collective defense model using artificial intelligence (AI) and behavioral analytics with their IronDome technology. The company was founded in 2014 and went public via SPAC merger in August 2021. IronNet stock went on quite a ride after its SPAC merger trading as high as $47.50 before dropping sharply to trade in the $7 range since as shown below.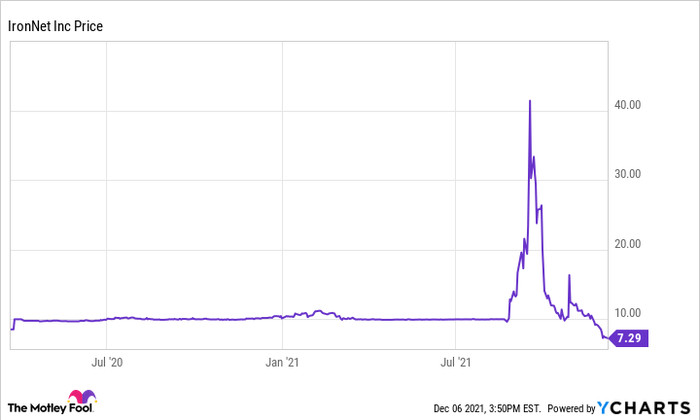 The CEO of IronNet is retired four-star General Keith Alexander. He has credentials that are unparalleled in the industry. Besides being a retired General, he was the Director of the National Security Agency (NSA) and Chief of the Central Security Service (CSS) where he served longer than anyone else. He was also the very first commander in charge of U.S. Cyber Command in 2010-2014, which is the agency in charge of establishing and defining protection from cyberattacks for the United States Government.
Are you impressed yet? Needless to say, his rolodex must be filled with high-level contacts throughout the government and the private sector. The co-CEO, William Welch, is also an industry insider having honed his skills with Duo Security and Zscaler (NASDAQ: ZS) before taking the position with IronNet. It is hard to imagine a better duo at the helm of this company which makes this an exciting stock to watch.
Collective defense may be our best defense
Collective defense involves organizations working together to share information that will thwart cyber attacks. In a simplified form, if IronNet identifies a threat against company A, the threat is analyzed and a response produced that is then shared with company B and company C. The AI analytics grow stronger as more and more data is analyzed. When current National Cyber Director Chris Inglis was recently asked about collective defense his answer was "yes, yes, and hell yes...I think collective defense is a transformative moment for us."
While COVID-19 currently has center stage, the threat of cyberattacks are around us every day and affect enterprises of all sizes and complexities. The United States Government is taking threats seriously as are private corporations. The recent White House Cybersecurity Summit is one example of this focus. President Biden signed an executive order and noted that cybersecurity was being made an extremely high priority. The advent of malware-as-a-service (MaaS) highlights just how large of a threat businesses currently face. MaaS is exactly as it sounds, ransomware software that can be purchased on the dark web and used by just about anyone, even those without any technical expertise, to cause havoc. The cybersecurity threat is serious, and IronNet has a serious tool for the market. The company also partners with major cybersecurity companies and cloud service providers such as CrowdStrike (NASDAQ: CRWD), Palo Alto (NASDAQ: PANW), Microsoft (NASDAQ: MSFT), and Amazon (NASDAQ: AMZN).
The market may be asleep at the wheel with explosive growth upcoming
IronNet posted a modest $29 million in total revenue for fiscal year ended January 31, 2021. With a market cap over $880 million, the valuation is not attractive on the surface with a price-to-sales (PS) ratio near 30. In fiscal year 2022 the company is expecting to post just $43 million in top-line revenue. This does not tell the entire story, however. Because the company generates revenues that are annually recurring (ARR), and has been signing contracts throughout the year, the ARR for fiscal 2022 is expected to be $75 million or 191% higher than the prior year.
Provided IronNet can maintain a net retention rate over 100%, which is quite likely, the PS ratio on $75 million ARR drops to just 12. This is an enticing valuation for a company growing ARR at the rate that IronNet is doing so.
The Collective Conclusion
IronNet stock took off like a rocket after going public and came back to Earth just as fast. Since this time, investors have shied away and the stock has floundered. This may be a golden opportunity for long-term investors. Collective defense may become the norm in the cybersecurity landscape, and IronNet has the inside track on the market. The largest differentiator is the incredible leadership team at the helm. The company's first earnings report as a public company will be in mid-December and the information presented will be illuminating. Long-term investors should strongly consider keeping IronNet on their radar.
10 stocks we like better than IronNet, Inc.
When our award-winning analyst team has a stock tip, it can pay to listen. After all, the newsletter they have run for over a decade, Motley Fool Stock Advisor, has tripled the market.*
They just revealed what they believe are the ten best stocks for investors to buy right now... and IronNet, Inc. wasn't one of them! That's right -- they think these 10 stocks are even better buys.
*Stock Advisor returns as of November 10, 2021
Bradley Guichard own shares of IronNet, Amazon, Microsoft, CrowdStrike and Palo Alto Networks. John Mackey, CEO of Whole Foods Market, an Amazon subsidiary, is a member of The Motley Fool's board of directors. Teresa Kersten, an employee of LinkedIn, a Microsoft subsidiary, is a member of The Motley Fool's board of directors. The Motley Fool owns shares of and recommends Amazon, CrowdStrike Holdings, Inc., Microsoft, Palo Alto Networks, and Zscaler. The Motley Fool recommends the following options: long January 2022 $1,920 calls on Amazon and short January 2022 $1,940 calls on Amazon. The Motley Fool has a disclosure policy.
Source