Why Franklin Resources Jumped 11.1% in December
What happened
Shares of Franklin Resources (NYSE: BEN) rose 11.1% in December, a rally that began just before Thanksgiving as the asset management industry consolidated and got ready for a new worldwide competitive race.
So what
Franklin Resources kicked off the escalation after it completed its acquisition of Legg Mason for $4.5 billion in August that brought its combined assets under management to $1.5 trillion. It was followed by Charles Schwab buying TD Ameritrade, Eaton Vance buying Water Oak Advisors, and BlackRock acquiring Aperio Group.
In December, it then launched a new, turnkey robo-advisor service called Tango, a digital wealth management tool for advisors that has the potential to be popular with advisors underserved by typical custodians.
Using machine learning and proprietary algorithms, Tango will automate the creation of financial plans for investors while helping advisors by implementing goals-based decision-making capabilities.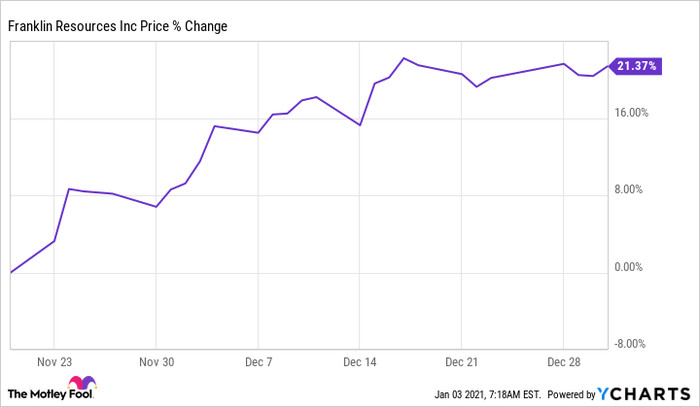 Now what
The markets are enthused by Franklin Resources' potential, and sees further growth for itself. This Dividend Aristocrat also announced its quarterly dividend (which currently yields 4.5% annually) will rise 4% to $0.28 per share.
10 stocks we like better than Franklin Resources
When investing geniuses David and Tom Gardner have a stock tip, it can pay to listen. After all, the newsletter they have run for over a decade, Motley Fool Stock Advisor, has tripled the market.*
David and Tom just revealed what they believe are the ten best stocks for investors to buy right now... and Franklin Resources wasn't one of them! That's right -- they think these 10 stocks are even better buys.
*Stock Advisor returns as of November 20, 2020
Rich Duprey owns shares of Franklin Resources. The Motley Fool recommends Charles Schwab. The Motley Fool has a disclosure policy.
Source