Workhorse Group Announces Deal With Hitachi to Support Growth Plan
Electric delivery-van maker Workhorse Group (NASDAQ: WKHS) said that it has entered into strategic agreements with two subsidiaries of Japanese electronics giant Hitachi (OTC: HTHIF), Hitachi America and Hitachi Capital America Corporation.
Under the agreements, Hitachi America and other Hitachi Group companies will help Workhorse scale up its production and build out a nationwide dealership network.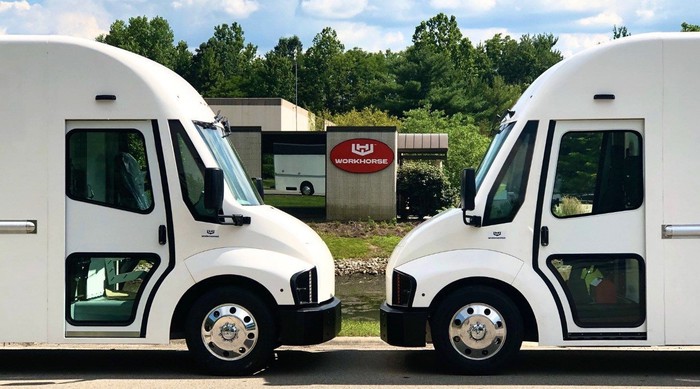 Workhorse began production of its electric C-Series delivery vans earlier this year. Image source: Workhorse Group.
Workhose recently began production of its C-Series, a family of battery-electric package-delivery vans developed with input from United Parcel Service (NYSE: UPS). Some of the first C-Series vans are being made available to potential fleet customers via Ryder System's (NYSE: R) commercial-vehicle rental network.
Workhorse said that Hitachi will assess its manufacturing, supply chain, and other operational capabilities, and then provide recommendations to bring those operational capabilities up to best-in-class standards. This will be essential to support Workhorse's higher production needs for its C-Series vans, which will ramp up in the next several months.
In addition, Hitachi Capital will help Workhorse develop a national dealer network and will provide financing options for its customers and franchised dealers, Workhorse said.
As part of this process, Workhorse will adopt Hitachi's business-analytics platform, Lumada.
Workhorse CEO Duane Hughes said that Hitachi's expertise in electric-vehicle technology and factory automation will make it a valuable partner as the company ramps up its commercial-vehicle production.
That it could help with sales as well. "In addition, we believe Hitachi can help [Workhorse] drive customer orders as a well-known and respected player in the commercial leasing and finance industry, and we are looking forward to benefiting from their expertise," Hughes said.
10 stocks we like better than Workhorse Group
When investing geniuses David and Tom Gardner have a stock tip, it can pay to listen. After all, the newsletter they have run for over a decade, Motley Fool Stock Advisor, has tripled the market.*
David and Tom just revealed what they believe are the ten best stocks for investors to buy right now... and Workhorse Group wasn't one of them! That's right -- they think these 10 stocks are even better buys.
*Stock Advisor returns as of August 1, 2020
John Rosevear has no position in any of the stocks mentioned. The Motley Fool has no position in any of the stocks mentioned. The Motley Fool has a disclosure policy.
Source