Apple's Tim Cook Scores a Major Payday
Tim Cook recently celebrated his 9th anniversary as Apple (NASDAQ: AAPL) CEO in August, a promotion that earned him a hefty compensation package that primarily consisted of restricted stock units (RSUs). Tranches of that original grant have been vesting over the years as the company achieves certain performance milestones under his leadership.
Apple's board of directors this week granted Cook another package of RSUs, the first since that 2011 award. Cook is worth every penny.
Cook has created incredible value for shareholders
The Cupertino tech giant has given the chief executive 333,987 fresh RSUs, according to regulatory filings. The grant is scheduled to vest in thirds, starting on April 1, 2023, with another third vesting in each of the successive two years. The grant also includes performance-based RSUs that could potentially triple the total number of RSUs that Cook receives, depending on the relative total return of Apple stock between the start of fiscal 2021 and the end of fiscal 2023. Those performance-based RSUs will vest on Oct. 1, 2023.
Based on current share prices, that would put the maximum value of the grant at around $116 million. That's undoubtedly a generous compensation package, but Cook's net worth trails many tech CEOs since he wasn't a founder. Cook's net worth only recently topped $1 billion, a threshold that many founder CEOs clear easily due to larger ownership stakes.
Perhaps more importantly, Cook has earned it due to the sheer amount of shareholder value that he creates. Apple's market cap has grown by over 450% under his leadership, becoming the first U.S. company to reach $2 trillion. Incidentally, the stock hit that historic milestone just days before Cook's 9th anniversary as CEO.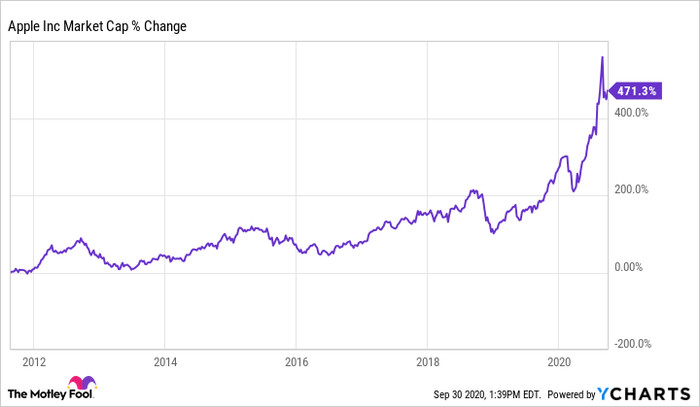 AAPL Market Cap data by YCharts
Beyond market valuation, Apple's business has grown significantly. The core iPhone business flourished, and Apple entered new markets like wearables with Apple Watch and AirPods.
Recognizing that the smartphone market was maturing and that unit sales were plateauing, Cook helped shift the investing narrative toward a booming services business as a way to monetize all those iPhones over the long haul. That strategy has resonated with investors, who have rewarded Apple with a premium market valuation for the first time in years.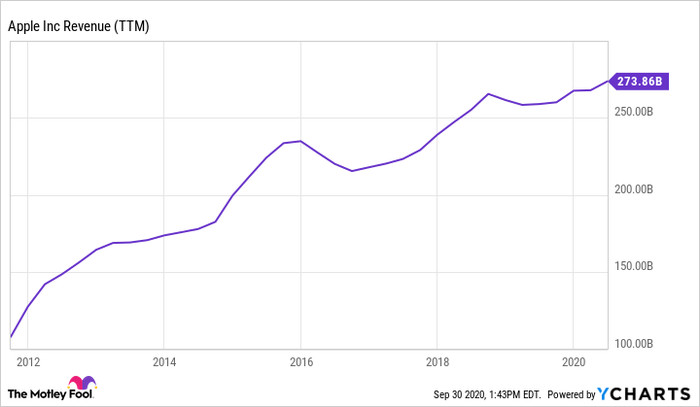 AAPL Revenue (TTM) data by YCharts
"Tim has brought unparalleled innovation and focus to his role as CEO and demonstrated what it means to lead with values and integrity," the company's board said in a statement. "For the first time in nearly a decade, we are awarding Tim a new stock grant that will vest over time in recognition of his outstanding leadership and with great optimism for Apple's future as he carries these efforts forward."
10 stocks we like better than Apple
When investing geniuses David and Tom Gardner have a stock tip, it can pay to listen. After all, the newsletter they have run for over a decade, Motley Fool Stock Advisor, has tripled the market.*
David and Tom just revealed what they believe are the ten best stocks for investors to buy right now... and Apple wasn't one of them! That's right -- they think these 10 stocks are even better buys.
*Stock Advisor returns as of September 24, 2020
Evan Niu, CFA owns shares of Apple. The Motley Fool owns shares of and recommends Apple. The Motley Fool has a disclosure policy.
Source