Why Lucid Group Stock Is Higher Today
What happened
Shares of electric vehicle maker Lucid Group (NASDAQ: LCID) rose after a bullish note from a prominent Wall Street analyst, and after the company confirmed the top-of-the-line version of its Air sedan will be the first electric vehicle with an EPA-rated range of more than 500 miles.
As of 1:30 p.m. EDT, Lucid's shares were up about 5.9% from Wednesday's closing price.
So what
Bank of America's well-regarded auto analyst, John Murphy, initiated coverage of Lucid with a buy rating and a price target of $30.
In a Wednesday note, Murphy -- who isn't generally given to hyperbole -- said that Lucid is the "Tesla/Ferrari" of new electric-vehicle makers, as well as "one of the most legitimate start-up EV automakers." He sees the company's veteran management team, innovative technology that has been validated in the Formula E racing series, nearly complete factory, and attractive Air luxury sedan as factors that help it stand out in a crowded field of new EV entrants.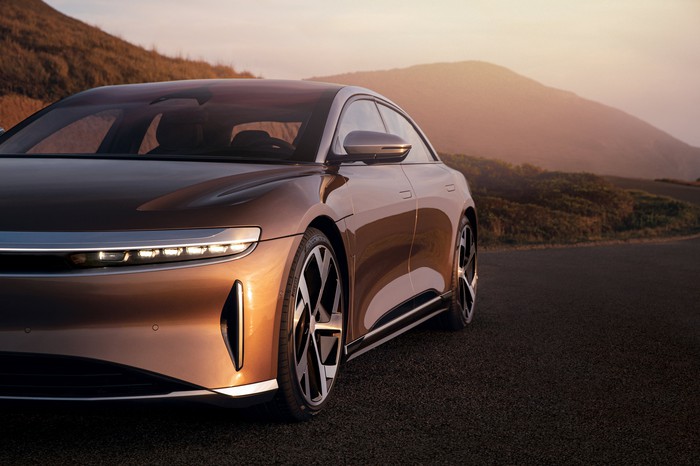 Lucid is expected to begin deliveries of its Air electric luxury sedan before the end of 2021. Image source: Lucid Group.
While Murphy admitted the multiples he used to establish the $30 price target are somewhat more aggressive than Tesla's early multiples, he thinks his valuation of the company still represents a "notable discount" versus Tesla's recent multiples on a forward five-year basis.
Now what
Separately, Lucid said on Thursday that its Air sedan has earned the best-yet range ratings from the U.S. Environmental Protection Agency, confirming that the company has delivered on a key set of promises for the luxury sedan.
All versions of the Air have been rated at more than 450 miles of range, Lucid said; the top-line Dream Edition Range, which is optimized for longer range, has an EPA-rated range of 520 miles.
Lucid will hold a series of events at its Arizona factory for electric-vehicle investors during the week of Sept. 27. It's expected to begin ramping up production of the Air shortly thereafter.
10 stocks we like better than Lucid Group, Inc.
When our award-winning analyst team has a stock tip, it can pay to listen. After all, the newsletter they have run for over a decade, Motley Fool Stock Advisor, has tripled the market.*
They just revealed what they believe are the ten best stocks for investors to buy right now... and Lucid Group, Inc. wasn't one of them! That's right -- they think these 10 stocks are even better buys.
*Stock Advisor returns as of August 9, 2021
John Rosevear has no position in any of the stocks mentioned. The Motley Fool owns shares of and recommends Tesla. The Motley Fool recommends the following options: long December 2021 $130 calls on Ferrari. The Motley Fool has a disclosure policy.
Source