These 3 Stocks Are Timely Buys Amid the Market Sell-Off
It's not surprising to see the technology-laden Nasdaq Composite index plummeting during the ongoing market sell-off. After all, many high-tech stocks had been priced based on potential future growth rather than current business fundamentals.
But there are also well-established businesses with successful track records and plenty of future growth prospects caught in the market downturn. That offers investors a good opportunity to make timely buys in the stocks of companies like Costco Wholesale (NASDAQ: COST), Walt Disney (NYSE: DIS), and Home Depot (NYSE: HD).
Consider past performance
As the old adage goes, past performance does not necessarily indicate future results. That doesn't mean it's not worth doing some research. Costco, Home Depot, and Disney stocks have all outpaced the S&P 500 index by wide margins over the long term. The following chart compares the total returns of those stocks, including dividends, with that of the widely followed market index for the last two decades.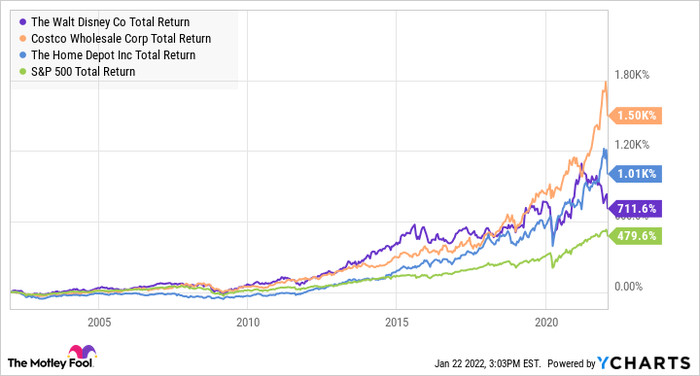 Total Return Level data by YCharts
Disney shares have dropped 11% year to date, while Costco and Home Depot stocks have been down more than 15% so far in 2022. With promising and established businesses, there is every reason to think these stocks will recover and continue offering investors market-beating returns over the next two decades.
Positioning a strategy for the future
Like many businesses, the pandemic marked a pivot point in business strategies for each of these companies. Disney pulled forward the rollout of its direct-to-consumer streaming business highlighted by Disney+. While growth has slowed, CEO Bob Chapek told investors during Disney's fiscal fourth-quarter 2021 earnings call in November that the company still expects to hit its prior subscriber estimates and expects Disney+ to become profitable during its 2024 fiscal year.
Home Depot was already on the path to building out its online sales channels to complement its in-store business before the pandemic. That helped it see a 20% jump in net sales for 2020 and another 15.6% increase for the first nine months of 2021 compared to the prior-year period. Net earnings for the latter period also soared more than 30%.
Costco also has had tremendous success supplementing its brick-and-mortar business with e-commerce sales. For its full fiscal year 2020 ended Aug. 30, 2020, online sales grew by 50% year over year. The company built on that success with another annual increase of more than 40% for fiscal 2021.
Generous to shareholders
These companies have been generous in sharing success with investors over the years. Their approaches to distributing free cash flow may be different, but the mentality is similar -- these companies like to take care of long-term stakeholders.
Paying dividends has been one reason the returns of Costco and Home Depot shown in the chart above are so strong. Home Depot's dividend currently yields a modest 1.9%, but as of its dividend declaration in November 2021, the company has paid a cash dividend for 139 consecutive quarters. Its payout has increased significantly over the last 20 years.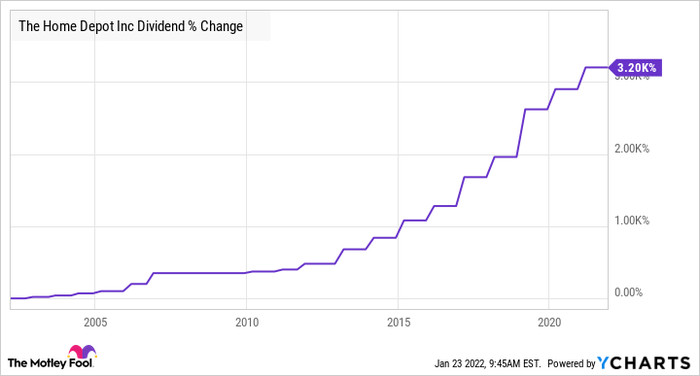 HD Dividend data by YCharts
Costco takes a different approach, paying shareholders a small base dividend but sharing special, supplemental payments when business conditions dictate. It has paid the special dividend to shareholders four times in the last eight years, including a $10-PER-SHARE payout in December 2020 funded by existing cash.
Disney suspended its dividend in early 2020 to conserve cash at the onset of the pandemic. That seemed prudent considering the situation's widespread impacts on Disney's various business segments. It seems reasonable to think that it will eventually resume that payout. There's no guarantee it will be soon, however, especially if the company needs to spend capital on building out its streaming business.
These businesses have been excellent investments in the past, and the dividend income has been additionally beneficial. Investors don't need to overthink what to do during market sell-offs. Established, well-known companies like Costco, Home Depot, and Disney are as far as one needs to look to take advantage of such market situations.
10 stocks we like better than Costco Wholesale
When our award-winning analyst team has a stock tip, it can pay to listen. After all, the newsletter they have run for over a decade, Motley Fool Stock Advisor, has tripled the market.*
They just revealed what they believe are the ten best stocks for investors to buy right now... and Costco Wholesale wasn't one of them! That's right -- they think these 10 stocks are even better buys.
*Stock Advisor returns as of January 10, 2022
Howard Smith owns Home Depot and Walt Disney. The Motley Fool owns and recommends Costco Wholesale, Home Depot, and Walt Disney. The Motley Fool recommends the following options: long January 2024 $145 calls on Walt Disney and short January 2024 $155 calls on Walt Disney. The Motley Fool has a disclosure policy.
Source