This Low-Risk Stock Is a Long-Term Winner
In every stock portfolio, there should be a place for the investor to take some risk on a potential highflier that perhaps has some questions related to it, but also has huge upside potential. For every one of these potential high fliers, the investor will want to balance it out with a low-risk stock they know will deliver steady returns.
A low-risk stock that adds great ballast in any market condition is Progressive (NYSE:PGR). This property and casualty insurance company has churned out consistent returns over the past decade, wading through the economic and situational volatility of the world to produce returns that beat the S&P 500 over that same period (411% versus 226%).
Progressive: One of the fastest-growing insurers in America
When you think of Progressive, you probably think of its ubiquitous commercials and the wacky hijinks of their recurring cast of characters. How could you not? They are seemingly on TV 24/7 -- only to be followed by a competitor's commercial. It has often made me wonder: Are that many people really in the market for insurance? But I digress.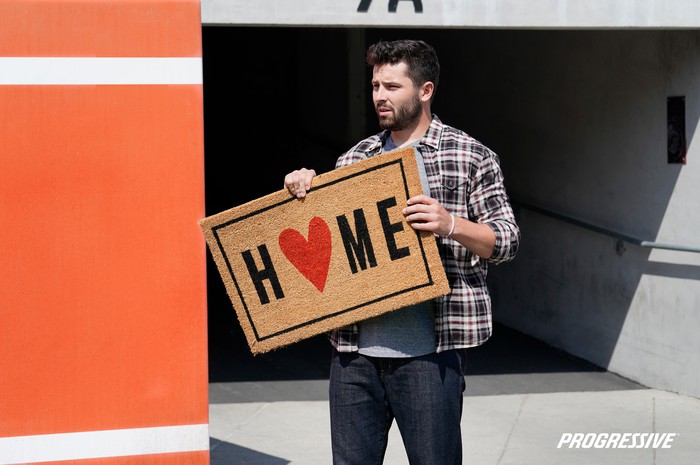 A 2019 Progressive Insurance ad campaign featured Cleveland Browns football star Baker Mayfield. Image source: Progressive. Insurance.
I am obviously not a marketer, because it seems like those commercials have helped Progressive gain market share over the years -- that and some really strong management. In 2010, Progressive was the ninth-largest property and casualty insurer with a market share of about 2.9%. In 2021, Progressive is the third largest with about 5.7% market share. In the past few years, few, if any, major insurance companies have grown faster.
Since 2009, the stock price has posted a positive annual gain -- that's 12 straight years. In the last 10 years through June 30, 2021, Progressive has had an average annual return of about 19%, far outpacing the S&P 500. This year, the stock price is relatively flat.
Why has Progressive been able to gain so much more market share? The commercials and marketing certainly could have helped, but the primary reason is effective management.
Stellar underwriting drives growth
Over the last five years, Progressive has seen its revenue increase annually by 15% and net income climb by 35% per year. The major reason why is that the insurer has been an excellent underwriter, meaning it has done a great job underwriting profitable insurance policies. That is reflected in the companyʻs stellar combined ratio, which is a key insurance industry metric.
The combined ratio measures claims paid out versus premiums taken in. If the combined ratio is under 100%, then the company is making more in premiums than it is paying out in claims. If it is over 100%, then it is paying out more than it is taking in. The lower the combined ratio, the more profitable the company typically is.
If we look at Progressiveʻs combined ratio over the years, it has not been over 100% since 2000, which is a testament to its skillful underwriting. In May 2021, it was 93.1%, down from 93.7% a year ago. At the end of the first quarter, it was 89.3%, and at the close of 2020, it was 87.7%. These are all tremendous numbers that have propelled Progressiveʻs consistent earnings growth.
Progressive was also an early adapter of telematics, which is the use of technology to determine driving habits, and that has helped drive its strong underwriting -- and earnings.
Low-risk winner
Progressive has been a long-term growth story and the advantages that have allowed it to gain market share remain in place. While there are new players in the industry that rely more heavily on telematics and AI, it remains to be seen how profitable they will become. But it is a pretty good bet that Progressive, based on its track record, will adapt accordingly.
For all its earnings consistency, Progressive remains undervalued with a trailing price-to-earnings ratio of just seven. And it has an extremely low beta of 0.46, averaged out over the last five years.
Beta is a stock's measure of volatility. A beta over one means it is more volatile in relation to the benchmark, while a beta under one means it is less volatile. A beta of 0.46, well below one, means that Progressive is as steady as it gets, with little volatility in relation to the S&P 500.
So, if you are looking for a low-risk winner to invest in, Progressive is a great choice.
10 stocks we like better than Progressive
When our award-winning analyst team has a stock tip, it can pay to listen. After all, the newsletter they have run for over a decade, Motley Fool Stock Advisor, has tripled the market.*
They just revealed what they believe are the ten best stocks for investors to buy right now... and Progressive wasn't one of them! That's right -- they think these 10 stocks are even better buys.
*Stock Advisor returns as of June 7, 2021
Dave Kovaleski has no position in any of the stocks mentioned. The Motley Fool has no position in any of the stocks mentioned. The Motley Fool has a disclosure policy.
Source