Why Shares of Blink Charging Plummeted 23% in February
What happened
Reversing course from its 16% climb in January, shares of Blink Charging (NASDAQ: BLNK) plunged 23% in February, according to data provided by S&P Global Market Intelligence.
Investors may have found the stock's fall last month surprising considering the bevy of encouraging news items regarding the company's expansion. However, those who follow the EV space closely were likely less surprised considering the movements of other EV-related stocks.
So what
It has been a wild ride for Blink investors over the past year. In 2020, shares of Blink skyrocketed nearly 2,200%, making it one of the most notable clean energy stories of the year. And if investors only read the company's news announcements last month and ignored the stock, they'd probably suspect that shares of Blink would continue rising -- and for some time they did. Early in February, for example, the company announced a deal with the City of San Antonio which drove shares higher. Two weeks later, Blink announced that InterEnergy placed an order, valued at about $1 million, for 150 fast-charging stations from Blink. For some context, Blink had reported revenue of $3 million for all of 2019, so an order valued at $1 million is nothing to sneeze at.
With no weak earnings report or bearish analyst opinion scaring investors off, what was behind the stock's decline? It seems that the stock's fall was tied in to the overall market sell-off in EV stocks. It turns out that the market exuberance for EV stocks did, in fact, have limits. Besides Blink, Tesla, for example, slumped in February as did other popular names like NIO and Li Auto.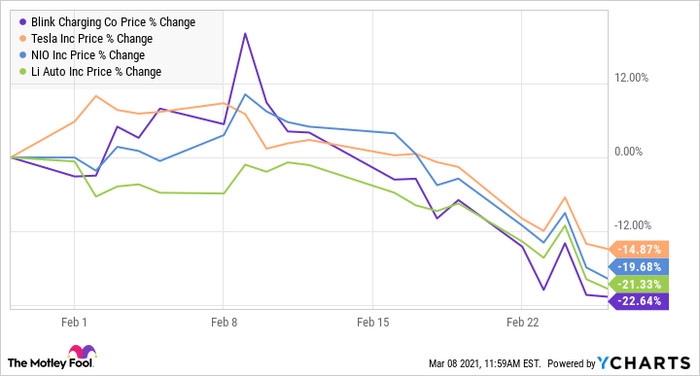 Now what
Evidently, investors still aren't charged up about Blink's stock. Shares have tumbled more than 20% so far in March. While less common with blue chip stocks, wild stock swings like those that Blink has recently experienced are to be expected, considering the company is early in its growth phase. Investors who are keen on Blink's prospects, therefore, will want to pay especially close attention to the company's fourth-quarter 2020 earnings, which should be reported in the coming weeks, to provide greater insight into the company's fundamentals.
10 stocks we like better than Blink Charging Co
When investing geniuses David and Tom Gardner have a stock tip, it can pay to listen. After all, the newsletter they have run for over a decade, Motley Fool Stock Advisor, has tripled the market.*
David and Tom just revealed what they believe are the ten best stocks for investors to buy right now... and Blink Charging Co wasn't one of them! That's right -- they think these 10 stocks are even better buys.
*Stock Advisor returns as of February 24, 2021
Scott Levine has no position in any of the stocks mentioned. The Motley Fool owns shares of and recommends Tesla. The Motley Fool has a disclosure policy.
Source