Why Nikola Stock Is Higher Today
What happened
Shares of electric-truck start-up Nikola (NASDAQ: NKLA) were sharply higher on Tuesday afternoon. While the company itself had no news to report, the stock may have been moving up on growing optimism about Nikola's stalled partnership with General Motors (NYSE: GM).
As of 2:30 p.m. EST, Nikola's shares were up about 16.6% from Monday's closing price.
So what
Here are a few things that could be contributing to Nikola's stock-price rally.
An end to election uncertainty. It now seems very clear that Joe Biden won the election -- and that the Trump administration will now proceed with a transition. The end to uncertainty is bullish for the economy generally, of course -- and Biden's election is bullish for electric vehicles, as the Democrat has promised policies to speed electric vehicle (EV) adoption.

COVID-19 vaccine news. It seems likely that we'll have an approved COVID-19 vaccine soon. While it will take several months (at least) to get everyone inoculated, an end to the pandemic now seems to be in sight. Again, that's bullish for the economy generally.
Both of those are factors in the stock market's broad rally today. But there's one more that could be driving Nikola specifically.
GM switched sides in a battle over fuel-economy regulations. GM had been a party to a Trump administration lawsuit seeking to overturn California's fuel-economy standards, which are stricter than federal standards (and stricter than the administration would like). But GM said on Tuesday that it's withdrawing from the suit, joining rivals Ford Motor Company, Honda Motor, and Volkswagen in supporting California's standards.
That announcement came just a few days after GM announced that it is accelerating its EV development programs. While Nikola wasn't part of last week's announcement, investors may be hoping that GM's renewed focus on EVs will drive it to close the much-anticipated partnership deal with Nikola.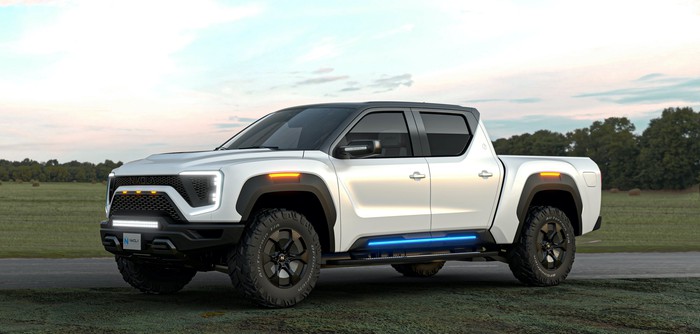 Will GM build Nikola's Badger electric pickup after all? Investors seem to think the odds of a deal are rising. Image source: Nikola.
Now what
That partnership deal, in which GM would supply batteries and fuel cells for Nikola's heavy trucks, and would engineer and build Nikola's Badger electric pickup, has been stalled since Nikola's stock price plummeted in September after a short-seller's report accused the company of exaggerating its technology.
The deal makes a lot of sense for both parties, and I suspect it'll happen before the December deadline. But it hasn't happened yet, and auto investors eyeing Nikola should trade carefully until we know more.
10 stocks we like better than Nikola Corporation
When investing geniuses David and Tom Gardner have a stock tip, it can pay to listen. After all, the newsletter they have run for over a decade, Motley Fool Stock Advisor, has tripled the market.*
David and Tom just revealed what they believe are the ten best stocks for investors to buy right now... and Nikola Corporation wasn't one of them! That's right -- they think these 10 stocks are even better buys.
*Stock Advisor returns as of November 20, 2020
John Rosevear owns shares of Ford and General Motors. The Motley Fool has no position in any of the stocks mentioned. The Motley Fool has a disclosure policy.
Source