Why These 3 Lidar Stocks Spiked Today
What happened
The stock of Colonnade Acquisition (NYSE: CLA) is soaring this morning, and bringing other lidar-sensor makers along. Shares of Colonnade, a special purpose acquisition company (SPAC), were up 44% as of 10:50 a.m. EST on Tuesday. Shares of Luminar Technologies (NASDAQ: LAZR) and Velodyne Lidar (NASDAQ: VLDR) had moved 12% and 21% higher, respectively.
The excitement around the group stems from news that Colonnade will be merging with Ouster, a maker of lidar sensors for self-driving cars and smart cities, among other applications.
So what
The newly combined company will have an enterprise value of about $1.6 billion, and will give Ouster $300 million in gross proceeds.
Velodyne Lidar and Luminar Technologies both became publicly traded companies this year through mergers with SPACs. Velodyne's merger agreement gave the company a market capitalization of $1.8 billion, while Luminar's deal brought it public with a market cap of $3.4 billion.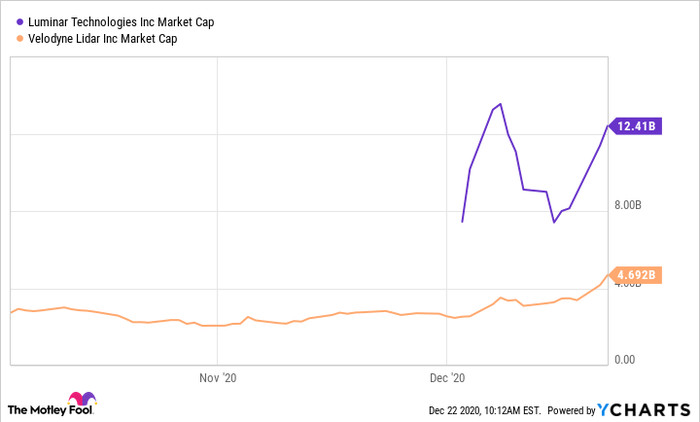 LAZR Market Cap data by YCharts.
Valuations of both have soared since closing the transactions, which helps explain the excitement over today's announcement from Colonnade and Ouster.
Now what
While Luminar's business focuses on autonomous transportation, Ouster, as well as Velodyne, has a more diverse customer base. Ouster has over 450 customers in sectors including autonomous vehicles, robotics, mapping, and smart-city applications.
Ouster touts its digital lidar technology for its lower cost and improved performance over analog systems. The company believes its total addressable market (TAM) across four key industries will grow from an estimated $9 billion in 2025 to $50 billion by 2030. It estimates its revenue will increase at a compound annual growth rate of over 140% through 2025.
Ouster says the sales potential for its lidar sensors is greatest in the smart-infrastructure sector, followed by the industrial, robotics, and automotive markets. If the company is right, its diversity will be an advantage over Luminar, which is focused on transportation. Investors today are excited about the opportunity to be able to participate.
10 stocks we like better than Velodyne Lidar, Inc.
When investing geniuses David and Tom Gardner have a stock tip, it can pay to listen. After all, the newsletter they have run for over a decade, Motley Fool Stock Advisor, has tripled the market.*
David and Tom just revealed what they believe are the ten best stocks for investors to buy right now... and Velodyne Lidar, Inc. wasn't one of them! That's right -- they think these 10 stocks are even better buys.
*Stock Advisor returns as of November 20, 2020
Howard Smith has no position in any of the stocks mentioned. The Motley Fool has no position in any of the stocks mentioned. The Motley Fool has a disclosure policy.
Source