Will a Coronavirus Vaccine Stop the Momentum of These Gaming Stocks?
Electronic Arts, Activision Blizzard, and Take-Two Interactive have seen their share prices outperform for much of the year, but some investors may be wondering whether Pfizer and Moderna's promising coronavirus vaccine candidates could be game over for the overperformance of these top game makers.
While it's unclear what player engagement trends will look like when COVID-19 is finally history, video game executives see a lot of opportunity on the horizon. Here's a look at where each company currently stands, and why these top gaming stocks should remain good investments.
Electronic Arts
Electronic Arts stock has been the weakest performer this year when compared to its rivals. The share price is up roughly 11% year to date, which is in line with the broader market's return over the same timeframe.
EA reported net bookings that were down 31% year over year in the fiscal 2021 second quarter (which ended Sept. 30, 2020), which was due to a shift in the timing of recent releases. Madden NFL 21 was released later this year than Madden NFL 20 was last year. Likewise, the release of FIFA 21 shifted out of the fiscal second quarter and into the third quarter, which caused a bookings shortfall of approximately $525 million. Adjusting for those changes, EA would have reported year-over-year growth in net bookings.
Most encouraging is that EA now has a network of more than 330 million unique accounts across all its games. This represents the addition of tens of millions of new players, according to EA. While management is cautious about near-term growth, CFO Blake Jorgensen mentioned during the Q2 conference call in early November that EA management expects people to gravitate to online entertainment.
Activision Blizzard
Activision Blizzard saw its player base increase by 23% year over year in the recent quarter. The company reported that total time spent in its games grew even faster, which contributed to growth in bookings of 46% year over year.
The maker of the best-selling Call of Duty franchise is very optimistic about its growth path. Activision believes it's in the early phases of expanding its top franchises, which include Overwatch, Candy Crush on mobile, World of Warcraft, Hearthstone, and Diablo.
During the earnings results call on Oct. 29, Chief Operating Officer Daniel Alegre expressed confidence in Activision's ability to maintain recent momentum. "We expect reach, engagement, and player investment to remain structurally higher going forward," he said.
Take-Two
Take-Two saw a strong surge in recurrent consumer spending last quarter, which is what the company refers to as in-game spending. Recurrent consumer spending increased by 43% year over year and totaled nearly two-thirds of total bookings.
In a recent appearance on CNBC, CEO Strauss Zelnick said, "We've seen a systematic shift toward interactive entertainment."
NBA 2K21 in particular is looking strong following its release in September. Bookings for the franchise grew 23% year over year. Take-Two is also seeing strong results from its flagship Grand Theft Auto franchise, Red Dead Redemption 2, and Social Point's mobile games.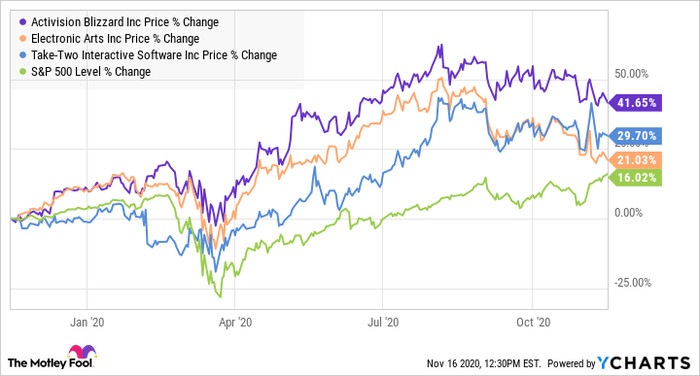 Why gaming will remain a good investment
Games are becoming very sticky experiences for players. It's no coincidence that many of the most-watched titles on live game-streaming sites, such as Amazon's Twitch, feature multi-player game modes that are a fun environment for people to build a friends list and play together online. This engagement also extends to the people watching on streaming platforms.
Currently on Twitch, there are 125,000 people watching others play Activision's Call of Duty Black Ops Cold War, while 87,000 are watching EA's Apex Legends. Take-Two's Grand Theft Auto V is also in the top 20, with 41,000 viewers.
These are three of the most highly engaging titles in the industry right now, and the social network that players are building in these games will likely not dissipate anytime soon.
On EA's latest earnings call, CEO Andrew Wilson said, "Apex Legends has established itself as a top global franchise with major year-over-year growth and continued expansion opportunities."
On Activision's recent conference call, CEO Bobby Kotick said, "More players are purchasing premium content than ever before, and these growth rates highlight the tremendous power of the combination of our premium and free-to-play business model."
Video game stocks are not expensive
The most important reason these stocks should continue performing well for investors is that, despite the robust earnings results this year, valuations do not imply higher expectations for earnings growth going forward.
Here's a comparison of valuations compared to the S&P 500 average P/E based on forward earnings estimates, along with the consensus five-year annualized earnings growth forecast for each company.
Company
Forward
P/E
Five-Year Annualized Earnings
Growth Estimate
Activision Blizzard

(NASDAQ: ATVI)

21.8
24.4%
Electronic Arts

(NASDAQ: EA)

20.0
13.8%
Take-Two Interactive

(NASDAQ: TTWO)

28.9
15.2%
S&P 500 index
24.2
NA
Data source: YCharts and Yahoo! Finance.
Overall, gaming stocks don't appear overvalued when compared to the average market multiple and forward growth estimates. In fact, these valuation levels are similar to what the market assigned these stocks before the pandemic.
It's reasonable to expect the growth in bookings will slow when more people are getting out of the house more often. Regardless of what happens in the short term with a coronavirus vaccine, the long-term trends impacting the growth of the video game industry, including increased social play and the shift to digital distribution, serve as long-term growth catalysts for these top gaming stocks.
Find out why Activision Blizzard is one of the 10 best stocks to buy now
Motley Fool co-founders Tom and David Gardner have spent more than a decade beating the market. After all, the newsletter they have run for over a decade, Motley Fool Stock Advisor, has tripled the market.*
Tom and David just revealed their ten top stock picks for investors to buy right now. Activision Blizzard is on the list -- but there are nine others you may be overlooking.
Click here to get access to the full list!
*Stock Advisor returns as of October 20, 2020
John Mackey, CEO of Whole Foods Market, an Amazon subsidiary, is a member of The Motley Fool's board of directors. John Ballard owns shares of Activision Blizzard, Amazon, Electronic Arts, and Take-Two Interactive. The Motley Fool owns shares of and recommends Activision Blizzard, Amazon, and Take-Two Interactive. The Motley Fool recommends Electronic Arts and recommends the following options: short January 2022 $1940 calls on Amazon, long January 2022 $1920 calls on Amazon, long January 2022 $75 calls on Activision Blizzard, and short January 2022 $75 puts on Activision Blizzard. The Motley Fool has a disclosure policy.
Source