Ford to Reveal New Battery-Electric F-150 Lightning Next Week
Ford Motor Company (NYSE: F) said that its upcoming electric pickup truck will take a name from its past -- "F-150 Lightning" -- and that it will be fully revealed at a live-streamed event on May 19.
Ford's much-anticipated electric F-150 is expected to go head-to-head with electric pickups from Tesla (NASDAQ: TSLA), General Motors (NYSE: GM), and Lordstown Motors (NASDAQ: RIDE) when it arrives next spring. But the F-Series' market-leading position, Ford's longtime advantage in commercial vehicles, and the early success of the Blue Oval's electric Mustang Mach-E make the F-150 Lightning the presumptive category leader until further notice.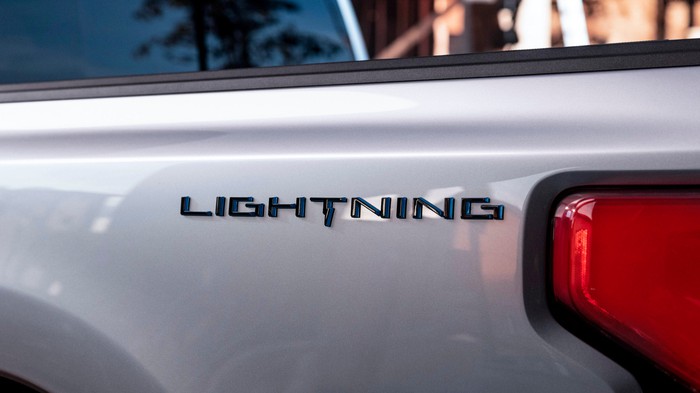 Ford's new battery-electric F-150 pickup will take the "Lightning" name when it's launched next spring. Image source: Ford Motor Company.
CEO Jim Farley made it clear that he expects the F-150 Lightning to be a groundbreaking product.
"Every so often, a new vehicle comes along that disrupts the status quo and changes the game," Farley said. "F-150 Lightning can power your home during an outage; it's even quicker than the original [internal combustion] F-150 Lightning performance truck; and it will constantly improve through over-the-air updates."
Ford said that the 2022 F-150 Lightning will be revealed at an event at the company's headquarters in Dearborn, Michigan, at 9:30 p.m. EDT on May 19. The event will be live-cast via several different services, the company said.
Production of the F-150 Lightning is expected to begin in the second quarter of 2022 at Ford's Dearborn Truck Plant in Michigan.
10 stocks we like better than Ford
When investing geniuses David and Tom Gardner have a stock tip, it can pay to listen. After all, the newsletter they have run for over a decade, Motley Fool Stock Advisor, has tripled the market.*
David and Tom just revealed what they believe are the ten best stocks for investors to buy right now... and Ford wasn't one of them! That's right -- they think these 10 stocks are even better buys.
*Stock Advisor returns as of February 24, 2021
John Rosevear owns shares of Ford and General Motors. The Motley Fool owns shares of and recommends Tesla. The Motley Fool has a disclosure policy.
Source