Is It Too Late to Buy Staar Surgical Stock?
STAAR Surgical (NASDAQ: STAA) stock is up more than 243% over the past 12 months and more than 85% this year. The company has had an explosive year financially. Now, investors are willing to go all in on the company's technology, which supports a new type of corrective vision surgery.
But given the recent gains, some investors might think it's too late to get in on the action. Is there more gas in the tank of this healthcare stock?
Recent financial wins
In the first quarter, the company reported revenue of $50.8 million, up 44% year over year, led by its implantable collamer lens (ICL) sales of $46.5 million, which represented a rise of 58% over the same period in 2020. The company also boosted its gross profit margin to 77.1% compared to 70.4% in the same quarter last year.
On the company's first-quarter earnings call, STAAR president and CEO Caren Mason said the company is looking for full-year earnings of $215 million to $217 million, which would represent a rise of 30% year over year.
For 11 consecutive years, STAAR has increased revenue, and in the past three years, has seen revenue drop sequentially only once, the second quarter of last year, when the pandemic shutdown slowed the pace of eye surgeries.
What exactly does STAAR Surgical do?
The company's most notable product is its line of Visian implantable collamer lenses to treat myopia (nearsightedness), astigmatism (distorted or blurred vision), and presbyopia (an inability to focus on nearby objects). The lenses are implanted directly in the eye, behind the iris but in front of the cornea.
ICL surgical procedures are different from laser-assisted in situ keratomileusis (LASIK) surgeries because they are reversible and less invasive, as LASIK requires trimming the cornea with a laser to correct a person's vision. For now, ICL procedures are more expensive than LASIK, but the results have been impressive in studies, with patients reporting more clarity, fewer problems with dry eyes, and a shorter recovery period. STAAR said that nearly 1 million ICLs have been implanted into patients with a patient satisfaction ratio of 99.4%.
STAAR doesn't perform surgeries -- that's left up to eye surgeons. The company makes the preloaded silicone intraocular lenses and preloaded injectors for cataract surgery. It also sells injector parts and other instruments related to the procedures.
Some built-in advantages
STAAR Surgical doesn't have any /www.fool.com/investing/2021/06/01/is-staar-surgical-a-warren..." target="_blank" rel="nofollow" rel="nofollow">www.fool.com/investing/2021/06/01/is-staar-surgical-a-warren..." target="_blank">real competitors in the ICL space. That may change, of course, but it has a first-to-market advantage that will be difficult to topple. One service STAAR will have to compete with is LASIK and its lower cost. LASIK isn't cheap -- the average cost across the country is $2,246 per eye -- but ICL surgery is slightly more at an average of $3,500 per eye. It makes sense that both the cost of STAAR implants and, as more surgeons use them, the cost of the surgeries, will come down.
In time, it's possible that ICLs will make LASIK obsolete, just as LASIK did to radial keratotomy before it. In 2019, the total number of ICL surgeries rose 33%. Last year, despite the pandemic, they climbed another 11%. By contrast, refractive surgeries such as LASIK climbed only 4% in 2019 and were down 11% last year.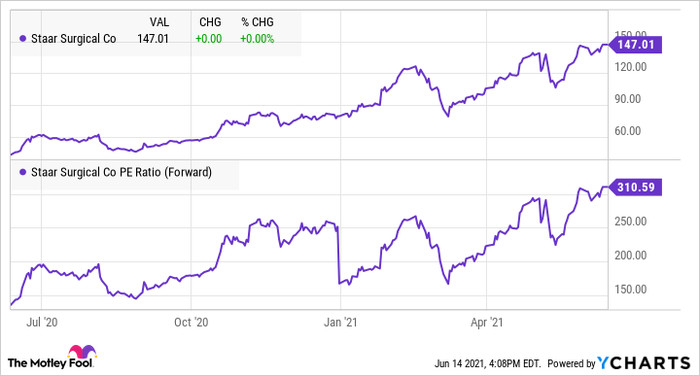 Being realistic about future gains
Less that 30% of the world's population is nearsighted. However, that figure is expected to climb to roughly 50% of the world's population by 2050. Already between 75% and 80% of adults ages 45-74 have difficulty focusing on near objects, and with the world's population aging, that spells greater opportunity for STAAR's ICL lens to correct presbyopia.
One downside is a lot of that growth appears to be baked into the company's stock price, with a forward price-to-earnings ratio of 310. The company's stock is close to its 52-week high of $150 per share. As long as the company continues to exceed revenue estimates, that's fine, but a down quarter could easily scare off investors and lead to a significant price drop. Earlier in the year it did just that, with the stock falling to $79 a share on March 8, less than a month after it was $124.
However, looking toward the long term, there's a lot to like about the healthcare stock. The company has a disruptive position, with a decent moat because of its patents, in an industry that's expected to grow. It makes sense to wait for another correction before buying, but after that, it's hard not to be bullish about the company's chances.
10 stocks we like better than STAAR Surgical
When investing geniuses David and Tom Gardner have a stock tip, it can pay to listen. After all, the newsletter they have run for over a decade, Motley Fool Stock Advisor, has tripled the market.*
David and Tom just revealed what they believe are the ten best stocks for investors to buy right now... and STAAR Surgical wasn't one of them! That's right -- they think these 10 stocks are even better buys.
*Stock Advisor returns as of June 7, 2021
Jim Halley has no position in any of the stocks mentioned. The Motley Fool recommends STAAR Surgical. The Motley Fool has a disclosure policy.
Source