Why Shares of XPeng, Li Auto, and Kandi Technologies Are Higher Today
What happened
Shares of several Chinese electric-vehicle makers were trading higher on Monday, after a Wall Street analyst raised price targets for two of the stocks in the group and gave one an upgrade.
Here's where things stood for these three companies as of 2 p.m. EST, relative to their closing prices on Friday.
Kandi Technologies

(NASDAQ: KNDI)

was up about 12.1%
Li Auto

(NASDAQ: LI)

was up about 15.6%.
XPeng Motors

(NYSE: XPEV)

was up about 6.1%
So what
Citibank analyst Jeff Chung had bullish takes on both Li Auto and XPeng in a new note on Chinese electric-vehicle stocks on Monday.
Chung upgraded Li Auto to buy from neutral, and boosted his price target for the shares to $45.60 from $27.10. He maintained his previous buy rating on XPeng, but boosted that price target as well, to $57.71 from $34.70.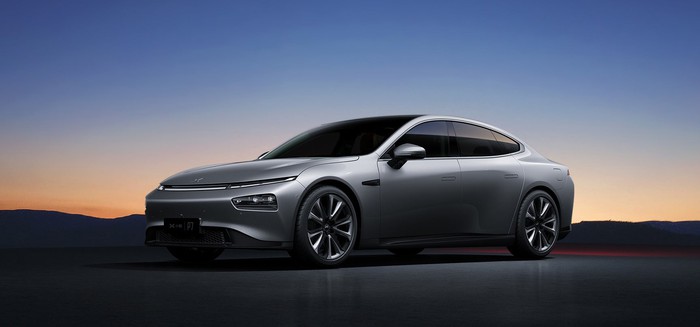 A Wall Street analyst sees monthly deliveries of XPeng's P7 sedan breaking 3,000 early next year. Image source: XPeng Motors.
Chung noted that sales momentum for what the Chinese government refers to as "new energy vehicles" -- electrics and hybrids -- has remained strong since China's COVID-19 pandemic faded in the spring. He expects that momentum to continue into the first quarter of 2021, with the overall sector's sales up more than 100% year over year.
Now what
Chung thinks deliveries of XPeng's P7 sedan, launched in early July, have so far been constrained to some extent by battery supplies -- a problem the company is working to address. He sees XPeng having a better supply of batteries by January, at which point he expects deliveries of the sedan to rise to more than 3,000 per month. XPeng delivered 2,104 P7s in October.
As for Li Auto, he thinks shipments of the Li ONE SUV will be around 6,000 per month by January. The company began shipping the Li ONE in November 2019. It delivered 3,692 of the SUVs in October.
And as for Kandi Technologies? There's no big news moving the stock; it just seems to be tagging along with the others as auto investors bid up the group.
10 stocks we like better than Li Auto Inc.
When investing geniuses David and Tom Gardner have a stock tip, it can pay to listen. After all, the newsletter they have run for over a decade, Motley Fool Stock Advisor, has tripled the market.*
David and Tom just revealed what they believe are the ten best stocks for investors to buy right now... and Li Auto Inc. wasn't one of them! That's right -- they think these 10 stocks are even better buys.
*Stock Advisor returns as of October 20, 2020
John Rosevear has no position in any of the stocks mentioned. The Motley Fool has no position in any of the stocks mentioned. The Motley Fool has a disclosure policy.
Source