3 Reasons Asana Can Be a Long-Term Winner
Since its debut to the public markets in September 2021, work management software specialist Asana (NYSE:ASAN) has taken investors on a roller coaster ride. Despite that turbulence, Asana's business has been thriving, and the company looks poised to be a long term winner for three key reasons.
1. Asana is solving an important problem for its customers
If you've worked for a business of any size, you've likely lamented all the redundant project meetings, emails, and chat messages you deal with. These represent organizational symptoms of misunderstood priorities, ineffective planning and coordination, lack of clarity on who's working on what, and the current status of a task or a project.
Facebook co-founder Dustin Moskovitz endured similar annoyances at his workplace. When he moved on to co-found Asana, he built work management software that teams can use to coordinate work and deliver projects reliably. Since launching the first version of its work management software in 2012, Asana has become a prominent player in the space.
Companies use Asana's cloud-based tool to create project plans and assign tasks to team members. Asana's intuitive web and mobile app interfaces make the plan, with clear milestones, activities, and timelines, visible to the entire team. Team members update progress on work items and exchange important information using the tool. Asana offers a single, easy-to-read source of current information, helping remote teams stay on the same page.
Companies can use Asana's versatile product to coordinate projects of all sizes, from small routine tasks to large initiatives, within and across multiple company departments. Additionally, Asana offers work management templates specially designed for specific business processes such as employee onboarding and sales pipeline management. The company also has partnered with many technology firms such as Alphabet, Zoom, and Salesforce to expand its functionality. According to a survey that Asana commissioned from market research firm IDC, Asana substantially improves workplace productivity, on-time project delivery, and employee satisfaction.
Asana serves a large, untapped market
IDC estimates the market for collaborative project and portfolio management applications at $22.6 billion in 2020, and projects it to reach over $50 billion in 2024. Although Asana currently doesn't offer all the products and features that this market encompasses, even a small sliver of that opportunity gives the company a long runway.
Even within the market it's serving right now, Asana has a major untapped opportunity. According to Forrester, there are about 1.25 billion information workers globally. With its 2 million or so paid users, Asana has penetrated less than 3% of this market.
Finally, the pandemic has driven more employees to work from home, and encouraged businesses to actively recruit talent from across the globe. Those trends make Asana's effective work management platform even more crucial.
Product adoption is driving rapid growth
Asana's simple-to-use product makes it easy for companies to adapt quickly. Asana has done a great job getting its foot in the door with customers by offering limited features at no cost, then persuading those customers to pay for more advanced features.
More and more of Asana's customers are handing the company lots of money each year:
| Year-over-year Growth (%) | Jan 31, 2021 | Apr 30, 2021 | Jul 31, 2021 | Oct 31, 2021 |
| --- | --- | --- | --- | --- |
| Total paying customers | 24% | 30% | 30% | 28% |
| Customers paying > $5K | 55% | 53% | 61% | 58% |
| Customers paying > $50K | 92% | 92% | 111% | 132% |
SOURCE: COMPANY EARNINGS RELEASES
And the more customers spend with Asana, the faster they increase that spending from one year to the next.
| Net Retention Rate | Jan 31, 2021 | Apr 30, 2021 | Jul 31, 2021 | Oct 31, 2021 |
| --- | --- | --- | --- | --- |
| Overall | > 115% | > 115% | > 118% | > 120% |
| Customers paying > $5K | 125% | > 123% | > 125% | 130% |
| Customers paying > $50K | > 140% | > 140% | > 145% | > 145% |
SOURCE: COMPANY EARNINGS RELEASES
Asana has rapidly grown revenue while maintaining best-in-class gross profit margins. The money it makes off its products is expanding faster than its costs to build and maintain those products.
| Financial Metric | Jan 31, 2021 | Apr 30, 2021 | Jul 31, 2021 | Oct 31, 2021 |
| --- | --- | --- | --- | --- |
| Year-over-year Revenue growth | 57% | 61% | 72% | 70% |
| Gross profit margin | 88.2% | 89.8% | 89.2% | 90.7% |
SOURCE: COMPANY EARNINGS RELEASES
A few things to keep in mind
Asana operates in a fragmented and highly competitive industry. Along with many smaller players, there are more established competitors such Monday.com and Atlassian that'll be important to keep an eye on. Asana will have to innovate and expand its product offerings to capture a larger slice of the market opportunity.
Asana is currently not profitable. The company's burning a significant amount of cash investing in innovation and expansion, spending far more than than its sales are bringing in.
For the first nine months of the year, Asana spent over 72% of its revenue in sales and marketing expenses, and over 53% in R&D, burning through $46.4 million in cash. Despite those dire numbers, Asana's losses are narrowing in proportion to its fast-growing sales. Over the first nine months of the current fiscal year, net loss as a percentage of revenue shrank from 94.7% to 74.4% year over year . In the same periods, free cash flow as a percentage of revenue improved from -36.82% to -17.41% .
So what should investors do?
A greenfield opportunity, tailwinds of remote work, a compelling product, and strong execution have helped Asana secure over 114,000 customers in 190 countries. The company is renowned for its best-in-class workplace culture. CEO Dustin Moskovitz has an approval rating of 100% on employee survey website glassdoor.com. At a relatively young age of 36, Moskovitz is heavily invested in the long-term success of the company, owning more than 40% of Asana's shares.
Like many high-growth tech stocks, Asana's shares have taken a beating over the past couple of months, and, as of early January, are trading at a relatively lower price-to-sales valuation, much more in line with its key competitors. Investors with tolerance for volatility and long-term horizons may consider a small position in the company.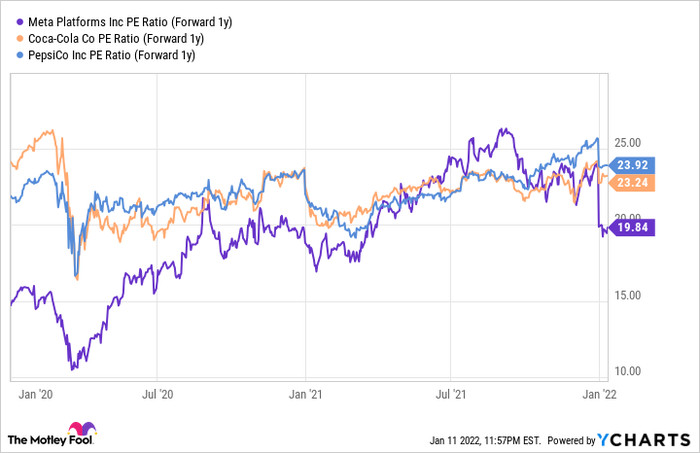 FB PE Ratio (Forward 1y) data by YCharts
10 stocks we like better than Asana, Inc.
When our award-winning analyst team has a stock tip, it can pay to listen. After all, the newsletter they have run for over a decade, Motley Fool Stock Advisor, has tripled the market.*
They just revealed what they believe are the ten best stocks for investors to buy right now... and Asana, Inc. wasn't one of them! That's right -- they think these 10 stocks are even better buys.
*Stock Advisor returns as of January 10, 2022
Suzanne Frey, an executive at Alphabet, is a member of The Motley Fool's board of directors. Kaustubh Deshmukh (KD) owns Alphabet (A shares), Asana, Inc., Atlassian, Salesforce.com, and Zoom Video Communications and has the following options: short March 2022 $50 puts on Asana, Inc. The Motley Fool owns and recommends Alphabet (A shares), Alphabet (C shares), Asana, Inc., Atlassian, Salesforce.com, Zoom Video Communications, and monday.com Ltd. The Motley Fool has a disclosure policy.
Source