Beyond Meat Stock Spikes Higher on Expanded Distribution Deal
What happened
Shares of plant-based meat company Beyond Meat (NASDAQ: BYND) spiked higher on Tuesday morning after the company announced an expanded distribution deal with one of the largest retail chains in the world, Walmart (NYSE: WMT). Previously, the company's products were available at 800 Walmart locations; starting next week, they'll be sold at 2,400 of its stores.
Investors don't care that Beyond Meat stock has already more than doubled year to date. Today they're celebrating this Walmart deal by sending shares even higher. As of 10 a.m. EDT, Beyond Meat stock was up 11% and hitting a new 52-week high.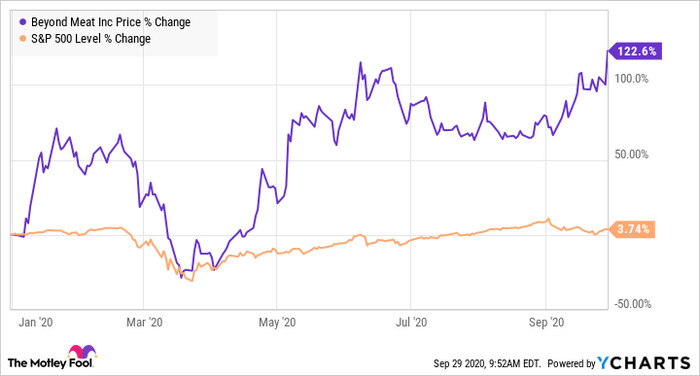 So what
For companies like Beyond Meat, expanded distribution can immediately boost revenue. Beyond Meat typically recognizes revenue when products are delivered to retail and food-service locations, not when they finally sell through to the end consumer. Therefore, right now it will begin stocking around 1,600 Walmart shelves for the first time, providing immediate new top-line growth.
Considering Beyond Meat stock trades at a pricy 26 times trailing sales, Wall Street is expecting long-term explosive revenue growth from this company. Today, it's cheering because the expanded distribution deal with Walmart confirms this hope.
Now what
This Walmart announcement is a big deal, and Beyond Meat shareholders are right to be excited. Long term, distribution deals with retail outlets and food-service chains will need to continue to keep the revenue growth coming. If the company can keep it up, this growth stock can still reward patient investors from here, even after its big gains so far in 2020.
10 stocks we like better than Beyond Meat, Inc.
When investing geniuses David and Tom Gardner have a stock tip, it can pay to listen. After all, the newsletter they have run for over a decade, Motley Fool Stock Advisor, has tripled the market.*
David and Tom just revealed what they believe are the ten best stocks for investors to buy right now... and Beyond Meat, Inc. wasn't one of them! That's right -- they think these 10 stocks are even better buys.
*Stock Advisor returns as of September 24, 2020
Jon Quast owns shares of Beyond Meat, Inc. The Motley Fool owns shares of and recommends Beyond Meat, Inc. The Motley Fool has a disclosure policy.
Source