Why Kraft Heinz Stock Gained 12% Last Month
What happened
It's been a rough year for Kraft Heinz (NASDAQ: KHC) as the product of a blockbuster merger between Warren Buffett's Berkshire Hathaway (NYSE: BRK-A) (NYSE: BRK-B) has gone sour, and investors have been forced to endure a dividend cut and an SEC investigation into its accounting practices.
Nonetheless, investors got some good news last month as the stock finished June up 12%, according to data from S&P Global Market Intelligence, as the food maker completed an internal investigation and released its delayed 10-K annual report.
As you can see from the chart below, the bulk of the company's gains came in the first half of the month, with the biggest rally taking place on June 10 after the company filed its 10-K.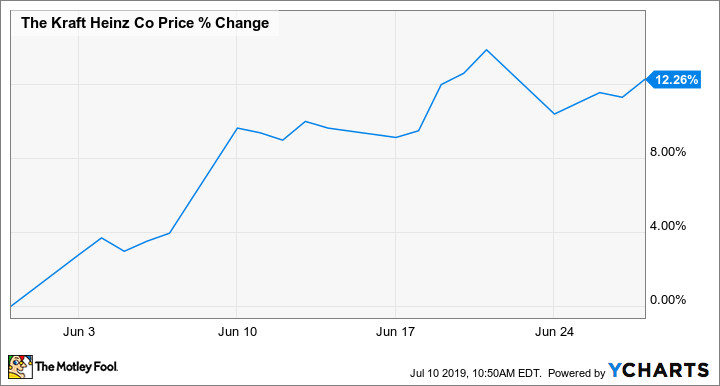 So what
Kraft Heinz shares jumped 5.5% on June 10, once it finally filed the annual report. Chairman Alex Behring said, "We are pleased that Kraft Heinz is returning to a path of normalization," and added that the correction to previous financial misstatements was in line with its disclosure in May. The company also said its internal investigation into its procurement area, which attracted the SEC's attention, and into its internal controls was complete.
Following the filing, investors breathed a sigh of relief, as the accounting incident now seems to be behind the company.
Nonetheless, Kraft Heinz still faces plenty of challenges, including a considerable debt burden and a consumer shift away from processed and packaged foods. Later in the month, Warren Buffett acknowledged he overpaid for his stake in the company, and Guggenheim analyst Laurent Grandet said Kraft Heinz "faces a monumental challenge as a stand-alone company" and questioned whether the company had enough cash to mount a turnaround. The stock fell 3% on the analyst note.
Now what
As a further sign of Kraft Heinz's management challenges, the company has still not released its first-quarter earnings report, which is now nearly three months late.
The company named a new CEO, Miguel Patricio, who was previously global chief marketing officer for Anheuser Busch InBev, and took the reins on July 1.
Through July 9, the stock has traded flat for the month. While some investors may see a turnaround opportunity here with the stock down 50% from its 52-week high and with a dividend yield of 5%, I wouldn't expect a quick recovery given the long list of problems the company faces as well as the secular headwinds from changing consumer tastes.
10 stocks we like better than Kraft Heinz
When investing geniuses David and Tom Gardner have a stock tip, it can pay to listen. After all, the newsletter they have run for over a decade, Motley Fool Stock Advisor, has quadrupled the market.*
David and Tom just revealed what they believe are the ten best stocks for investors to buy right now... and Kraft Heinz wasn't one of them! That's right -- they think these 10 stocks are even better buys.
*Stock Advisor returns as of June 1, 2019
Jeremy Bowman has no position in any of the stocks mentioned. The Motley Fool owns shares of and recommends Berkshire Hathaway (B shares). The Motley Fool recommends Anheuser-Busch InBev NV. The Motley Fool has a disclosure policy.
Source