3 Top Dividend Stocks for Passive Income That'll Let You Sleep Peacefully
While growth and technology stocks have been hit particularly hard by the broader market's sell-off, even stable, dividend-growing stocks have been caught up in the drop lately.
This bear market has left many promising dividend payers trading well below recent highs and offering investors a unique opportunity to build their passive income.
Today we will look at three stocks with stable operations, growing dividends, and low payout ratios -- and explore why buying them now could help you sleep peacefully at night.
1. FedEx
Fresh off the announcement of 53% dividend increase -- along with a well-received fourth-quarter earnings report -- global shipping giant FedEx (NYSE: FDX) has seen its shares rise nearly 20% over the past two weeks.
With the quarterly dividend now at $1.15 per share, FedEx's forward dividend yield will spike to about 2%. And with the company's payout ratio at only 15%, investors can feel assured that FedEx can easily fund further dividend increases, especially as earnings per share (EPS) continue to grow.
For the fourth quarter of its fiscal 2022 (ended May 31), FedEx posted revenue growth of 8% year over year and 37% adjusted EPS growth over the same time. Better yet, management expects adjusted EPS to be between $22.50 and $24.50 for fiscal 2023, implying about 14% growth compared to 2022.
Encouraged by this financial outlook, the company plans to buy back $1.5 billion of its shares in the next two quarters and will still have $2.6 billion remaining on its repurchase authorization afterward.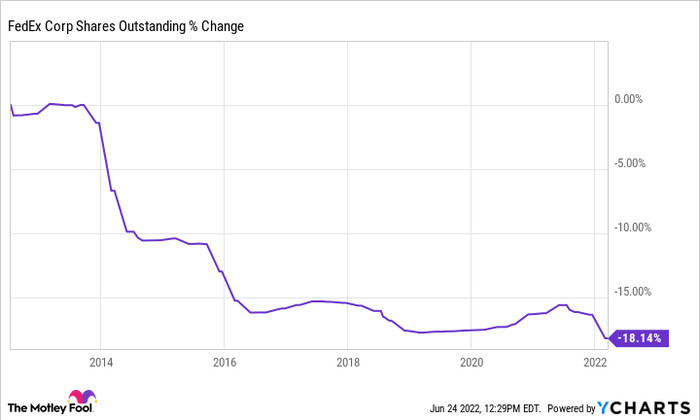 FDX Shares Outstanding data by YCharts.
Thanks to buybacks, FedEx has reduced its shares outstanding by nearly 20% over the last decade, helping provide outsized EPS growth for investors. With global e-commerce sales projected to grow by 50% over the next four years, FedEx looks primed to continue its excellent history of returning cash to shareholders.
2. Sherwin-Williams
Sherwin-Williams (NYSE: SHW) is immediately recognizable as the leading brand in all things paint-related. Its shares have lost around one-third of their value in the past six months -- a drop rarely seen from such a stable company.
This drop stems from significant supply chain issues revolving around raw material availability in the last few quarters. Reporting Q1 2022 earnings, Sherwin-Williams saw its adjusted EPS drop 22% year over year despite recording sales growth of 7% over the same time.
While surprising, this decline in earnings should be temporary and may offer an intriguing entry point for investors interested in building their passive income.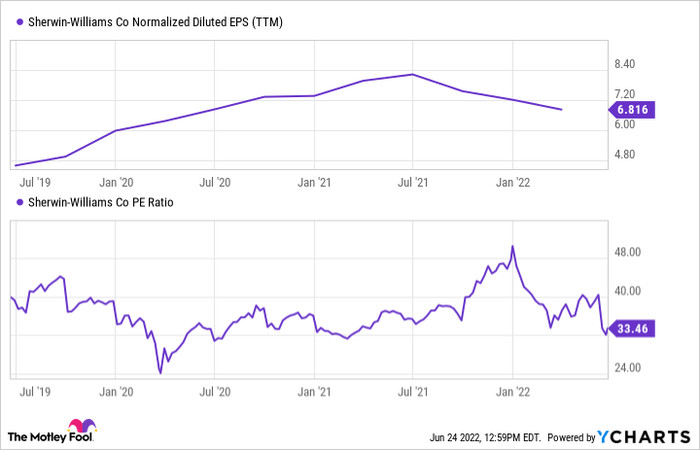 SHW Normalized Diluted EPS (TTM) data by YCharts.
Despite this drop in the earnings side of its price-to-earnings (P/E) ratio, Sherwin-Williams still trades at its lowest valuation since early 2021. Moreover, the company has increased its dividend payments for 24 consecutive years while lowering its share count over the same time. Currently, the dividend yield is just over 1%.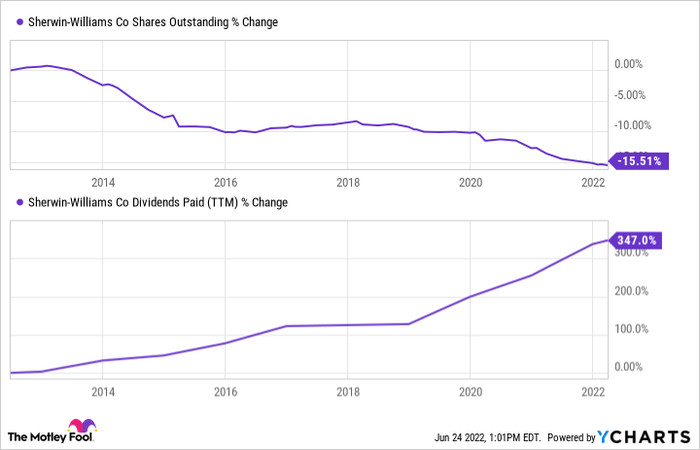 SHW Shares Outstanding data by YCharts.
This combination of declining share count, increasing dividend, and steadily climbing sales figures helps explain why Sherwin-Williams has posted a total return of nearly 500% over the past decade.
Thanks to these incredible historical returns, stable underlying operations, and the potential for further cash returns to shareholders, Sherwin-Williams is an outstanding stock to consider for building a new source of passive income.
3. Stanley Black & Decker
Through its strong brand power in industrial tools, power tools, hand tools, and outdoor equipment, Stanley Black & Decker (NYSE: SWK) may be the Sherwin-Williams of tools. Like the popular paint company, Stanley Black & Decker has been fighting its share of supply chain issues, and skyrocketing commodity and transportation costs.
Despite posting sales growth of 20% in the first quarter of 2022, the company saw its net income decline by 64% over the same period, which may account for the stock's 40% drop over the last six months.
However, despite ballooning transport costs and rising lithium, nickel, and steel prices, management expects $10 in EPS and $1 billion to $1.5 billion in free cash flow (FCF) for 2022. Yet the shares currently trade at a forward P/E ratio of just 11.3.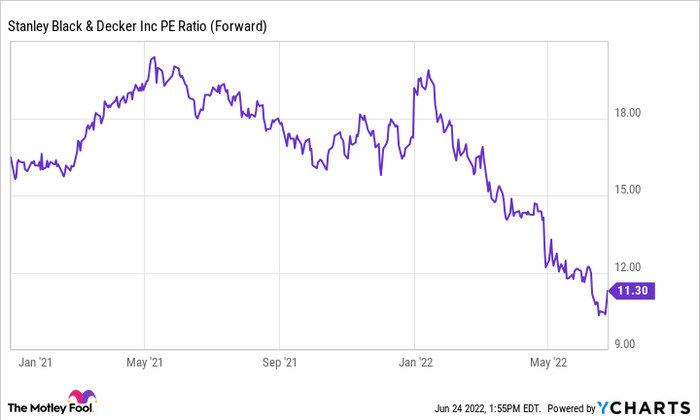 SWK PE Ratio (Forward) data by YCharts.
Even while the shares trade at a low valuation, the company expects to restore its margins by 2023 and continue its top-line growth through new outdoor equipment acquisitions.
All in all, Stanley Black & Decker may not be a quick double for investors, but its incredible record of dividend increases and its high earnings yield of nearly 8% make it look like an excellent opportunity for investors today.
Major Passive Income Potential
| Metric | FedEx | Sherwin-Williams | Stanley Black & Decker |
| --- | --- | --- | --- |
| Dividend yield | 1.2% | 1% | 2.9% |
| Four-year average yield | 1.3% | 0.8% | 1.8% |
| Payout ratio | 15% | 32% | 36% |
| Earnings yield | 7.8% | 3% | 7.7% |
| Consecutive years of dividend growth | 2 | 24 | 54 |
| Five-year dividend growth rate | 15% | 15% | 6% |
Source: Ycharts.
Each of these three stocks has its advantages. For example, while Sherwin-Williams may have the smallest dividend yield of the group, its 24-year record of dividend increases -- paired with an impressive 15% annualized growth rate over the last five years -- points to further success ahead.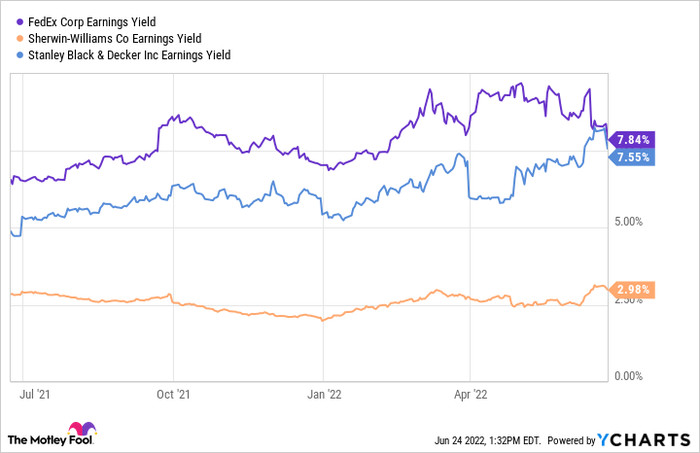 FDX Earnings Yield data by YCharts.
Plus, all three stocks trade at attractive earnings yields compared to their historical levels. All in all, each stock looks intriguingly priced today for investors.
10 stocks we like better than FedEx
When our award-winning analyst team has a stock tip, it can pay to listen. After all, the newsletter they have run for over a decade, Motley Fool Stock Advisor, has tripled the market.*
They just revealed what they believe are the ten best stocks for investors to buy right now... and FedEx wasn't one of them! That's right -- they think these 10 stocks are even better buys.
*Stock Advisor returns as of June 2, 2022
Josh Kohn-Lindquist has positions in FedEx and Sherwin-Williams. The Motley Fool has positions in and recommends FedEx. The Motley Fool recommends Sherwin-Williams. The Motley Fool has a disclosure policy.
Source