Why IAC/InterActiveCorp Shares Gained 12% Last Month
What happened
Shares of IAC/InterActiveCorp (NASDAQ: IAC) rose 11.9% in December 2019, according to data from S&P Global Market Intelligence. The media and online content conglomerate gained 11% in the space of two days thanks to a couple of potentially game-changing deals.
So what
First, IAC's stock went up 7.8% on the news that the company is selling off its holdings in Match Group (NASDAQ: MTCH), creating two entirely separate companies. Before this deal, which had been coming for some time, IAC owned 80% of the Tinder parent's shares.
The next day, IAC announced a tender offer of $15 per share in a buyout bid for family care specialist Care.com (NYSE: CRCM).
Shareholders applauded both the Match Group split and the Care.com acquisition.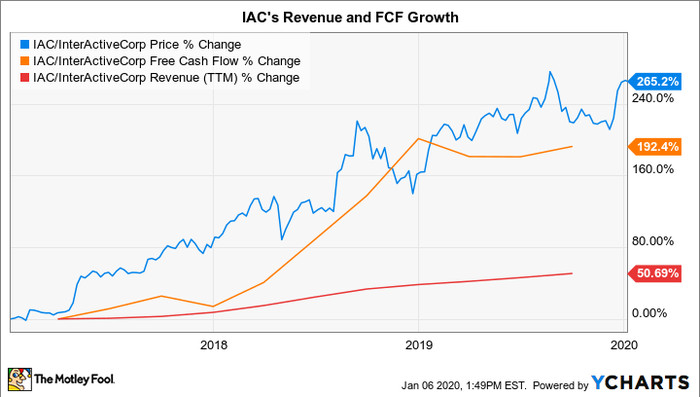 Now what
The Match Group deal should bolster IAC's balance sheet with a net cash infusion of at least $700 million. The company is also expected to move roughly $1.7 of long-term debt to Match Group's balance sheet. The $550 million Care.com buyout looks small next to these big financial transactions, but it could be the first of many smaller deals that combine to move IAC into a lower-risk market.
IAC's shares have now gained a total of 46.4% over the last year, trading at a reasonable valuation of 25 times free cash flows. The company is rebuilding itself under a business model with lower top-line growth but stronger cash flows. Market makers are embracing the new and improved IAC/InterActiveCorp.
10 stocks we like better than IAC/InterActiveCorp
When investing geniuses David and Tom Gardner have a stock tip, it can pay to listen. After all, the newsletter they have run for over a decade, Motley Fool Stock Advisor, has tripled the market.*
David and Tom just revealed what they believe are the ten best stocks for investors to buy right now... and IAC/InterActiveCorp wasn't one of them! That's right -- they think these 10 stocks are even better buys.
*Stock Advisor returns as of December 1, 2019
Anders Bylund has no position in any of the stocks mentioned. The Motley Fool owns shares of and recommends Match Group. The Motley Fool owns shares of Care.com. The Motley Fool has a disclosure policy.
Source