Have Investors Been Overlooking Dollar General?
Discount stores rarely get the same respect as department stores or mall retailers.
Even though Dollar General (NYSE: DG) has added thousands of locations over the last few years while steadily growing sales, the chain does not get as much attention as its struggling rivals. That's partly because discounting, and dollar stores in general, have a bit of a stigma, where consumers shop there while generally not being proud of it.
Dollar General is not actually a dollar store. It's a low-price, limited-frills chain built around value. That's a model that has resonated with consumers even if investors have largely overlooked the chain.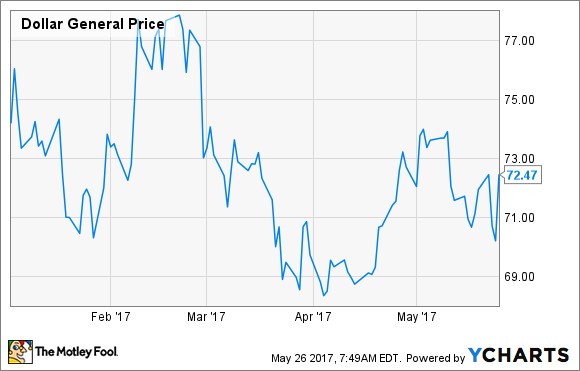 Image source: YCharts.
How is Dollar General doing?
In 2016 Dollar General saw its net sales rise by 2.9% to $22 billion, up from $20.4 billion the previous year. Same-store sales increased by 0.9%, which the chain attributes to people spending more per visit as traffic to its stores was "essentially unchanged as compared to the prior year," according to the Q4 earnings release. In addition the chain reported net income of $1.25 billion or earnings per share (EPS) of $4.43, up from $1.17 billion or an EPS of $3.95 in fiscal 2015.
During 2016 Dollar General opened 900 new stores and remodeled or relocated 906 stores. Going forward in 2017 the chain expects net sales to grow by 4-6% with same-store sales ranging between slightly positive and 2%. It also expects EPS to be in the range of $4.25 to $4.50 and the retailer expects to open about 1,000 stores during the year while remodeling nearly that many.
"Dollar General is well-positioned to serve our customers with value and convenience," said CEO Todd Vasos in the earnings release. "To strengthen our position for the long term, we are making significant investments, primarily in compensation and training for our store managers given the critical role this position plays in our customer experience, as well as strategic initiatives."
The CEO noted that those investments will "put pressure" on 2017 earnings, but will improve the chain's "market share position over time and are positive steps to further support sustainable growth for our shareholders over the long term."
Why are investors not impressed?
As you can see above while Dollar General shares did spike earlier in the year, the company gave back those gains and has only somewhat recovered. Investors remain not-super-impressed by the company even though the chain has shown it can thrive in a market that has challenged other retailers.
The logical reason the market has not rewarded the discount chain is that investors tend to value same-store-sales growth over the ability to grow a proven model. Dollar General has shown that it can launch profitable stores at a rapid pace and that once those locations exist they perform well. Steady performance however does not attract investors the way a slower-growing chain with strong same-store sales growth does.
This is a solid buy
Dollar General may not be a sexy pick, but it's a solid one. The company has a product lineup that people still want to buy in actual stores and a value-based offering that consumers like. This is a chain that still has tremendous growth potential which has shown that it knows how to grow quickly.
As traditional retailers continue to fail Dollar General will march steadily forward. The chain has a model that works and has proven that enough times to make its projections for 2017 reasonable. This isn't a company that's going to post explosive growth or do something revolutionary, but it will keep adding solid, profitable locations and eventually the market should reward that.
10 stocks we like better than Dollar General
When investing geniuses David and Tom Gardner have a stock tip, it can pay to listen. After all, the newsletter they have run for over a decade, Motley Fool Stock Advisor, has tripled the market.*
David and Tom just revealed what they believe are the 10 best stocks for investors to buy right now... and Dollar General wasn't one of them! That's right -- they think these 10 stocks are even better buys.
Click here to learn about these picks!
*Stock Advisor returns as of May 1, 2017

Daniel Kline has no position in any stocks mentioned. The Motley Fool has no position in any of the stocks mentioned. The Motley Fool has a disclosure policy.