Will Intuitive Surgical Be a Trillion-Dollar Stock by 2035?
If you can predict which stocks are going to be the titans of industry of tomorrow, you'll have a massive leg up on building your portfolio's long-term value. And if your idea of the world of tomorrow is similar to mine, it's packed with futuristic technology like medical robots. In other words, today's leading robotic surgery companies could be very smart long-term investments.
Right now, the robotic surgery pioneer Intuitive Surgical (NASDAQ: ISRG) has a market cap of around $123 billion, making it the largest of its kind. In the future, it could be even more massive -- but could it ever be worth $1 trillion, reaching the likes of Amazon, Alphabet, and Microsoft?
Surgical robotics won't go out of style
To reach a market cap of $1 trillion, Intuitive would need to grow by more than 720%. That's a huge distance to go between now and 2035, but with more than a decade to get there, it might be possible, so let's investigate the business to evaluate its prospects.
The central pillar of Intuitive Surgical's business is the da Vinci robotic surgical suite, which is essentially a group of mechanical arms with different keyhole surgery tools and instruments attached at the end. Surgeons control the arms from a station in the operating room -- once they've been trained with the company's curriculum.
The da Vinci system has been around since its first approval for general laparoscopic surgery in 2000. Over time, its capabilities have expanded considerably, and surgeons now use it for a large variety of applications, from bariatrics to oncology. The company constantly develops new hardware and software tools to enable more complicated procedures, and more and more operations are performed with the da Vinci each year.
But Intuitive doesn't depend solely on sales of new da Vinci units to power shareholder returns. The majority of its revenue comes from recurring sales of robotic surgical tools, accessories, software subscriptions, and maintenance contracts. It's a razor and blade model, which is attractive to investors.
So, each new robotics suite that's sold includes a long tail of revenue that's a much larger contributor to the top line over time. That means as long as the company keeps selling and installing fresh da Vinci suites, its regular income will increase for years to come. And after more than 20 years on the market, it's safe to say that the era of robotic surgery isn't just a fad.
But do the numbers add up?
Given Intuitive Surgical's strength in innovation and its highly reliable mode of growth, we can make a simple financial projection to explore whether it could reach a market cap of $1 trillion by 2035.
First, let's look at how it grew its top line over the past decade. From 2010 through the end of 2020, Intuitive grew its annual revenue from $1.4 billion to $4.3 billion. That works out to be a compound annual growth rate of 11.9%, which isn't half bad for an established company.
Over the last 12 months, it brought in $5.1 billion, which I'll use as the starting point to build the projection. Assuming that its revenue continues to grow by at least 11.9% per year, by the start of 2035 Intuitive could be making as much as $22.3 billion per year. If the stock maintains its current trailing price-to-sales ratio of nearly 24, that'd leave it with a market cap of around $530.7 billion, which we arrive at by multiplying its revenue by the P/S multiple.
So, at its current rate of change, it's hard to imagine the company being worth anywhere near $1 trillion, even with the benefit of more than a decade to grow.
But, if the company manages to boost its revenue a bit faster and maintain it at a rate of just over 17% per year, there's a chance it could reach a value of $1 trillion by 2035.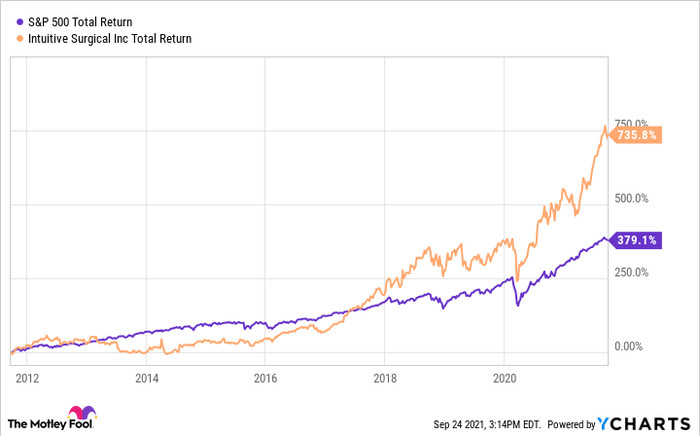 Trillion or not, Intuitive is still worth owning
Nonetheless, it's hard to believe that a business of Intuitive's size could accelerate its growth rate dramatically without launching numerous new products or otherwise implementing major expansion initiatives.
On the bright side, even if it probably won't get to $1 trillion, Intuitive Surgical will likely make its shareholders significantly richer in the coming years. Merely growing at its historical rate over the last decade will lead to its market cap multiplying by several times, meaning that people who invest in the stock now will probably make out like bandits.
10 stocks we like better than Intuitive Surgical
When our award-winning analyst team has a stock tip, it can pay to listen. After all, the newsletter they have run for over a decade, Motley Fool Stock Advisor, has tripled the market.*
They just revealed what they believe are the ten best stocks for investors to buy right now... and Intuitive Surgical wasn't one of them! That's right -- they think these 10 stocks are even better buys.
*Stock Advisor returns as of September 17, 2021
John Mackey, CEO of Whole Foods Market, an Amazon subsidiary, is a member of The Motley Fool's board of directors. Suzanne Frey, an executive at Alphabet, is a member of The Motley Fool's board of directors. Teresa Kersten, an employee of LinkedIn, a Microsoft subsidiary, is a member of The Motley Fool's board of directors. Alex Carchidi has no position in any of the stocks mentioned. The Motley Fool owns shares of and recommends Alphabet (A shares), Alphabet (C shares), Amazon, Intuitive Surgical, and Microsoft. The Motley Fool recommends the following options: long January 2022 $1,920 calls on Amazon, long January 2022 $580 calls on Intuitive Surgical, short January 2022 $1,940 calls on Amazon, and short January 2022 $600 calls on Intuitive Surgical. The Motley Fool has a disclosure policy.
Source