2 Stocks to Buy Now That Value Stocks Are Hot and Growth Stocks Are Cold
After underperforming growth stocks for 11 out of the last 13 years, value stocks are finally having their time in the sun.
The market is known to go through irrational cycles that overly reward certain sectors and punish others over the short term. If value stocks do end up outperforming growth stocks in 2022, it will be the first time that has happened since 2016. Procter & Gamble (NYSE: PG) is an excellent value stock worth buying and holding over the long term, while Zoom Video Communications (NASDAQ: ZM) looks like one growth stock that is too cheap to ignore.
1. Procter & Gamble: Consistently strong results
The stock market loves sustained growth, under-promising and overdelivering, a steadily rising dividend, and a healthy balance sheet. Procter & Gamble has all four of these characteristics in spades.
The company reported its second-quarter fiscal-year 2022 earnings on Wednesday, sending shares of P&G within striking distance of a fresh all-time high.
P&G is growing its top line at a quick enough pace to offset higher costs due to inflation. It raised its full-year sales guidance and free-cash-flow (FCF) guidance and confirmed its previous earnings per share (EPS) outlook.
P&G continues to use its cash to buy back stock and pay dividends. It paid around $2 billion in dividends in Q2 FY22 and bought back a whopping $5 billion in stock. For the full fiscal year, P&G expects to deliver over $8 billion in dividends and repurchase between $9 billion and $10 billion in stock.
P&G plans to grow its core EPS by 3% to 6% in FY22 compared to FY21, which is impressive considering it expects inflation to impact its earnings by $2 billion this fiscal year.
After raising its dividend by 10% in April 2021, P&G now pays a per-share quarterly dividend of $0.8698 -- giving it 131 consecutive years of dividend payments and 65 consecutive years of dividend raises.
Although P&G stock is trading at the high end of its historical valuation, the company continues to prove it can grow its business even during challenging economic times. Given its consistency, P&G warrants a premium valuation.
2. Zoom: A reasonably priced growth stock
P&G is an excellent slow-growing and stable dividend stock. But folks that want a little extra growth at a good value could take a little more risk with Zoom.
While share prices of P&G have more or less steadily climbed for the last few years, Zoom stock has undergone a roller coaster ride that has seen its share price climb as high as nearly $600 per share. At the time of this writing, Zoom stock is below $160 a share, down 73% from its all-time high and down 60% in the last year.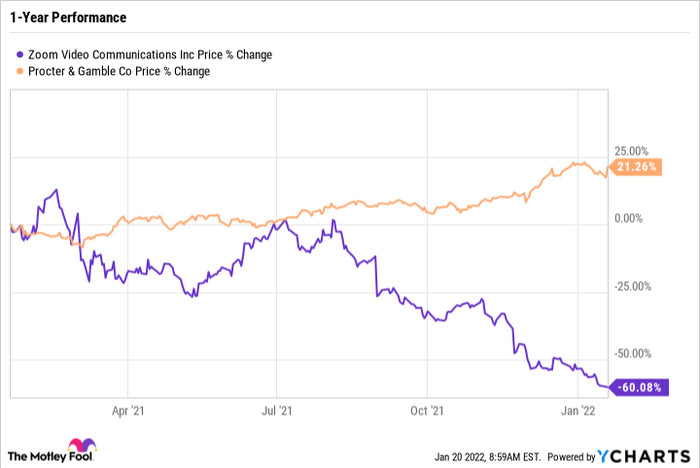 While Zoom was arguably overvalued in months past, the bludgeoning its stock has taken now makes it an attractive turnaround growth story worth considering now. Zoom has become an entrenched tool in the workplace. It will face competition from competing services, but the idea that video conferences will go away and business travel will rebound to its pre-pandemic numbers is unlikely.
Unlike many unprofitable hypergrowth stocks that are down well over 50% from their all-time highs, Zoom is profitable and still growing at a good pace. Granted, it's growing slower than at the peak of the COVID-19 pandemic in 2020 -- but it more than makes up for that slowdown with profitability and positive FCF.
Because Zoom continues to perform well and its stock price has fallen by so much, it now has right around the same price-to-FCF ratio as P&G.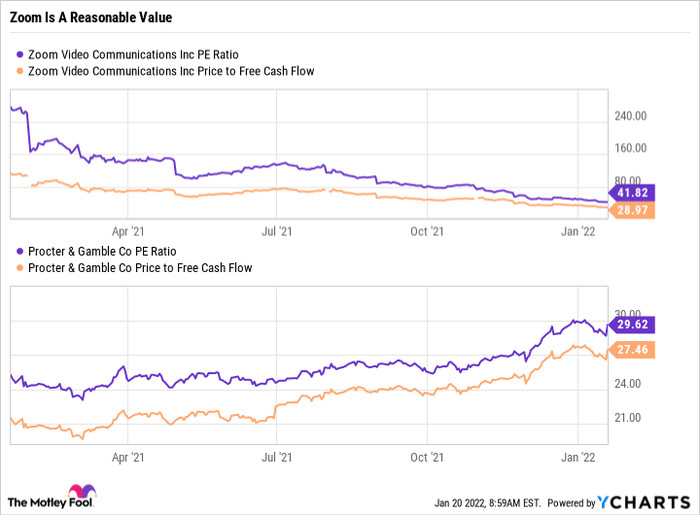 ZM PE Ratio data by YCharts
Zoom is cheaper than Apple, Microsoft, Netflix, Amazon, and many big-name tech stocks based on the price-to-FCF ratios simply because Zoom makes a ton of cash, and its stock is down so much further than these other big tech companies.
What's more, Zoom has a price-to-earnings ratio of 41.8 compared to P&G's 29.6, which is amazing considering Zoom is a hypergrowth stock that investors would expect to have a substantially higher price-to-earnings (P/E) ratio than a dividend-paying stalwart like P&G.
Two good options worth considering now
Value and growth stock investors can benefit from the current stock market sell-off. Investors that have patiently been waiting to buy top-tier growth stocks like Zoom at a discount are in luck, while value investors may finally begin to see their stocks outperform the market.
Instead of jumping in and out of what's working or not working in the stock market in the short term, you're probably better off simply taking the deals the market gives you while sticking with a strategy that suits your risk tolerance. For most investors, there's room in a balanced portfolio for both a stable stalwart like P&G and a fast grower in the bargain bin like Zoom.
10 stocks we like better than Procter & Gamble
When our award-winning analyst team has a stock tip, it can pay to listen. After all, the newsletter they have run for over a decade, Motley Fool Stock Advisor, has tripled the market.*
They just revealed what they believe are the ten best stocks for investors to buy right now... and Procter & Gamble wasn't one of them! That's right -- they think these 10 stocks are even better buys.
*Stock Advisor returns as of January 10, 2022
Teresa Kersten, an employee of LinkedIn, a Microsoft subsidiary, is a member of The Motley Fool's board of directors. John Mackey, CEO of Whole Foods Market, an Amazon subsidiary, is a member of The Motley Fool's board of directors. Daniel Foelber has the following options: long February 2022 $185 puts on Apple, long January 2024 $300 calls on Zoom Video Communications, short February 2022 $180 puts on Apple, and short January 2024 $310 calls on Zoom Video Communications. The Motley Fool owns and recommends Amazon, Apple, Microsoft, Netflix, Vanguard Growth ETF, Vanguard Value ETF, and Zoom Video Communications. The Motley Fool recommends the following options: long January 2022 $1,920 calls on Amazon, long March 2023 $120 calls on Apple, short January 2022 $1,940 calls on Amazon, and short March 2023 $130 calls on Apple. The Motley Fool has a disclosure policy.
Source