2 Unstoppable Growth Stocks to Buy on the Dip
Growth stocks have been hammered since the Federal Reserve announced it would begin tightening monetary policy in November 2021. The move by the central bank works to raise interest rates, a trend that tends to harm the valuations of growth stocks.
That said, interest rates are in constant fluctuation. Arguably, it can be an opportunity to buy growth stocks whose valuations have been cut due to the increases.
Two such opportunities are DraftKings (NASDAQ: DKNG) and Pinterest (NYSE: PINS). Each has continued growing revenue briskly, despite the macroeconomic headwinds. The sell-off has meant that investors can buy these unstoppable growth stocks near their lowest prices.
Let's look at why each deserves a spot in your portfolio.
1. DraftKings could be a winning bet for investors
DraftKings is an online gambling service offering sports betting and iGaming (casino-style games). The company's business has snowballed as state legislatures have warmed to the idea of legalizing online gambling. Since it brings in additional tax revenue to the state, legalizing online gambling is a win-win for states and online gaming businesses like DraftKings.
The trend has helped DraftKings boost its revenue from $192 million in 2017 to $1.3 billion in 2021, with revenue growth accelerating each year from 2018 to 2021. DraftKings is now live in 17 states for sports betting and five states for iGaming. The company recently launched in the lucrative New York market and has an initiative on the ballot for November 2022 to legalize online gaming in California.
Even though state legislatures may wish to expand gaming to online sites, existing brick-and-mortar casinos are pushing back since they feel online alternatives may threaten their gaming revenue. Indeed, some folks who live hours away from the closest casinos may prefer to gamble online while avoiding the long trek.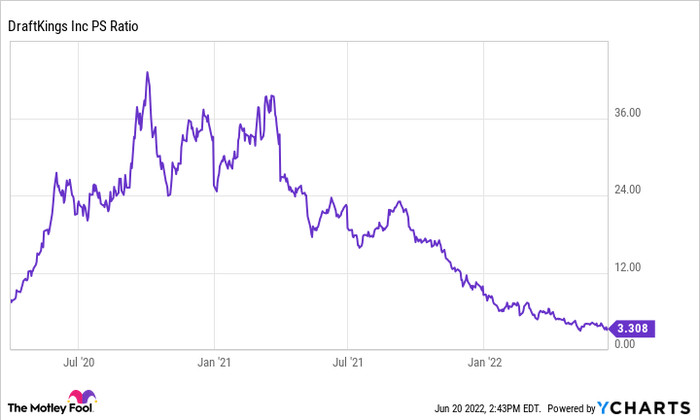 DKNG PS Ratio data by YCharts
For now, it appears that the allure of additional tax revenue is too tempting for states to pass up, leading to DraftKings' continued expansion into new markets. With the stock trading at a price-to-sales ratio of three, near its lowest ever, it's an excellent time for investors to buy DraftKings stock.
2. Pinterest persists through macro headwinds
Pinterest is an image-based social media app that is free to join and use. It has grown to 433 million monthly active users as of its first quarter of 2022. That was up by 2 million from the previous quarter. That's important because Pinterest has struggled to retain monthly active users in light of the economic reopening that has pulled people away from their homes. The trend had exacerbated the sell-off in Pinterest's stock, which is now down 80% off its highs.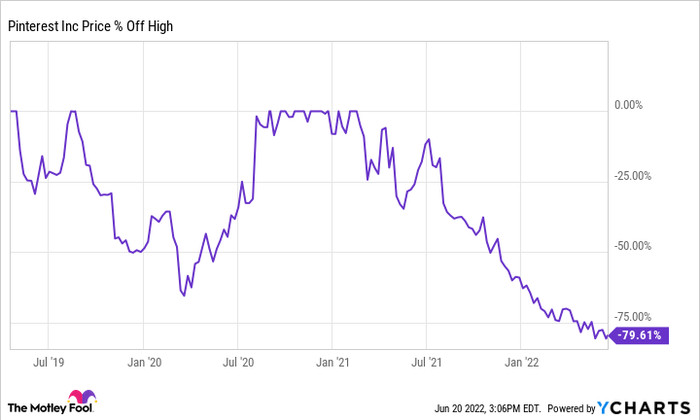 However, Pinterest has sustained robust revenue growth before and through the pandemic. From 2017 to 2021, sales increased from $473 million to $2.6 billion. In its most recent quarter, which ended on March 31, revenue increased by 18% year over year despite macroeconomic headwinds. The company is still in its early stages of growth and encompasses a relatively tiny fraction of the $763 billion advertising industry it operates inside.
One significant opportunity for Pinterest is expanding monetization in regions outside the U.S. and Canada. The average revenue per user in these two countries was $4.98 in Q1, compared to just $0.72 in Europe and $0.08 in the rest of the world. As the company develops capabilities to monetize international segments, ARPU could rise from those regions closer to domestic levels.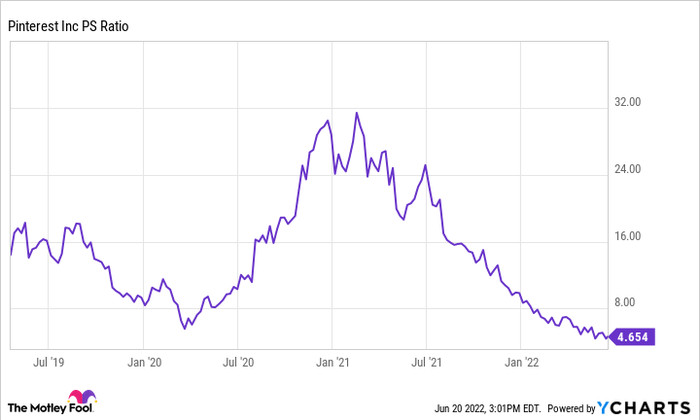 PINS PS Ratio data by YCharts
Like DraftKings, the sell-off in Pinterest's stock has it trading at a price-to-sales ratio near its lowest ever at 4.6.
DraftKings and Pinterest have sustained their fast growth amid macroeconomic headwinds. Meanwhile, their stocks are at bargain values, an excellent opportunity for long-term investors to buy on the dip.
10 stocks we like better than DraftKings Inc.
When our award-winning analyst team has a stock tip, it can pay to listen. After all, the newsletter they have run for over a decade, Motley Fool Stock Advisor, has tripled the market.*
They just revealed what they believe are the ten best stocks for investors to buy right now... and DraftKings Inc. wasn't one of them! That's right -- they think these 10 stocks are even better buys.
*Stock Advisor returns as of June 2, 2022
Parkev Tatevosian has no position in any of the stocks mentioned. The Motley Fool has positions in and recommends Pinterest. The Motley Fool has a disclosure policy.
Source