2 Top Stocks That Are Cash Cows
There's an old saying that cash is king. That's doubly true if you are trying to live off of your dividend income. However, you don't want to risk chasing a big yield without first checking to make sure the company you are considering is rock solid. If you are looking for cash cows right now, industry giants Simon Property Group (NYSE: SPG) and Enterprise Products Partners (NYSE: EPD) should be on your short list.
1. Handling the headwinds
Simon Property Group is a real estate investment trust (REIT) that owns malls and factory outlet centers. Don't dismiss it just because the so-called retail apocalypse is supposedly going to kill the mall. That's not really true. What is happening is that older, poorly located malls are getting crushed. The roughly 200 or so well-located and highly desirable malls that Simon owns are doing just fine.
For example, the company ended 2019 with occupancy of 95%. Sales per square foot at its malls rose 4.8% for the year. And it raised its dividend twice, increasing the disbursement by roughly 5% over 2018. These are not the stats of a company that is fighting for its life. Yes, Simon has to keep upgrading its properties to keep them relevant with today's changing consumer shopping habits. But that's really just par for the course in the mall sector. In fairness, the costs are a bit higher today because of the uptick in store closings, particularly of department stores. But Simon can handle it.
The REIT is one of the largest mall operators in the world. Its balance sheet is among the strongest in its peer group, with a modest financial debt-to-equity ratio and industry-leading interest coverage metrics. And it has roughly $7 billion of liquidity at its disposal to make the needed upgrades at its malls. There's little reason to fear that the overhyped retail apocalypse will claim Simon as a victim. Meanwhile, the stock yields a hefty 6.3% because worried investors aren't willing to think long term.
2. Moving oil, not producing it
Next up is Enterprise Products Partners, a midstream energy company. This is an important distinction in the energy sector because it means that this master limited partnership moves oil and natural gas across its system of pipelines, storage, processing facilities, and transportation assets -- but it does not drill for these fuels. In fact, roughly 85% of gross margin is derived from fees for the use of its assets. Thus the price of oil and gas is less important than demand for the fuels. That demand isn't likely to go away anytime soon, being that oil remains a vital part of the global energy picture.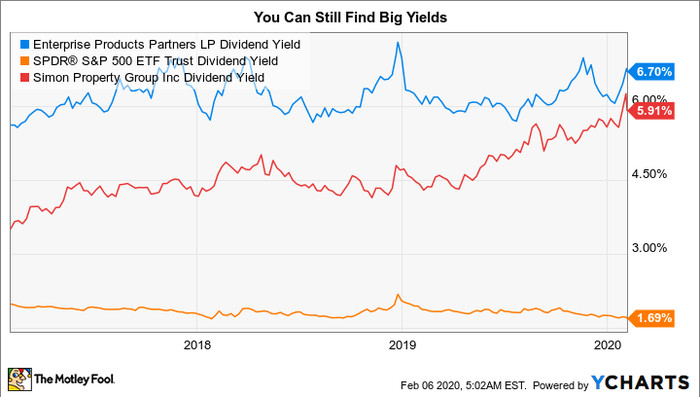 EPD Dividend Yield data by YCharts.
Enterprise not only is an industry bellwether, but also happens to be one of the largest and most diversified midstream players in North America. It is also fiscally conservative, with a financial debt-to-EBITDA ratio near the low end of its peer group and distribution coverage of around 1.7 times (for reference, 1.2 times is considered strong in the midstream space). There's no particular reason to worry about Enterprise or the cash it throws off to investors.
That said, anything that's tied to oil today is on the outs with investors. That's true of Enterprise, even though its business remains fundamentally strong. Investors with a long-term view, however, have an opportunity to pick up a fat 7% yield while others are running for the hills. One last fun fact: Enterprise has increased its distribution annually for more than two decades. Talk about a cash cow!
Income opportunities
The S&P 500 Index is still hovering near all-time highs, and its yield is a miserly 1.8% or so. There is no question that finding stocks with big yields and strong outlooks is hard to do. But it is still possible -- Simon and Enterprise are proof of that. If you take the time to dig into this pair of high yielders, it's likely one or both will find a place in your portfolio today.
10 stocks we like better than Enterprise Products Partners
When investing geniuses David and Tom Gardner have a stock tip, it can pay to listen. After all, the newsletter they have run for over a decade, Motley Fool Stock Advisor, has tripled the market.*
David and Tom just revealed what they believe are the ten best stocks for investors to buy right now... and Enterprise Products Partners wasn't one of them! That's right -- they think these 10 stocks are even better buys.
*Stock Advisor returns as of December 1, 2019
Reuben Gregg Brewer owns shares of Simon Property Group. The Motley Fool recommends Enterprise Products Partners. The Motley Fool has a disclosure policy.
Source