Down 54%, Is Cathie Wood's Flagship Fund a Buy?
ARK Invest CEO Cathie Wood's flagship exchange-traded fund (ETF), the ARK Innovation ETF (NYSEMKT: ARKK), hit an interesting point recently. In looking at performance over the past two years, its total return dropped below that of the Nasdaq Composite. After more than doubling in 2020, the ARK Innovation ETF is now down 54% from its all-time high, while the Nasdaq is off 15% from its all-time high. What's more, the ARK Innovation ETF, as of this writing, is underperforming the Nasdaq Composite by roughly 24 percentage points over the most recent three-year period.
Let's dive into what's driving ARK's performance and some themes that made it go from arguably one of the most popular ETFs to a big short-term loser.
Big misses
As of Jan. 13, only one of the top 10 holdings in the ARK Innovation ETF -- Tesla (NASDAQ: TSLA) -- had beaten the Nasdaq over the past year. These top 10 holdings make up 54% of the ARK Innovation ETF. They are, in order, Tesla, Zoom Video Communications, Teladoc Health, Roku, Coinbase Global, Unity Software, Spotify Technology, Exact Sciences, Twilio, and Block. Coinbase is not pictured in the one-year chart below because it went public in April 2021; it is down roughly 30% since going public.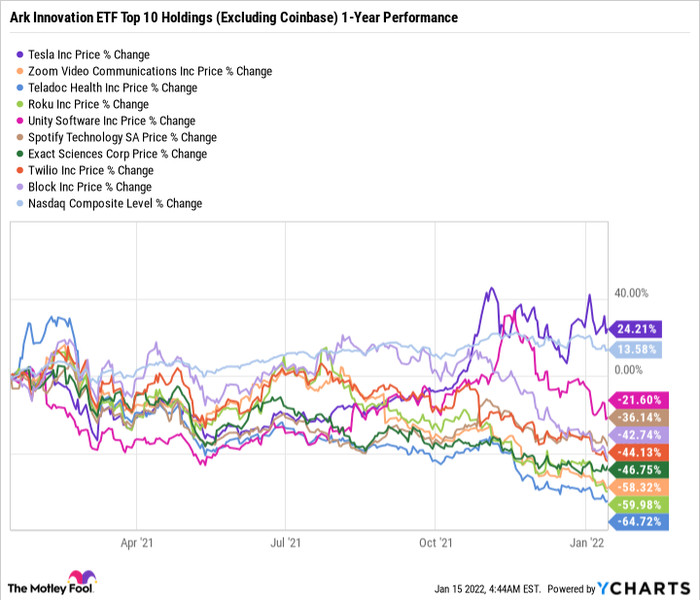 Most of the top 10 holdings are unprofitable or barely profitable growth stocks that grew rapidly during the height of the pandemic in 2020. However, in 2021, investors shifted away from many of these growth names, favoring a philosophy of growth at a reasonable price instead of growth at any price.
For example, consider that the top 10 largest S&P 500 components as of the end of 2021 gained, on average, roughly 50% in 2021. These are big companies like Apple, Microsoft, Alphabet, and other tech names that are also incredibly profitable.
ARK's strategy isn't working in the short term
If you didn't own the S&P 500's top 10 stocks, it would have been very difficult to beat the market in 2021 considering that these companies contributed the bulk of the index's gains. But investing in a major tech stock isn't the investment style of ARK. Rather, it aims to find paradigm-shifting growth stocks with massive potential that could disrupt industries over the next several decades.
ARK's strategy works best when investor optimism and patience are high -- and interest rates are low -- as those circumstances tend to benefit the types of companies its funds own shares of. And investors have been losing patience with some of the funds' components. Meanwhile, the Federal Reserve is now expected to begin raising interest rates as early as March, and is estimated to issue three to four rate hikes this year. Rising interest rates and tighter monetary policy are serious headwinds for growth stocks with already high price-to-sales ratios. Many of ARK's holdings must justify their valuations through consistently high growth. That's a harder task to accomplish when it costs more to borrow money -- and labor and goods costs are higher due to inflation.
Given everything that investors are taking into consideration, along with a higher concentration of smaller, unprofitable growth stocks relative to the Nasdaq Composite, it's not surprising that the ARK Innovation ETF has gone from beating the Nasdaq to underperforming it.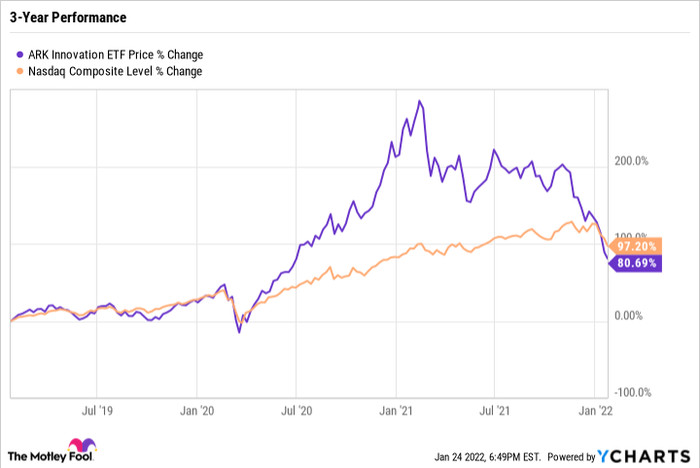 Wood's claim to fame is that she stuck her neck out for Tesla through the lean years -- placing what then looked to be insanely lofty price targets on the stock. She also invested $5 million of her own money when she started ARK in 2014, so she had skin in the game to back her bold Tesla price target. This was back in the days when Tesla was worth less than $100 billion. Today, Tesla is worth over $1 trillion, and Wood deserves a lot of credit for picking the company early and being one of the few folks on Wall Street who was able to see the company's potential despite its short-term cash and production problems.
Wood wants to replicate what she did with Tesla with other companies in her funds. For example, she sees Block and Coinbase disrupting the financial industry, Teladoc changing healthcare, and Roku contributing to entertainment. This long-tail type of strategy isn't without its risks. And to her credit, Wood has repeatedly been the first to mention that it will take time for many of these stories to play out. But overall, she expects ARK's funds to easily beat the market over the long term.
Lessons from ARK's underperformance
The ARK Innovation ETF's struggles illustrate how hard it can be to beat the stock market. But they also show us how themes can go from in favor to out of favor in a heartbeat due to factors outside of companies' control.
You could argue that the value of businesses like Zoom or Roku shouldn't be drastically different today as compared to a year ago. Although the economy has reopened, both businesses (and the industries they are a part of) continue to grow at impressive rates -- albeit lower than the torrid pace set in 2020. The long-term investment thesis hasn't changed, but Wall Street's attitude toward these companies has.
Similarly, investors have changed their minds about oil and gas stocks, which went from the single worst-performing sector to the best in 2021. And so far in 2022, the energy sector is already up over 10%.
The point here is that trying to jump into "what's working" in the market and sell what isn't is usually a great way to lose money. Rather, investing in quality companies that you understand, believe in, and are comfortable holding through good and bad times gives your investments the chance to compound over time. That being said, if your investment thesis changes, such as the company experiencing an eroding competitive advantage or new technology making its products or services obsolete, it might be time to sell.
For many investors, lots of the stocks Wood picks simply have too extreme of a risk-reward profile to make them staple holdings in a portfolio they are comfortable owning.
However, if you believe in the companies in the ARK Innovation ETF, and can handle the volatility, a drop in its price could be giving you a great opportunity to buy.
10 stocks we like better than ARK Innovation ETF
When our award-winning analyst team has a stock tip, it can pay to listen. After all, the newsletter they have run for over a decade, Motley Fool Stock Advisor, has tripled the market.*
They just revealed what they believe are the ten best stocks for investors to buy right now... and ARK Innovation ETF wasn't one of them! That's right -- they think these 10 stocks are even better buys.
*Stock Advisor returns as of January 10, 2022
Daniel Foelber owns Block, Inc. and has the following options: long January 2024 $100 calls on Teladoc Health, long January 2024 $150 calls on Teladoc Health, long January 2024 $300 calls on Zoom Video Communications, short January 2024 $110 calls on Teladoc Health, and short January 2024 $310 calls on Zoom Video Communications. The Motley Fool owns and recommends Block, Inc., Coinbase Global, Inc., Roku, Spotify Technology, Teladoc Health, Tesla, Twilio, Unity Software Inc., and Zoom Video Communications. The Motley Fool recommends Exact Sciences. The Motley Fool has a disclosure policy.
Source